Stormy Daniels Talked About Donald Trump on Jimmy Kimmel and It Was Weird
Adult film star Stephanie Gregory Clifford, also known as Stormy Daniels, indicated that allegations that she had an affair with President Donald Trump were accurate during an interview with Jimmy Kimmel Tuesday night, immediately following the president's first State of the Union address.
Clifford, who reportedly signed a nondisclosure agreement in exchange for $130,000 from Trump, laughed off a number of Kimmel's questions about her relationship with the president, but did seemingly acknowledge that the affair occurred. During a series of questions, Clifford said she had slept with a married man who she met on a golf course. When Kimmel asked her if she ever slept with a man who fired Gary Busey on a reality show she said, "I don't actually know the answer to that question...Oops."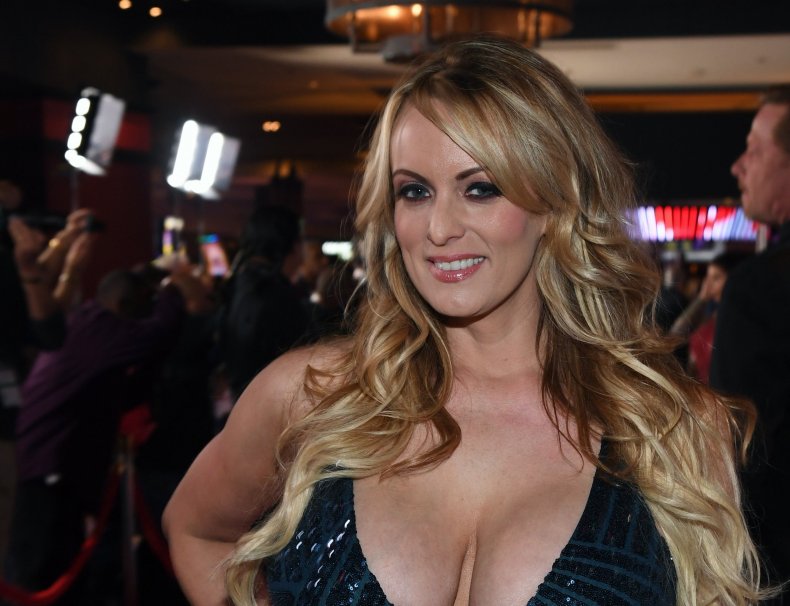 Earlier on Tuesday, a letter emerged allegedly signed by Clifford that claimed the affair never happened.
"The fact of the matter is that each party to this alleged affair denied its existence in 2006, 2011, 2016, 2017 and now again in 2018. I am not denying the affair because I was paid 'hush money' as has been reported in overseas owned tabloids. I am denying this affair because it never happened," it read.
But Clifford claimed that the letter had been forged and that she had "no idea where it came from."
Trump's personal lawyer, Michael Cohen, reportedly paid Clifford hush money before the 2016 election to deny an affair the pair had in 2006, according to The Wall Street Journal. The affair would have happened shortly after first lady Melania Trump gave birth to the couple's son, Barron.
At the time of the payment, The Journal reported, Clifford was allegedly in talks with Good Morning America and Slate to share the details of the alleged affair. Cohen denies these allegations.
On Jimmy Kimmel Live, Clifford expressed discomfort with her newfound fame. "Lately, I feel like a victim of the internet," she said. "I feel guilt because I don't want my family or my young daughter to be exposed to these things."
Despite her reservations, Kimmel pressed Clifford repeatedly. At one point he showed her a series of carrots and asked her to identity which was most similar to the president. Clifford had to tell Kimmel that she didn't want to participate in the game multiple times before he moved on.
Still, many viewers were quick to point out that Clifford was an adult who had agency in her decision to participate in the show.
"I got a number of emails from a number of very envious fellow late night hosts about this booking," Kimmel said.