Stormy Daniels Says Donald Trump Didn't Even Want to Be President
In Stormy Daniels's new tell-all book, the adult-film actress wrote, amid more graphic details of her past encounters with Donald Trump, that he never seemed to truly want to be president.
As she began to see then-candidate Trump in 2016 winning primary after primary to become the Republican presidential nominee, Daniels, whose real name is Stephanie Clifford, noted her shock in her new book, Full Disclosure, which was obtained by The Guardian before its October 2 release.
"It will never happen, I would say," Daniels wrote. "He doesn't even want to be president."
The man she had come to know from an alleged extramarital affair with Trump in 2006 while he was married to his current wife, Melania, was someone who Daniels said was uninterested in becoming the nation's commander in chief.
Trump, according to Daniels, also offered her a spot on his reality TV show, The Apprentice, and promised to allow her to advance further in the show by helping her cheat.
"We'll figure out a way to get you the challenges beforehand," Daniels wrote that he told her. "And we can devise your technique." She went on to say Trump "was going to have me cheat, and it was 100 percent his idea."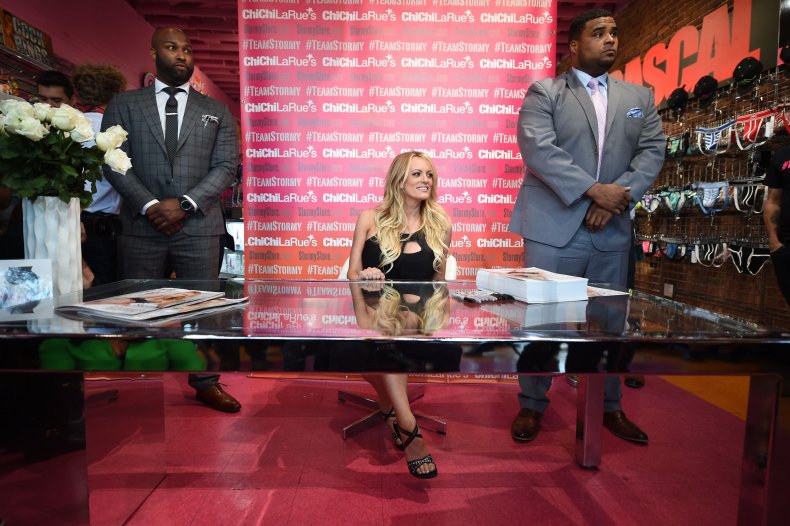 At one point, when Daniels was with Trump in 2007 in a hotel room watching an episode of Shark Week, Hillary Clinton called. At the time, Clinton was running against Barack Obama in the Democratic primary. Daniels wrote that Trump and Clinton had a "whole conversation" about the race, "repeatedly mentioning 'our plan.'"
"Even while he was on the phone with Hillary, his attention kept going back to the sharks," Daniels wrote.
Trump has denied that he ever had an affair with Daniels, but he did admit to repaying his former personal attorney Michael Cohen $130,000 for a hush payment that Cohen made to Daniels. Daniels wrote in her book that she signed the non-disclosure agreement, which she is now suing Trump for, on the eve of the election.
Cohen pleaded guilty August 21 to eight counts of campaign finance violations and tax and bank fraud. As part of his plea agreement, Cohen said that "in coordination and at the direction" of then-candidate Trump, he withheld information about two hush-money payments to "influence the 2016 presidential election." Another payment of $150,000 had also been arranged in a "catch-and-kill" deal for former Playboy model Karen McDougal's story, who also alleged an extramarital affair with Trump.
Cohen has not received a sentence for his plea deal, but Daniels's attorney, Michael Avenatti, told Newsweek on Saturday that he "deserves the max penalty."