Stormy Daniels Fans Are Paying Her To Stomp On Cheetos
Adult film star Stephanie Clifford (aka Stormy Daniels) has been inundated with requests since alleging she had an affair with President Donald Trump in 2006, but surely none stranger than the crowd who asked her to stamp on Cheetos during her "Make America Horny Again" tour.
In an interview with Penthouse released on Tuesday, Daniels says a crowd of gay men holding bags of Cheetos paid her $20 to crush the orange snacks underfoot, in what appears to be a sly reference to the president's shade of fake tan.
"Money was exchanged, Cheetos were scattered, and the hardworking porn star turned international news story ground them to orange powder beneath her high-heeled stripper shoes," an extract from the interview, shared by The Daily Beast, reads.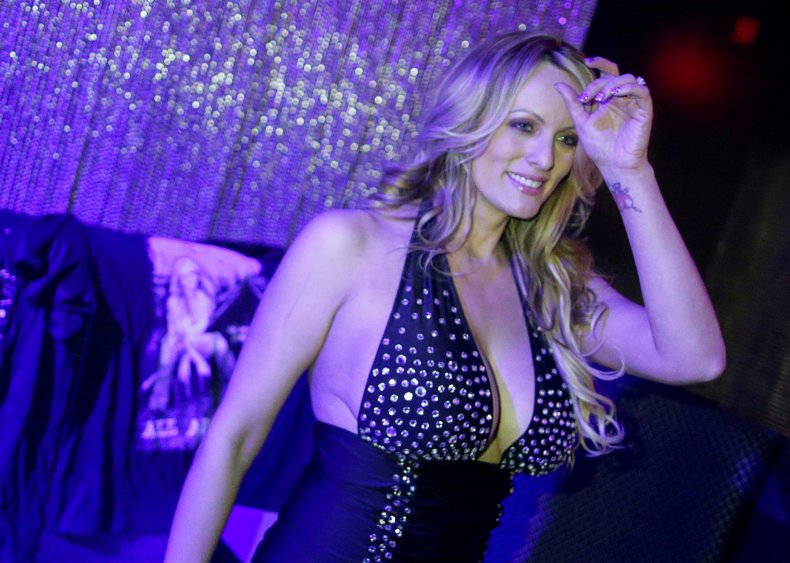 The Penthouse cover story interview, which bills the adult film star as the "Penthouse Pet of the Century," also discusses the topic of Trump's hair, with Daniels confirming the famously sculpted locks are in fact real.
Asked in the interview whether the president's hair is real, Daniels confirmed it was real, explaining "he chose that," and commenting: "Yeah, that's real. Kind of like a drunken cockatoo," explaining how his hair looks during sex.
Daniels has been at the center of a media storm since publicly claiming she had an affair with the president shortly after his wife Melania gave birth to the couple's son Barron, who is now 12.
The star also claims she was threatened in a Las Vegas car park in 2011 when she was considering selling her story, stating she was approached by a man who told her: "Leave Trump alone. Forget the story," she said in an interview with 60 Minutes.
Trump has denied the affair took place, and also recently claimed he had no knowledge of the $130,000 hush money payment made to Daniels by his lawyer Michael Cohen.
However, in an interview with Sean Hannity on Fox News, Trump's newly appointed lawyer Rudy Giuliani said Trump had reimbursed Cohen for the payment, later clarifying the president was probably unaware of Cohen's payment at the time.