Stormy Daniels' Lawyer Michael Avenatti Challenges Sean Hannity to On-Air Face-Off
Stormy Daniels' lawyer, Michael Avenatti, has challenged Sean Hannity to invite him onto his Fox News show for a face-off, following controversy over the host's ties to President Donald Trump's attorney and fixer Michael Cohen.
"We don't agree on everything but we are both street fighters @seanhannity, which means something. Let's set a booking so I can come on the show to talk about the case and the issues in the case. No BS. Just a straight up discussion by two men. Thanks for considering it," Avenatti tweeted on Monday night.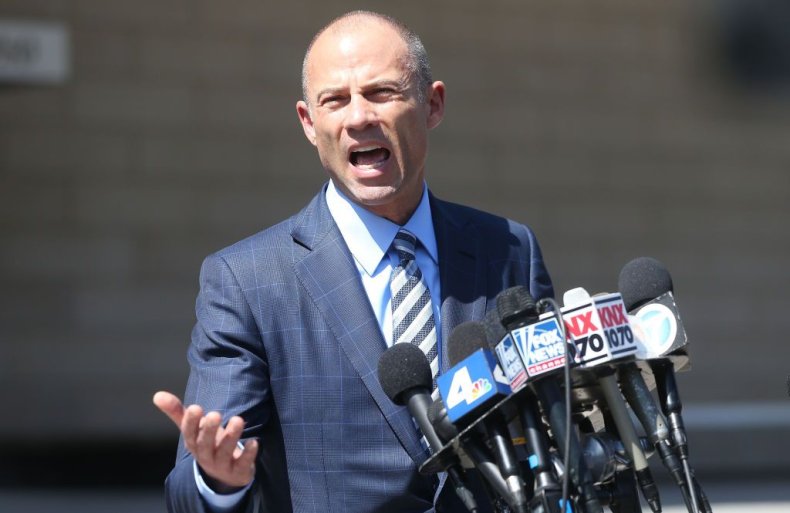 Last week it was revealed in a New York court that Hannity was the mystery third client of Cohen, who is under criminal investigation by the Justice Department on suspicion of bank fraud, wire fraud, and election law violations.
Cohen paid porn star Daniels, whose real name is Stephanie Clifford, $130,000 during the 2016 presidential campaign to stay silent about an alleged affair with Trump. The president denies knowing about the payment.
Hannity maintains that his interactions with Cohen were limited to advising him on a property deal. However, court papers obtained by The Guardian have laid bare Hannity's links to shell companies behind the purchase of a vast network of properties. Some were acquired with support from the U.S. Department for Housing and Urban Development, a fact not disclosed by Hannity when praising HUD secretary Ben Carson on his show last year.
On CNN on Sunday, ahead of the publication of The Guardian report, Avenatti alleged that Hannity's ties to Cohen went deeper than the host admitted.
"I don't know that there's anything nefarious that went on between Mr. Hannity and Mr. Cohen, or that there was any NDA-type involvement or anything of that nature, but what I do know is I think it's going to be far more extensive than people have been led to believe."
Hannity on Monday night hit back at reports on his property investments.
"It is ironic that I am being attacked for investing my personal money in communities that badly need such investment and in which, I am sure, those attacking me have not invested their money," Hannity said in a statement provided to Business Insider. "The fact is, these are investments that I do not individually select, control, or know the details about; except that obviously I believe in putting my money to work in communities that otherwise struggle to receive such support."
On his Monday night show, Hannity remarked it was "becoming funny" how "obsessed" the media is with him, and directed viewers to a Twitter statement on his property deals.