A former attorney for Stormy Daniels served as a "puppet" for President Donald Trump and his former "fixer" Michael Cohen and even tried to have her appear on Fox News earlier this year to deny having a sexual encounter with the president, according to a lawsuit filed Wednesday.
Daniels, whose legal name is Stephanie Clifford, is claiming the president knew about the efforts by Cohen and her old lawyer, Keith Davidson, to have her appear on his preferred network and show of friend Sean Hannity. NBC News first reported the lawsuit, which was filed in Los Angeles Superior Court.
Clifford asserted that Davidson broke attorney-client privilege by working with Cohen, who represented Trump for over a decade and also paid Clifford $130,000 for her silence, she has claimed, less than two weeks before the 2016 election.
"Mr. Davidson abdicated his role as an advocate and fiduciary of his client Ms. Clifford and instead elected to be a puppet for Mr. Cohen and Mr. Trump in order to advance their interests at the expense of Ms. Clifford," the suit read according to NBC.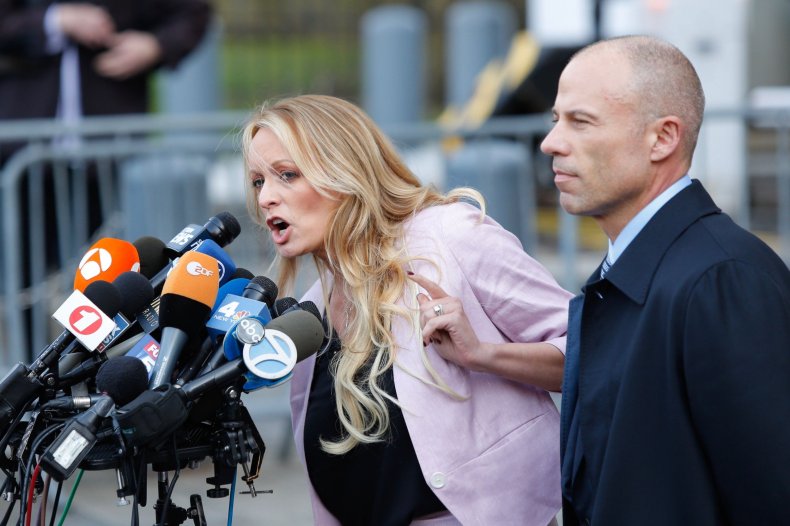 The suit cited text messages allegedly sent between Cohen and Davidson in January pertaining to Clifford possibly appearing on Fox.
"I have her tentatively scheduled for Hannity tonight," Cohen said in one message to Davidson, according to the suit.
In response, Davidson told Cohen "she cannot don't [sic] today. She is flying to LA tomorrow. I'm trying to get her to commit for tomorrow."
Cohen later referred to some individuals as "the wise men" when he told Davidson that Clifford should not conduct interviews.
"The wise men all believe the story is dying and don't think it's smart for her to do any interviews," Cohen wrote in one message, to which Davidson agreed and Cohen stated: "Thanks pal."
A spokesperson for Fox News did not immediately respond to Newsweek's request for comment.
A spokesman for Davidson described the lawsuit as "frivolous" and a "desperate attempt" by Clifford's current lawyer, Michael Avenatti, to continue his "publicity tour."
"That said, Attorney Davidson is very happy that he has filed this lawsuit because he strongly believes that the filing constitutes a full and complete waiver of the attorney-client privilege," David Wedge told Newsweek. "Thankfully, the truth can now finally come out to rebut the false narrative about Attorney Davidson that Mr. Avenatti has been pushing in his more than 175 television appearances and countless other media interviews. Attorney Davidson believes that the American people deserve to know the entire truth - and they soon will. This lawsuit has made that happen."
President Trump has denied Clifford's claim of a sexual encounter in 2006, but one of his personal attorneys, Rudy Giuliani, revealed last month that the president had paid Cohen back for the money he gave to Clifford.
Davidson also represented former Playboy Playmate Karen McDougal, who has said she had an affair with Trump for nearly a year between 2006 and 2007. McDougal received $150,000 from American Media Inc., which owns The National Enquirer and whose top executive is friends with Trump, in order to buy her story about the alleged Trump affair.
This story was updated to include a statement from Keith Davidson's spokesman.