Michael Avenatti, the lawyer for Stormy Daniels, accused embattled Trump attorney Michael Cohen of organizing a protest against his client. It's the latest development in both a legal battle and a war of words between the two lawyers.
Avenatti tweeted a picture of a small group of pro-Trump protesters in Florida and poked fun at the dismal turnout.
"The "fixer" Mr. Cohen (aka the real Ray Donovan) organized a protest - BIGLY - in Florida last night against my client," Avenatti tweeted. "As usual, his execution was flawless. #impressive."
The picture attached to the tweet showed four protesters. All held pro-Trump signs, some of which featured pointed attacks against Daniels, the adult film star locked in a legal dispute over an alleged affair she had with the president in 2006.
"Stormy Weathered! Full of Silicone," one sign read. "Sold to the highest bidder!" said another.
Avenatti, who has previously come under scrutiny for teasing information without providing supporting evidence, did not provide proof that Cohen was behind the protest.
It's been a long week for Cohen, who once described himself as the president's right-hand man. Avenatti's pithy tweet comes after investigators conducted a far-ranging raid on Cohen's home, his office and his hotel room earlier this week, reportedly looking for tax records, business documents and other information regarding the $130,000 Cohen paid to Daniels, whose real name is Stephanie Clifford.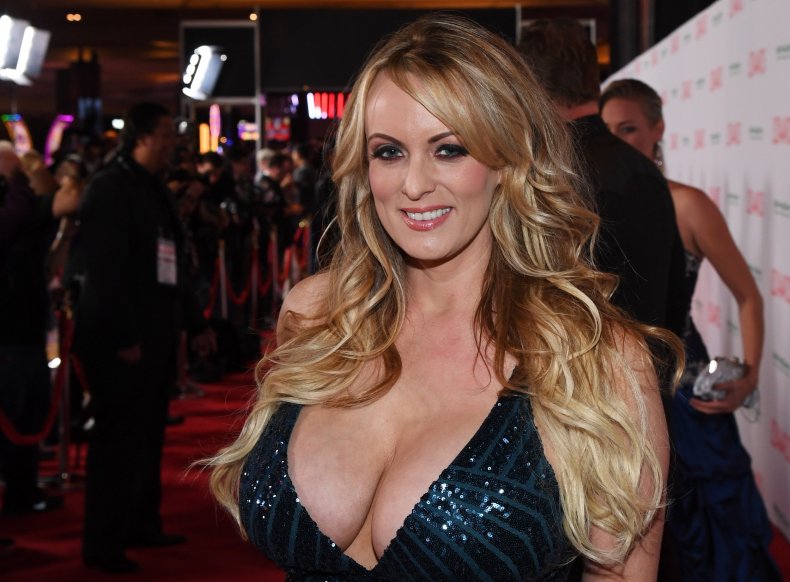 On Friday, federal investigators revealed in court documents that Cohen has been under criminal investigation for months. He is also facing accusations that he organized a $1.6 million payoff to a former Playboy model who said she was impregnated by a top Republican fundraiser. On Tuesday, he admitted that the swirling investigation into his financial dealings has given reason to worry.
"I would be lying to you if I told that I am [worried]," Cohen said on CNN. "Do I need this in my life? No. Do I want to be involved in this? No."
Avenatti, meanwhile, has been continuing to run the talk-show circuit. On Saturday, he claimed that Cohen has hush agreements numbering in the "double-digits" with former Trump paramours. Earlier in the week, on Thursday, he said he believes more raids are imminent, although he failed to provide evidence.
"I will tell you, these raids that occurred on Monday, they're not the last raids," Avenatti told CNN host Anderson Cooper. "I know that for a fact.There are other raids that are contemplated. I anticipate them coming within the next week."