Stormy Daniels and Roseanne Barr Are Having the Filthiest Fight on Twitter
Adult film star Stephanie Clifford, better known as Stormy Daniels, called out comedian Roseann Barr on Twitter early Friday morning. The spat erupted when Barr claimed Daniels was known for doing a certain type of X-rated film. Warning: It's pretty vulgar.
Barr's response was to a thread Daniels started Thursday. "Have you seen my tits? (Of course, you have) I don't jog anywhere. So I'll just sit here, sipping my coffee and talking shit. Xoxo," she tweeted, garnering 14,000 likes.
One user accused Daniels, 39, of being trashy. "You're disgusting and do not represent classy women AT ALL! Your fifteen minutes of fame will be up soon and we will all be thrilled when that day comes!" the netizen wrote.
That prompted Oscar winner Patricia Arquette to get involved, posing a question about President Donald Trump, who allegedly had an affair with Daniels in 2006. "Following this logic -If she doesn't represent 'classy women' I guess that means the president represents classless men? Hmm. Interesting," she wrote.
To that, Barr attempted to discredit Daniels by talking about her past as an adult film star, writing: "She's known for anal porn scenes."
Daniels denied the accusation, and slammed Barr for the time she shrieked "The Star-Spangled Banner" at a Padres game in 1990. "I don't even do anal movies, you ignorant twat," Daniels tweeted. "That's like saying you are known for your beautiful rendition of 'The Star-Spangled Banner.'"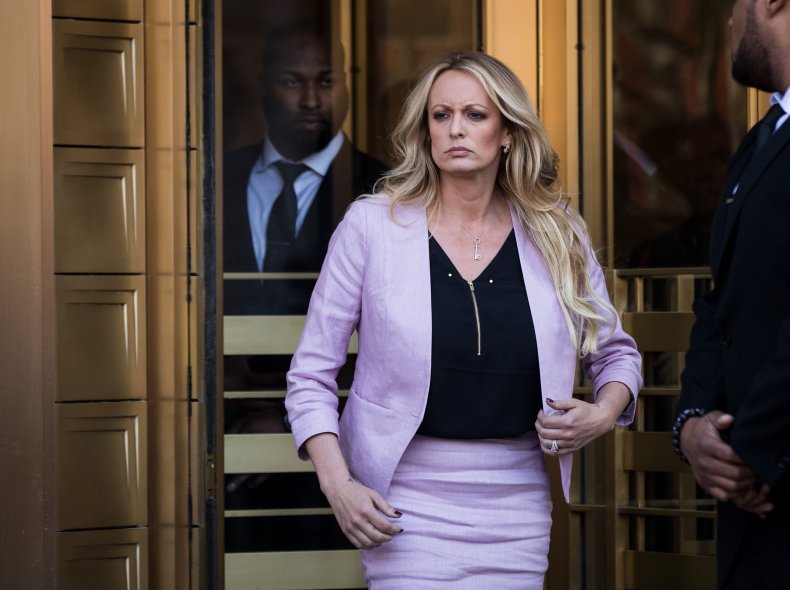 Trump has denied having an affair with Daniels. According to his lawyer Rudy Giuliani, Trump paid $130,000 to his personal attorney, Michael Cohen, as a reimbursement for a nondisclosure agreement with Daniels—but Trump apparently didn't know about it until recently. "I don't think the president realized he paid him (Cohen) back for that specific thing until we (his legal team) made him aware of the paperwork," Giuliani said during a phone interview with NBC News Thursday.
The former New York mayor, who joined Trump's legal team last month, admitted it would have been difficult if news about the alleged affair broke before the 2016 election. "Imagine if that came out on Oct. 15, 2016, in the middle of the last debate with Hillary Clinton," Giuliani said on Fox and Friends.