Stormy Daniels Says She's Flabbergasted She Ever Slept With Donald Trump: 'I Should Make Up a Cool Answer'
Stormy Daniels said she wishes she had a better reason for having sex with President Donald Trump during a public interview to promote her new book.
The adult film star, real name Stephanie Clifford, admitted she has "no idea" why she allegedly had an affair Trump in 2006 just a few months before the birth of his youngest son, Barron Trump.
"I've been asked so many times that I'm like, 'I should make up a cool answer,' but I've got nothing," Daniels said, reports The Washington Post.
The 39-year-old made the blunt remark during an appearance at Washington D.C's Politics and Prose bookstore to promote her new memoirs, Full Disclosure.
Speaking to former Washington Post writer Sally Quinn, Daniels described when she met Trump at a 2006 celebrity golf tournament where her film company was "sponsoring a hole."
"Trust me, that's not lost on me," Daniels said. She described how the billionaire business mogul had asked her out to dinner. "I was promised food, which I still haven't gotten," she added.
She said that instead decided to stay in his hotel room. In a remark which reportedly drew groans from the crowd, Daniels described how the future president was "doing his best Burt Reynolds impression. But with socks."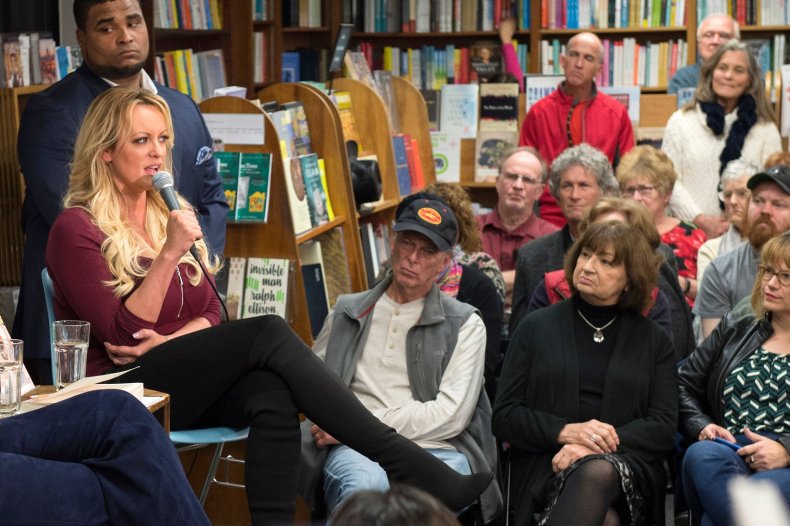 Daniels also said she was surprised that Trump's former lawyer Michael Cohen said that the president paid her $130,000 in 2016 in order to keep their alleged affair a secret.
"I thought, 'Great, not only do I look like a whore, I look like a cheap whore,'" she said.
Elsewhere, Daniels also lamented some of the negative aspects of working in the adult film industry, describing how there is "a lot of paperwork, so much paperwork," as well as discussing how her decision to get breast-augmentation surgery helped her stripping career.
"I went from singles to 20s," she said.
Daniels also talked about why she chose to reveal for the first time in her book how she was raped as a 9-year-old. "When the whole world has seen your [anatomy], you have to keep something for yourself," she said.
Confirming that her interview was not like most other Washington book stores promotion appearances, Daniels informed the crowd that when the event was finished she would have to leave shortly afterwards in order to make it to her shift at a D.C. strip club, reports Women In The World.