Stormy Daniels Was Eyeing A Senate Run And Porn Star Planned To Use Slogan 'Screwing People Honestly'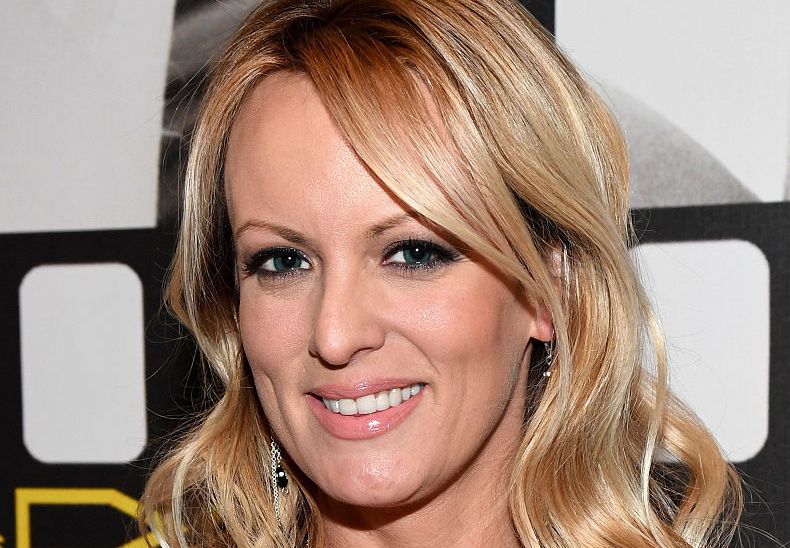 The porn star who once said she had affair with President Donald Trump and was reportedly paid off during the 2016 election to stay quiet about it, had eyed a seat in the United States Senate—and planned to run under the campaign slogan "Screwing People Honestly."
Stormy Daniels had formed an exploratory committee for a run in Louisiana in 2009 after Republican incumbent David Vitter, a stanch defender of so-called "family values," was caught in a prostitution ring. A few college students had wanted to run an adult entertainer against Vitter, and selected Daniels to give it a shot, the Bayou Brief reported.
At the time, she was living at Florida, but formed a committee to see how she would fare in a run. Daniels's platform championed sex and reproductive health education, the abolition of the federal income tax, and ending the Iraq War, while opposing former President Barack Obama's stimulus package, according to The Washington Post. Daniels also wasn't shy about slamming her would-be opponent for his hypocrisy.
"I'm not one to judge someone's sexual activity, but what annoys me is that he's so hardcore 'family values,' and he puts his wife and kids out there, saying he's a Christian family man. Then he's caught up in a prostitution scandal. He's a hypocrite," Daniels told Marie Claire. "I have nothing to hide. A sex tape of me isn't going to pop up and shame me. There are 150 of them at the video store."
Daniels, whose real name is Stephanie Clifford, embraced her time in porn, telling reporters she planned to use the clever slogan, "Screwing People Honestly." And when asked if she thought she was more qualified than Vitter, she replied honestly.
"Absolutely not," she admitted to Marie Claire before touting some experience in foreign affairs. "In one movie, I did play a Secret Service agent marooned on an island controlled by North Korea. I butt heads with dictator Kim Jong-il and come out on top."
FiveThirtyEight's Nate Silver declared her candidacy "something to keep an eye on," but Daniels decided not to run, saying she had "become a target of the cynical stalwarts of the status quo."
"Simply because I did not fit in their mold of what an independent working woman should be, the media and political elite have sought to relegate my sense of civic responsibility to mere sideshow antics," she added. "They did this not simply for the sake of expediency but because to have a woman of my background challenge the core conscripts of our political and social culture is simply too much for a system that holds that only lawyers and insurance salesmen are qualified to lead."
In 2011, Daniels told InTouch Weekly she had an affair with Trump in 2006, just four months after his wife, Melania, gave birth to their son Barron. The interview resurfaced this week after The Wall Street Journal reported that Trump's lawyer, Michael Cohen, had paid her $130,000 to keep quiet about the alleged affair during the 2016 election. Daniels has denied getting the hush money.