Watch: Stormy Daniels Mocks Trump on 'SNL' Cold Opening Skit
Stormy Daniels made a surprise appearance on Saturday Night Live, as her legal battle against President Donald Trump continues.
The adult film star, whose real name is Stephanie Clifford, was allegedly paid $130,000 by Trump's lawyer in 2016 to not disclose details of an alleged affair she had with Trump.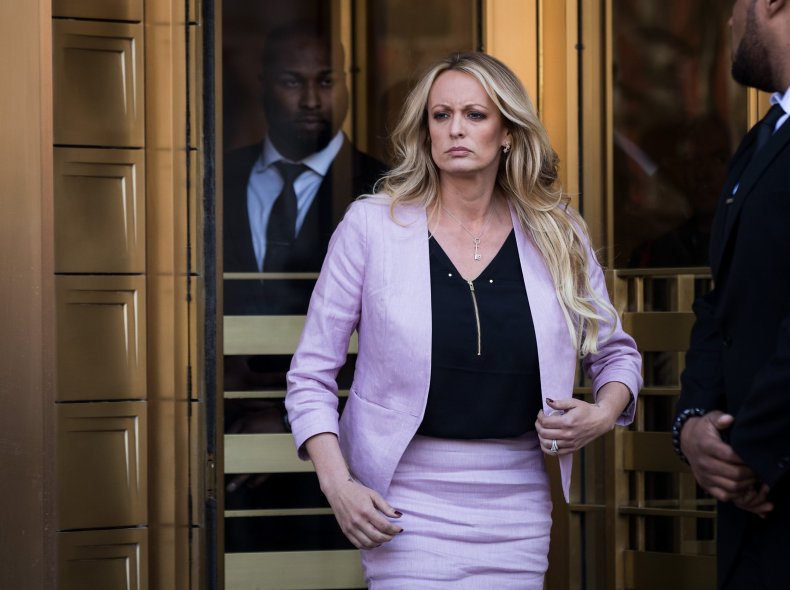 The President, however, denies the affair but admitted he reimbursed his lawyer Michael Cohen for the payment, which was aimed to prevent Daniels from making "false and extortionist" statements.
Playing herself in her appearance on the show, Daniels warned Trump that a "storm" was his way.
"I know you don't believe in climate change but a storm's a coming baby," she said mockingly.
The sketch also included Alec Baldwin playing Trump, while Ben Stiller played the role of Cohen. In it, the former instructs the latter to "call up Stormy Daniels and fix this once and for all", while keeping him on the line to listen.
Once Daniels, much to the public's surprise, answers the phone, Baldwin as Trump takes over the call from Stiller and urges Daniels to admit the alleged affair is nothing but an act.
However, Daniels steadfastly declines to do so.
"I work in adult films, we're not really known for our acting," she replies.
Baldwin then wonders what needs to be done to put the scandal to bed once and for all.
"What do you need for this all to just go away," he asks.
"A resignation," replies Daniels.
An increasingly exasperated Baldwin then shares his disbelief at Daniels' stubbornness. "I solved North and South Korea, why can't I solve us?" he asks Baldwin.
"Sorry Donald, it's too late for that," replies Daniels. "I know you don't believe in climate change but a storm's a coming baby."
The sketch comes at the end of a tumultuous week for Trump during which Rudy Giuliani, his personal attorney, revealed the President had reimbursed Cohen for the money he gave to Daniels in October 2016.
Giuliani first made the revelation on Fox News Wednesday night, adding he believed the payment did not violate campaign finance laws.
On Thursday, Trump confirmed Cohen had been paid a "monthly retainer", although he insisted the money never came from the campaign fund.
Cohen originally stated no one at the Trump Organization or the Trump campaign knew about the payment.
However, Trump's admission contradicted his long-held stance that he knew nothing of the payment.
Meanwhile, on Friday, Trump said the facts around the story had been stated "incorrectly" and was critical of how the media covered the explanations given by Giuliani.
"He's a great guy," Trump said of Giuliani, while addressing reporters before boarding Air Force One for his speech at the National Rifle Association's national convention in Dallas, Texas. "He'll get his facts straight."