Stormy Daniels: Why I Won't Speak Out Against Donald Trump in 2020
Stormy Daniels said she had no intention of calling out President Donald Trump if he runs for re-election in 2020. She made the statement speaking to members of the Oxford Union debate society on Thursday.
The adult film actress said she instead wanted to promote sex education and women's empowerment, and restart her writing and directing career.
Daniels—known legally as Stephanie Clifford—made the comments during a packed talk titled "Sex, Guns and Other Fluff: How Porn Can Set You Free."
She told an audience of hundreds of people—mostly current students at the University of Oxford—that she didn't want to "crush anyone's dreams," but that it wasn't her intention to speak out against Trump in the next presidential election.
But she added, "never say never," deriding the business of politics as "much dirtier" than pornography.
Daniels said she never intended to start the scandal that has fixated the U.S. for almost a year. "When I first decided to speak and come forward, it was not for a political statement or for any sort of financial gain," she said. "I was just f*****g pissed off."
The actress also kept tight-lipped on which candidates she might support in the next presidential election when asked about her lawyer Michael Avenatti, who had previously floated a possible 2020 run.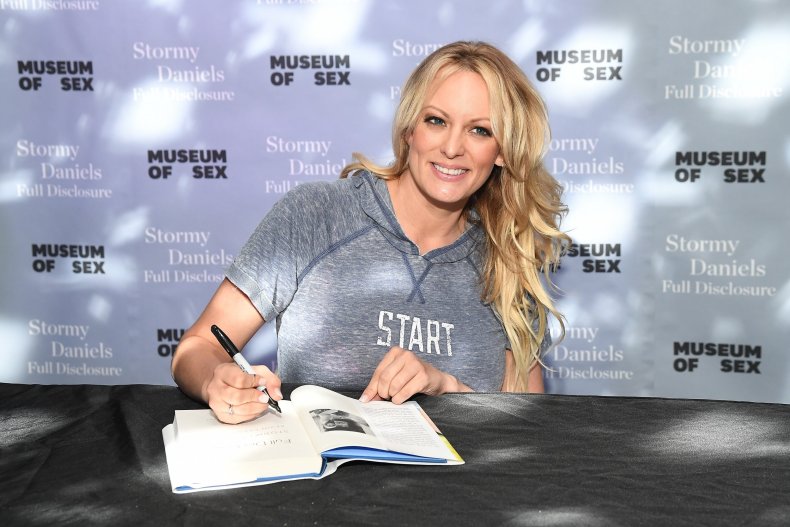 "I'm sure Michael's not going to like hearing this, but until I know all of the candidates and their platforms, I will not endorse anyone," she said, adding: "But I'm open-minded."
Avenatti is currently embroiled in a scandal of his own following his arrest Wednesday on a charge of suspected domestic violence. Daniels told the Oxford Union she would drop Avenatti if the allegations against him proved true but emphasized they were only "allegations" at this point, echoing an earlier statement shared via New York Magazine.
Avenatti denied the domestic violence charge, and told USA Today that he was still considering a 2020 run. "I will not be intimidated," Avenatti said in a text message. "The measure of a person is how they get up when they are knocked down."
The 195-year-old Oxford Union Society regularly hosts prominent speakers. Notable past guests include Nancy Pelosi, Bernie Sanders and Robert Kennedy. It also has a reputation for featuring controversial figures, including Marine Le Pen of France's National Rally politcal party, O.J. Simpson and holocaust denier David Irving. Steven Bannon is scheduled to address the Union Friday afternoon.