The Story of America's First Female Millionaire
She was the first child in her family born free in 1867 in a part of the South—Louisiana—devastated by the Civil War. Many plantations had been burned down in the region, and nearly 4 million formerly enslaved freedmen and women in the South, where 90 percent of all African Americans in the country lived, were struggling to survive. They had little in the way of money, and at the end of planting seasons, they often had nothing to show for their work because they owed money to the plantation owners who'd been their former owners.
Which is why the story of Madam C.J. Walker, who is recorded as the first female self-made millionaire in Guinness World Records, and whose life inspired the Netflix series Self Made, is so compelling. And important.
Few people have worked harder to preserve Walker's legacy than her great-great-granddaughter, A'Lelia Bundles, who wrote On Her Own Ground: The Life and Times of Madam C.J. Walker, a New York Times bestseller and the book upon which the recent Netflix series was based.
Walker's early life had more sad stories than the Old Testament. "She started as Sarah Breedlove on the same plantation in Louisiana where her parents had been enslaved. When she was 7, both of her parents died," Bundles told Newsweek. "So she moved in with her older sister, who was married to a man who was so cruel that Sarah got married at 14 just to get a home of her own."
The couple had a daughter named A'Lelia when Sarah was 17. Three years later, her husband died. Sarah was a 20-year-old widow and did what she had to do to survive: She moved to St. Louis, where her older brothers had moved a decade earlier as part of an African American exodus from the South.
"African-Americans left because the conditions were so horrible," Bundles explained. "Her brothers had a barbershop near St. Paul African Methodist Episcopal Church and were doing well. Sarah joined the church, and it was the women there who gave her a vision of herself as something other than an illiterate washerwoman, and that's when her life began to change."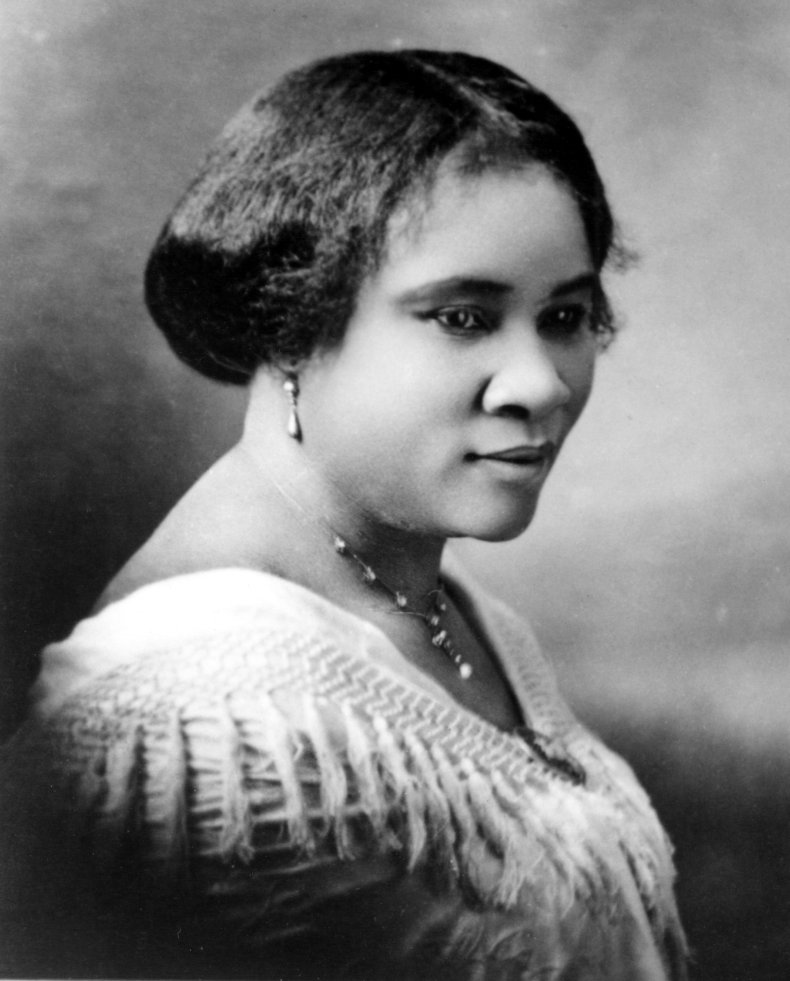 But change didn't come easy. "She had had very little formal education," Bundles noted. "There weren't schools for black children in Louisiana, even though her family minister, Curtis Pollard, had been a black state senator during Reconstruction, when African Americans had gained a great deal of political power. That power was taken away from them by the Ku Klux Klan, and by the time Sarah was old enough to go to school, there were no schools for black children. So now she's in St. Louis. She knows how to pick cotton, wash clothes, and do domestic work. And struggled to raise her daughter."
Sarah worked away from home during the week as a live-in domestic. "There was no day care in the way that we think about it now, so Sarah's daughter spent most of her time at the colored orphans home," Bundles explained. "Sarah went to church every Sunday, and she had a good enough voice that she was in the choir."
The choir changed the arc of Sarah's life. "It allowed her to meet some of the more middle-class women to travel around the city when the choir performed. She was being exposed to a way of life that made her aspire to something better," Bundles said.
By 1894, Sarah faced more tragedy: Both of her brothers died, and her support system crumbled. She met a man whom she married, hoping that would help matters. But the marriage was a disaster, and the two split up. Sarah was under so much stress that her hair began to fall out.
Then came a dream that changed her life. Bundles used her own great-great-grandmother's words to describe the episode:
"I was so ashamed of my frightful appearance that I prayed to the Lord for a solution. And one night in a dream, a big African man appeared and he told me what to mix up for my formula and some of the ingredients came from Africa. I sent for them, I mixed them together. I applied them to my scalp and my hair began to grow back faster than it had ever fallen out."
"I think that's part of the truth," Bundles noted about her great-great-grandmother's dream and the successful life that would follow. It's also true that she sold products for a woman who became her competitor, worked as a cook and worked for a man who owned the largest pharmacy west of the Mississippi River. In short, Sarah scrapped and worked hard to make that dream become a reality, like any American entrepreneur.
"What's important to note was the era in which Sarah lived: Most Americans didn't have indoor plumbing," Bundles added. "That meant people didn't bathe often
and washed their hair less often. They had horrible scalp infections. That was Sarah's problem. She was going bald and wanted to figure out a way to have healthier hair."
Sarah moved to Denver in 1905 along with her good friend, Charles Joseph Walker, whom she'd met in St. Louis, and who happened to be a newspaperman. They got married, and she began running newspaper ads for the company she was destined to turn into an empire.
Part of that had to do with her marketing genius. Instead of using her real name in a local black newspaper ad, she chose a catchier one: Mrs. C.J. Walker. "And then in April of 1906 she began to call herself Madam C.J. Walker," Bundles explained. "And you can think, Well, that's a bit of an affectation. But it was really a nod to the fact that Paris, where people were called Madam rather than Mrs., was the center of fashion and beauty culture. And she, like women who were her contemporaries— Elizabeth Arden and Helena Rubinstein—called themselves Madam. It was a kind of a business honorific, a way to have some respect and dignity."
She traveled around Colorado but couldn't grow her business in a state with few black residents. She and her husband instead began traveling to Texas, Kansas, Oklahoma, Mississippi and Louisiana.
It was at this juncture that Walker had two great business insights. The first had to do with the power of the demonstration. "In every town she would visit, she'd find a woman who seemed to have a scalp infection, and would hire a room in a church and get the water heated and wash the woman's hair and show what her products could do," Bundles said.
Her second insight, according to Bundles, would propel company sales in ways no American business had yet conceived, using a then untapped talent source to do it. "She was very good about picking out women who had the most personality and who might be leaders in their church, missionary society or choir. She would pick that woman to be her sales agent, and when she left town, would leave a supply of products and stay in touch. As the women developed a customer base, they would order more products from Walker."
Long before Mary Kay, it turns out, there was Madame C.J. She visited as many towns as possible, evangelizing and creating disciples wherever she went.
In 1909, she visited Indianapolis and noticed there was a thriving black business community.
"There were three black newspapers, including one that was nationally distributed, called the Indianapolis Freeman," Bundles explained. "It was something Madam Walker recognized as a great place to advertise. So she took out an ad, and she used before-and-after photographs, like a Jenny Craig commercial.
"The ads also included testimonials from women who were her customers and sales agents. As one woman said in one of those ads, 'You have made it possible for a black woman to make more money in a day selling your products than she could in a month working in somebody's kitchen,'" Bundles said.
Madam Walker, it turns out, wasn't just selling products that made black women feel and look more beautiful: She was also selling financial and economic independence and empowerment to the very same women. "By training thousands of women to be her sales agents, she developed a workforce, an army of women who were selling her products," Bundles said.
Walker settled her business in Indianapolis because it was near the center of America's population, Bundles explained. "It had a lot of train traffic, which meant it was a great place for her mail-order business. And she knew that the black men who worked on the trains, the Pullman porters, could take copies of the Indianapolis Freeman and sell them as they traveled around the country."
Walker made a name for herself during a fundraiser for the local YMCA when she stood up in a crowded ballroom and pledged $1,000 to the cause. "People were stunned," Bundles said. "No black woman had ever contributed that amount of money to that kind of secular cause. And she began to be written about in newspapers, not just black but white newspapers. People wanted to know the secret to her success, and they were writing about not just her business but her philanthropy."
One of Madam Walker's most compelling stories involved Booker T. Washington and the National Negro Business League, which he founded. She wanted to be included in the 1912 conference's program, but Washington was dismissive. Sexism, it turns out, didn't know any color lines. By then, the Madam C.J. Walker Manufacturing Co. had customers all over the United States, and the company's founder would not take no for an answer.
"On the third and final day of the conference, as the last banker was completing his report, she stood at her seat, looked toward Washington at the podium and said, 'Surely, you are not going to shut the door in my face. I am a woman who came from the cotton fields of the South. From there, I was promoted to the washtub. From there, I was promoted to the kitchen. and from there I promoted myself. I promoted myself into the business of manufacturing hair goods and preparations, and I have built my own factory on my own ground,'" Bundles said. The next year, Washington invited her to be the keynote speaker.
Walker was a person who worked hard all her life. "When I was a washerwoman, I was an excellent washerwoman," Walker often told audiences. "I always took pride in my work and knew that hard work was important."
When people asked her about the secret to her success, Bundles said, Walker would say, "There is no royal flower-strewn path to success. And if there is, I haven't found it. For whatever success I have attained has been the result of much hard work and many sleepless nights. I got my start by giving myself a start. Don't sit down and wait for the opportunities to come. You have to get up and make them for yourself."
When she died in 1919, she was living in a mansion in one of the wealthiest communities in America, a few miles from John D. Rockefeller. She had, during those 51 years, gone from being a child of slaves and an uneducated washerwoman to a millionaire.
It's not just a great African American story. Walker's is a classic American story of persistence and perseverance. One young and old alike—black, white and brown too—should know.