The Story Behind George Strait's 'Love Without End, Amen' Goes to the Heart of Being a Father | Opinion
Songwriter Aaron Barker's son was born just two weeks after he turned 17. But he wasn't filled with dread at the prospect of being a father at such a young age.
Barker's own father, it turns out, wasn't present in his life. What better way to make up for that absence, he figured, than to have a boy—a buddy—of his own.
"I was with him in the hospital, and I thought to myself, 'This will be great. We'll grow up together,'" he told a local reporter in Nashville in 2014, laughing at his naiveté.
It would take Barker a long time to learn that fatherhood entails more—much more—than being a friend to a son. More than 16 years, to be precise, when his son reached an age when boys test their father's boundaries, patience and love.
"He got this car, and he went some places he shouldn't," Barker explained, "and on one particular day, it was bad." That day, Parker knew the relationship had to change in a fundamental way.
"That was the night it really came to the reality that I had to be the dad. I couldn't just be his friend," Barker explained, still very much moved by the memory of that night. "I got on him pretty hard, and he finally went to bed."
It wasn't just the son who had a hard time sleeping that night. The father, it turns out, was still trying to process what had happened. He had his own doubts about how he'd handled things, not certain he'd administered the proper dosage of discipline to his son. No father ever is.
"I just didn't know if I'd gotten on him too hard or not hard enough," Barker said.
But there was a bigger question lurking in the songwriter's head. A more existential question. The very same question any of us who've ever raised kids wrestle with if we have any sense.
"How can you be that mad at somebody and still love them that much?" Barker wondered. "Where does that come from?"
What he did next ended up being one of the best—and biggest—decisions of his life. He turned those raw emotions he was feeling, and those hard questions he was asking, into a song.
"So I got the guitar, and I'm playing and praying and thinking, looking for this answer, and this song was the answer to it."
The answer was "Love Without End, Amen," which soon wound up in country legend George Strait's capable hands. The rest was history. The song spent five weeks at No. 1 on what is now called the Hot Country Songs chart in April 1990, giving Strait his first multi-week No. 1 song. His prior No. 1 songs—all 18 of them—had spent only a week at the top of the charts.
Why did the song resonate with so many music lovers for so long—and why does it still resonate today? Barker had his own explanation. One that had less to do with earthly concerns and more to do with those of an eternal variety.
"That's the way God loves us," Barker explained. "And that's why it's in us all the time. We're born with it. You can get pretty mad at somebody you love, but you still love them. And then I thought, 'How cool is that? Maybe I can get away with some mistakes I've made and still get in the gates, you know? When it's all over?'"
The song tells the story of a trouble-making son who's sent home from school one day for fighting, only to find a father who, before disciplining his boy, shares some secret words his own father had shared with him when he'd been in trouble.
In the second verse, the narrator has himself become a father, and passes along the very same secret words his father had shared with him on a night his own son tested some boundaries.
In the third and magnificent final verse, the narrator dreams that he's died and is standing outside heaven's gate, and sings these words:
Last night I dreamed I'd died and stood outside those pearly gates,
When suddenly I realized there must be some mistake/
If they knew half the things I've done, they'll never let me in,
Then somewhere from the other side, I heard those words again
And then came the chorus, repeated for a third time, but now imbued with a spiritual dimension, a deeply Christian dimension that emphasizes God's unconditional love for all his sons and daughters.
Let me tell you a secret about a father's love,
A secret that my daddy told me was just between us/
He said daddies don't just love their children every now and then,
It's a love without end, amen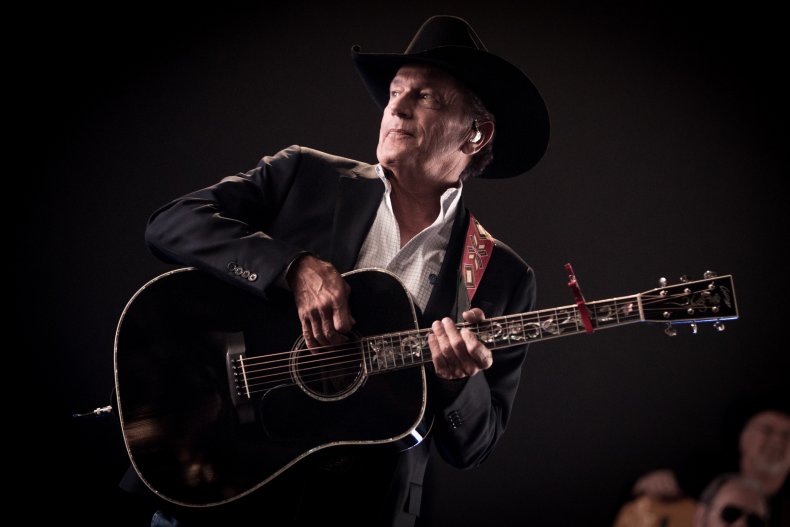 For all the father's out there doing our best to love our children, we're thankful Barker chose to memorialize his deepest struggles and questions that fateful night. His story is the story of all of us who carry the name of father with pride. All of us who believe that being a good father is the world's most important work. All of us who believe that—in loving our own children unconditionally—we come close to being God-like here on earth.
For those of you who've not been present in your children's lives, here's praying you choose to love them. You may not have been there before, but it's never too late to start. Your children need a father's love more than you know. More than you can imagine.
It's not too late to join the best club in America, the Father's Club, and experience love—unconditional love—that never ends.
The opinions expressed in this article are the writer's own.