José Hernández, a farmer-turned-NASA astronaut who applied for the role more than 11 times, has spoken to school children about "reaching for the stars."
On Wednesday, Hernández spoke to children from the Ector County Independent School District, Texas, about his experiences.
Hernández said in a tweet: "It was so awesome talking to the Pre-K's and Kinders at the Ector County ISD Summer ESL program in Odessa, TX! I will take those precious oohs and ahhhhs with me!
He said: "Thank you for the opportunity to plant the seeds of inspiration which will result in our kids harvesting success!"
Hernández tweeted that he spoke to children about "reaching for the stars."
As a child, Hernández was one of four children in a migrant family from Mexico. He and his family would travel from Mexico to southern California each March and go further north, working at farms as they went, before returning to Mexico for Christmas to start the cycle again.
"Some kids might think it would be fun to travel like that, but we had to work. It wasn't a vacation," Hernández wrote on the website of his Reaching For The Stars Foundation.
Aged just 10, he told his father he wanted to be an astronaut after hearing that Franklin Chang-Díaz, the first Hispanic astronaut, had been selected by NASA.
His father encouraged him down this route, advising him to draw a road map to help him achieve his goal.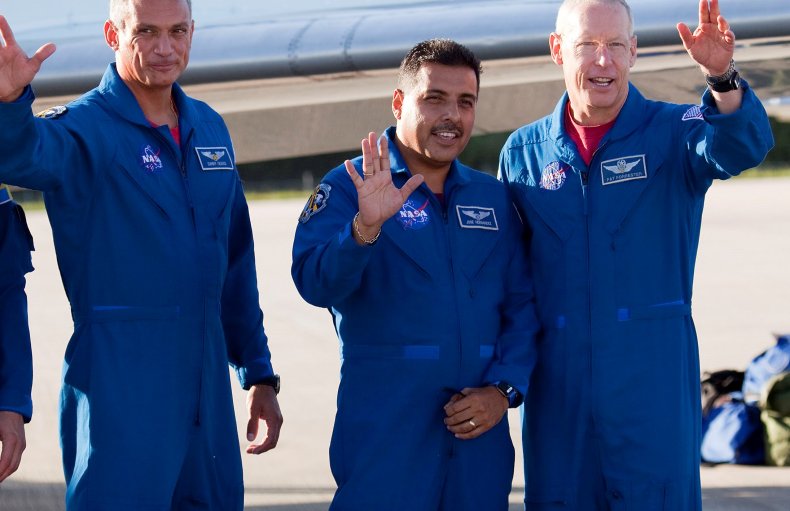 Hernández did not learn English until he was 12 years old. He told ABC7 news earlier this year he gravitated towards math in school "because 1 + 3 is 4 in any language." He frequently travelled between school districts due to the family's lifestyle.
After graduating high school, Hernández enrolled at the University of the Pacific in Stockton where he earned a degree in electrical engineering. He went on to study at the University of California, Santa Barbara, on a scholarship.
The budding astronaut was taken on at the Lawrence Livermore National Laboratory in 1987 and embarked on a career that would see him work on radar imaging, x-ray film imaging, and medical physics including mammography.
Hernández joined NASA's Johnson Space Center in 2001 and joined the Materials and Processes Branch, where he applied to become an astronaut.
Hernández told ABC7: "NASA rejected me not once, not twice, not three times but 11 times. It wasn't until the 12th time that I got selected."
He launched into space aboard the Space Shuttle Discovery in 2009 as part of the STS-128 mission to deliver equipment to the International Space Station. The mission lasted around two weeks.
Hernández left NASA in 2011, moving back to Stockton to run his consulting business.