The house lights dim. The set rotates to show the Oval Office, with Hillary Clinton seated front and center. "Let me tell you the story of my first presidency," Hillary, played by Kerry Butler, says. "In all my life I have only ever loved two men, and they happen to be the same man," she says, revealing the premise of the show. "William Jefferson," the stately, reserved Bill Clinton, appears under a spotlight to one side of her. "Billy," on the opposite side of the set, is the immature party boy who gets the Bills into trouble. And Hillary is the only one who can see them both at the same time.
Confused? Intrigued? Welcome to Clinton the Musical.
After that prologue, the ensemble comes on for their opening number, "Awful-Awesome," clad in quintessential '90s attire, including a multicolored blazer with large shoulder pads and a bright nylon tracksuit paired with a fanny pack. The song is punctuated with the unmistakable sounds of a dial-up modem.
The show's writer, Paul Hodge, 27, was just a young boy living in Brisbane, Australia, when fanny packs were in vogue and connecting to the Internet involved an auditory assault. Hodge, who collaborated on the book with his brother Michael and composed the music and lyrics, was just entering his teenage years when Bill and Hillary Clinton left the White House. Several years later, his family went to Keating!—a musical about former Australian prime minister Paul Keating. "At the end of it," Hodge recalls, "my dad was going, 'Yeah, that was all right but I think that politicians don't make great subject matter for musicals, except maybe Bill Clinton.…'"
That comment marked the beginning of a long creative process: As Clinton the Musical evolved from concept to two-act show, it made stops at the Edinburgh Festival Fringe, the Kings Head Theatre in London and the New York Musical Theater Festival. The show makes its off-Broadway debut at the New World Stages in Manhattan on April 9 after two weeks of previews.
When his brother first suggested they put two Bill Clintons on stage, Paul dismissed the idea. But then he began reading. "In Clinton's autobiography he talks about how he feels like he's led two parallel lives and all these other people in their biographies talked about the contradictions in him," he says. In Behind the Oval Office, Clinton's former political advisor and campaign manager Dick Morris wrote: "I sometimes thought that Bill Clinton had two mindsets: the Boy Scout and the politician.… The reason there are so many comebacks in Clinton's career is the alternation of these two mindsets." Hodge says Morris gave Clinton nicknames like "Saturday-night Bill" and "Sunday-morning President Clinton."
In the spring of 1997, syndicated Washington Post columnist Richard Cohen homed in on the idea. Titled "One Clinton had no clue what the other Clinton did," the column began: "Move over Scotland. It seems the first cloning actually took place in Little Rock where, in 1946, two Bill Clintons were produced, one having little knowledge of what the other was up to."
William Jefferson and Billy appear onstage together throughout most of the show, but all of the cast save for the first lady can only see one Bill at any given moment. In Act I, William Jefferson is visible to the other characters, because he has taken the presidential oath after a vote among himself, his alter ego and Hillary.
"Who wants me to be president?" asks William Jefferson, played by Tom Galantich. He and Hillary immediately raise their hands, while Billy looks on in disbelief. "Oh look at that," says William Jefferson, "two to one, you lose, goodbye."
"That's not fair!" Billy says.
"That's democracy!" Hillary exclaims, as they try to push Billy offstage and out of their lives. For the rest of the first act, most of the cast sees only William Jefferson. In Act II, it's Billy who takes the oath and only Billy the cast can see.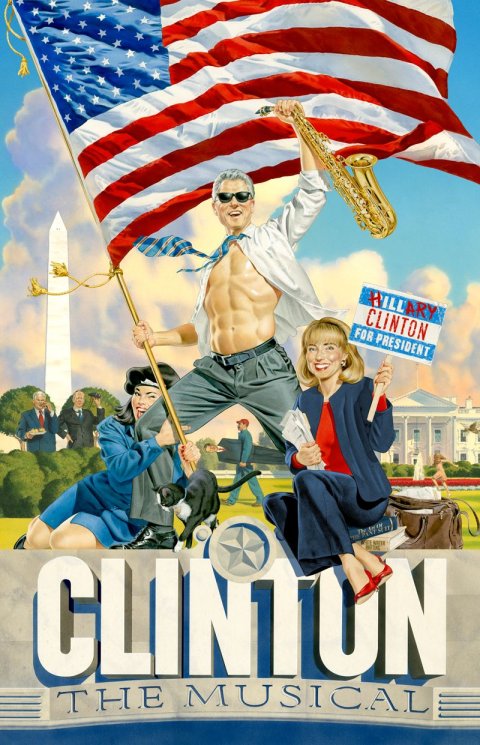 The portrayal of Bill Clinton as two people springs from a grain of truth, and Hodge says he tried to create characters that inflate truth into something exaggerated and hilarious. Al Gore, for example, is played silently by a cardboard cutout. "Why do you need a vice president when you have me?" Hillary asks William Jefferson as she introduces the two-dimensional Gore, who, she points out, is recyclable.
"It's what he would have wanted," William Jefferson quips.
In another number, several congressmen appear as an ensemble of cardboard cutouts, most notably now–Speaker of the House John Boehner, whose face is tinted a bright orange.
The attorney Kenneth Starr, who investigated Clinton during the Monica Lewinsky sex scandal, is portrayed as a conniver who wrangles an unsuspecting Newt Gingrich into his evil plan to destroy Clinton. In the song "Sexual Relations," the two depose Billy to see if they can prove he perjured himself when he said he "did not have sexual relations with that woman, Miss Lewinsky."
"It depends," Billy says, "on what the meaning of sex is." (He also at one point repeats the real Bill Clinton's notorious deposition statement, "It depends on what the meaning of the word is is.")
The name Lewinsky is associated around the world with one salacious incident, but the woman who plays her, Veronica Kuehn, has tried not to dwell on the dirty jokes. (Other than in "Monica's Song," which has an obscene chorus.) For the most part, Kuehn says, her version of Monica is a young, vivacious woman who is totally in love. "So far...there hasn't been anything too tawdry and too mean," she said between rehearsals one day, as she, Hillary and the two Bills spoke with Newsweek over lunch.
"I think we're all very sensitive to that," added Duke Lafoon, who plays Billy. "It's a loving roast of everybody involved."
Also included in the "grand farce," as director and choreographer Dan Knechtges calls it, is a living portrait of Eleanor Roosevelt, played by Judy Gold behind an illuminated frame. She recites Roosevelt quotations in character throughout the show, and Hillary constantly misinterprets them as justification to do what she wants.
At the end of Act II, Roosevelt steps out from behind her frame to chastise Hillary, and to convince her to stay with her cheating, lying husband. The two first ladies sing "Brew It for Your Country," a song that compares women to teabags: "Can't foresee how strong she'll be, till you put her in hot water," Roosevelt sings.
"Make your brew, and when you're through, she's easily disposed of," Hillary retorts.
Roosevelt insists she stay strong and "Brew It for Your Country," and Hillary, as she is wont to do, misinterprets the message: "You're right!" she sings, giddy from her revelation. "I should run for president."
The Clinton musical comes as the real Hillary Clinton is expected to announce her presidential bid for 2016. Butler, who plays Hillary onstage and (her disclaimer) volunteered for her first campaign in 2008, says it has been a challenge to portray a well-known figure who is under constant public scrutiny. She believes most of the people portrayed in the musical would appreciate the "loving roast"...except Hillary.
As for the show's potential impact on voters, Hodge says, "People have such fixed ideas about the Clintons that I don't think…we would change how they feel." He adds that he and his brother tried not to take sides—though one of the biggest laughs of the night comes from a suggestion that Fox News be made illegal.
The show isn't meant to upend the audience's political views, but perhaps they'll exit the theater with a fresh take on how theatrical politics can be, Lafoon says, "and maybe humming some of the songs" as they head home.
And since some of the lyrics are not kid- or office-appropriate, humming might be advisable.