The Story of How 'Batman vs. Superman' Almost Happened 15 Years Ago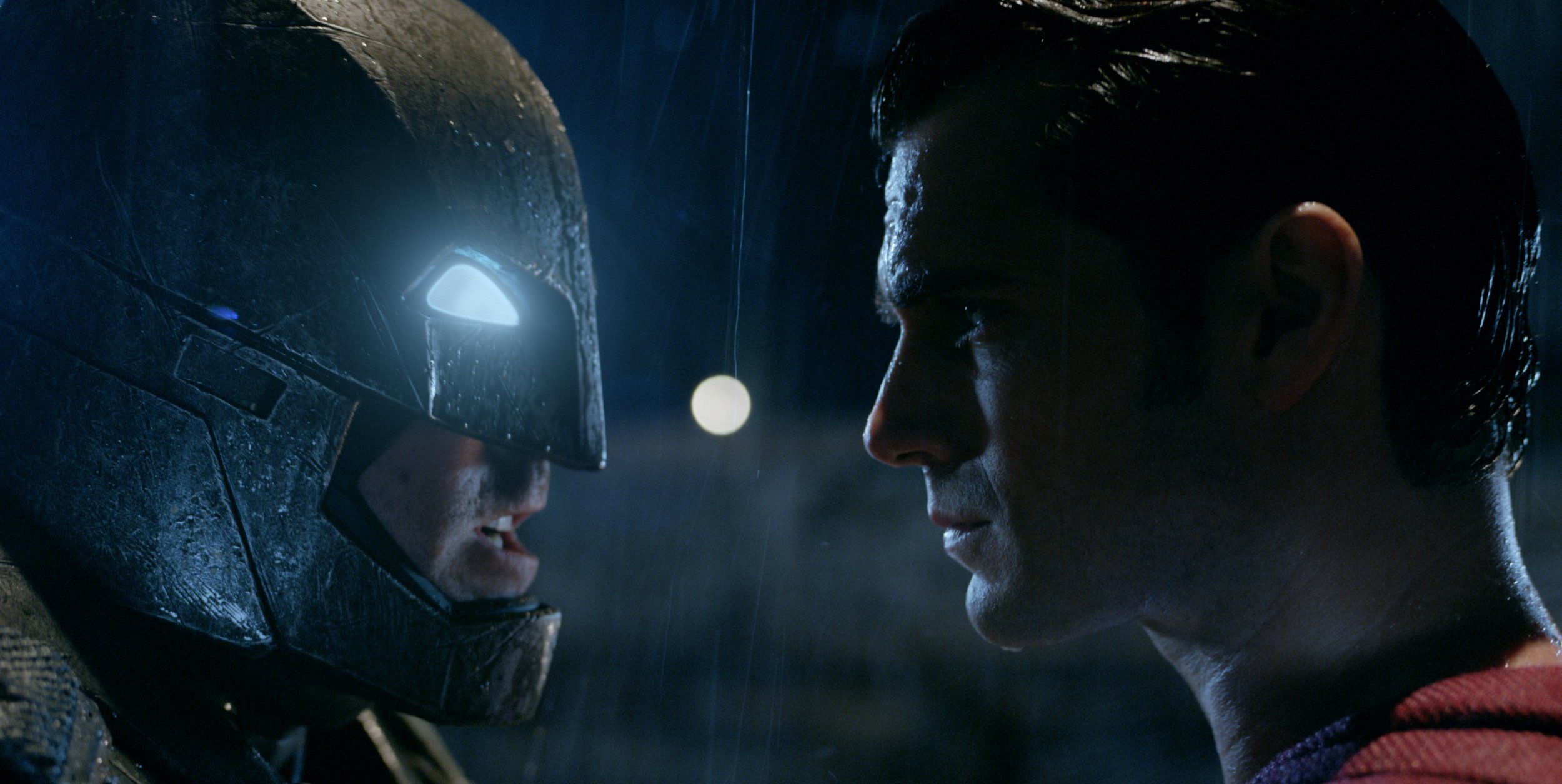 In 2007, Will Smith's post-apocalyptic I Am Legend featured a cool easter egg—a movie billboard layering the Batman and Superman logos together.
On screen for just a few seconds, the futuristic thriller seemingly foreshadowed an eventual collision of the comic book titans. Nine years on, Batman v Superman is very much a reality.
But, no, this wasn't the work of Warner Bros.' marketing team planting the seeds almost a decade in advance, nor a case of divine premonition. The billboard was in fact a remnant of the past, of what could have been, rather than an indication of what was to come. (That part is just happenstance.)
The poster's origins date back to the turn of the century, somewhere around 2001. The X-Men were just taking flight on the big screen and Marvel had yet to Hulk smash its way to box office domination. For years, Warner Bros. was hard at work seeking to relaunch its two most lucrative DC Comics franchises, Batman and Superman, after the disastrous reviews for 1997's Batman & Robin —starring George Clooney and his infamous bat-nipples —and 1987's Superman IV: A Quest for Peace respectively.
For the dark knight, the studio set Black Swan 's Darren Aronofsky as director and co-writer of Batman: Year One , based on Frank Miller's 1987 comic book series of the same name; Miller would help pen the script. The man of steel, meanwhile, fell into the hands of a scribe who would go on to reinvigorate Star Wars —J.J. Abrams. He was drafted in to write Superman: Flyby with McG and then Wolfgang Petersen linked to direct.
But then came the idea of reintroducing both the heroes at the same time, in one cinema-shattering spectacle: Batman vs. Superman. The idea was birthed by screenwriter Andrew Kevin Walker, the man who wrote Seven and Sleepy Hollow. Warner Bros. immediately went for it and Petersen, the Oscar-nominated director of Das Boot and Air Force One, was hired to direct for a summer 2004 release.
Echoing Zack Snyder's decision not to retell Batman's origin story in Batman v Superman: Dawn of Justice, Petersen also planned to spare audiences a backstory and dive right into the action. The heroes would collide in a plot tying their cities, Gotham and Metropolis, together.
"Their individual crises are what pit them against each other. Superman [stands by] his old thing of 'truth, justice, and the American way'—oh, boy, he gets into trouble with that one," the director said in 2002. Batman, meanwhile, ''gets into a case so violent that he's about to lose it. [But] it's a superhero film, so of course at the end they join forces.''
Entertainment Weekly noted that names such as Johnny Depp, Colin Farrell, Jude Law, James Franco and the late Paul Walker were among Warner's shortlist for the two roles.
Somewhere along the way, screenwriter Akiva Goldsman—the Oscar-winning A Beautiful Mind scribe—was hired to rewrite Walker's script, bringing with him a deep-rooted knowledge of the Dark Knight. Goldsman had co-written 1995's Batman Forever and, perhaps better forgotten, he also wrote Batman & Robin.
In 2012, some 10 years later, Goldsman's abandoned script for Batman vs. Superman surfaced online. The draft was devised in secrecy under the codename "Asylum" and is dated June 2002. The parallels to Snyder's darker tone in 2013's Man of Steel and Dawn of Justice are uncanny: Bruce Wayne, older and grizzled, was retired from crime-fighting and mourned the losses of his most trusted sidekicks, Robin, butler Alfred Pennyworth and the police commissioner James Gordon. Clark Kent was going through his own midlife crisis—a divorce from intrepid Daily Planet reporter Lois Lane. These personal distractions proved the perfect breeding ground for the film's villain, Lex Luthor, to pit them against each other.
With a script written, casting talk heated up. Two actors were shortlisted for Superman, Petersen would later reveal: Josh Hartnett and, rather interestingly, Christian Bale, who was also in the mix to play Batman in Aronofsky's Batman: Year One around the same time, and would later win the part in Christopher Nolan's acclaimed Dark Knight trilogy.
The film was "pretty close" to happening, according to its director. But then J.J. Abrams delivered a new script for Superman: Flyby that made Warner Bros. re-evaluate its plans. "[WB chief] Alan Horn was so torn because it's such a fascinating concept to do a Batman versus Superman film," Petersen told MTV in 2010. "But the studio decided to try separate versions of Superman and Batman, and then maybe think about down the road if you want to bring them together in one film."
Like so many proposed Batman and Superman movies before it, Batman vs. Superman was relegated to the depths of development hell, never to be made. Warners moved ahead with Nolan's Batman Begins, released in 2005, and hired Bryan Singer to helm 2006's Superman Returns.
But unlike Flyby, Year One and the other countless projects that never materialized, Batman vs. Superman did make it onto the big screen—in a sense.
That brings us back to 2007 and I Am Legend, a film written and co-produced by Goldsman and directed by Francis Lawrence. As Lawrence explained in 2014, the movie's producers thought it "would be fun" to guess what movies might be released at the time of the futuristic plague depicted in the film. Goldsman saw the perfect opportunity to include the Batman vs. Superman billboard easter egg—a nod to the past and, unwittingly, a wink to the future.