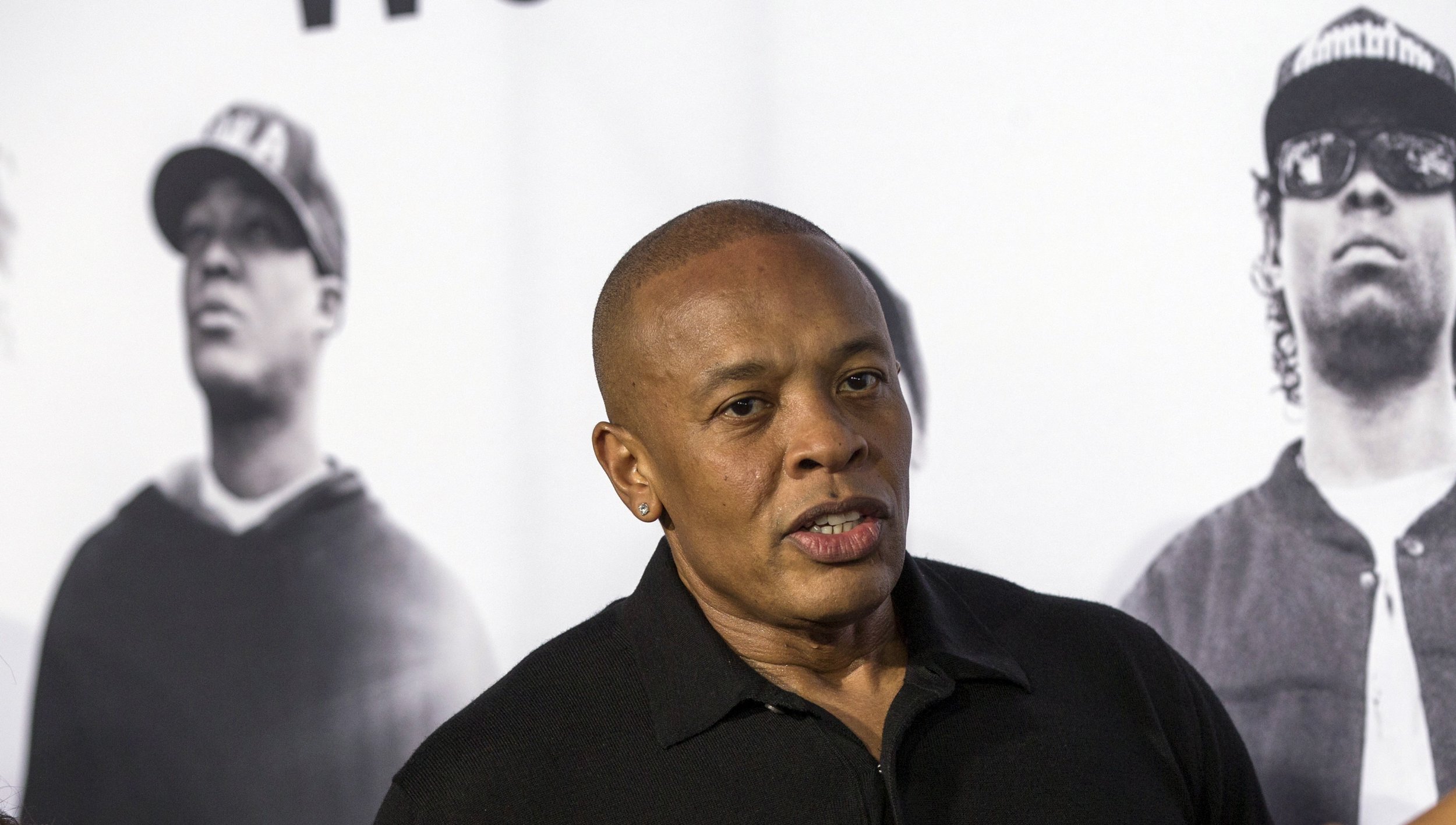 Updated |​ Straight Outta Compton is enjoying an extended run of box office dominance, but viewers will learn little from the N.W.A biopic about Dr. Dre's history of violence against women.
R&B singer Michel'le now says that Dre was physically abusive toward her during their six-year relationship—sending her to the hospital at least once and permanently damaging her ribs—but she isn't outraged that side is not depicted in the film.
"I'm not upset that they didn't put me in the movie," Michel'le told Newsweek. "No, not at all. I'm not upset.… It's their movie, right? Their money."
On Tuesday, rapper and former TV host Dee Barnes wrote about the time she was allegedly brutally beaten by Dr. Dre in 1991 in an essay for Gawker. That incident isn't depicted in Straight Outta Compton, and Barnes's piece prompted a public reckoning about the misogyny F. Gary Gray's movie arguably glosses over.
On Wednesday, Michel'le (born Michel'le Toussaint) spoke to Newsweek about the violence she says she suffered at Dre's hands in a different, domestic context. "What he did to her and what he did to me are two different things," Michel'le said. "I was his fiancée." Michel'le spent much of the early 1990s in a relationship with the rapper and former N.W.A member, performed on Death Row Records releases and had a son with the rapper in 1991.
"He told me he loved me, so I don't think I understood it, but he was abusive, mentally and physically," Michel'le said. "I didn't know any better, because my father never told me he loved me. When you find a guy that wants to be with you all the time, you think that's love, right? I had to make my own world."
Michel'le alleges that during their relationship, Dre kicked her and broke her ribs, injuring her in such a way that her ribs didn't heal properly and leaving a lump on the left side of her body that won't go away. She says he sent her to the hospital on at least one occasion during this period.
Michel'le has previously said Dr. Dre tried to shoot her. In an interview with hip hop video site VladTV earlier this week, she said: "I was just a quiet girlfriend who got beat on and told to sit down and shut up."
Representatives for Dr. Dre didn't provide comment about these allegations of abuse, but the rapper alluded to them in a recent interview with Rolling Stone, saying that he "made some fucking horrible mistakes in my life" and that "all the allegations aren't true [but] some of them are." Dr. Dre pled no contest to misdemeanor battery in a 1992 lawsuit filed by Dee Barnes, but has never been criminally charged in association with Michel'le's allegations.
On Friday, Dr. Dre apologized "to the women I've hurt" in a statement to The New York Times, saying that he regrets his mistakes and has changed in the past 25 years.
Michel'le told Newsweek that she hasn't actually watched the Compton movie yet, but wants to see it. Despite the one-sided story, Michel'le is "elated" that the movie has been made, because it has "brought back an era and a time when we had fun, we were creative, we made creative music."
Asked about Barnes's essay, she said: "I think she deserves her own apology. I understand the stories they told me about it, but I try to just be like, 'Wow, I hope she's OK.' It's hard when you get beat. You can't understand it until you get beat."
The Los Angeles Times reported that the Barnes incident was included in an early draft of the Straight Outta Compton script but was later removed. Michel'le seemed unsurprised that the narrative glossed over less admirable parts of the N.W.A story. "I think what they did was they displayed what they [wanted]," she said. "When you have money and power, you do what you want, and I can't tell you what they should have done. No, I can't. They do what they want to do."
Michel'le still records music and has an EP coming out soon. She's also planning to publish a book. She hasn't spoken to Dr. Dre in years, but she remains grateful for the relationship because it brought her her son, Marcel.
"This [violence] wasn't told in the story because it shouldn't have been, because it's their story," Michel'le added. "And this is my story."
This article has been updated to reflect an apology statement from Dr. Dre.