Before 'Straight Outta Compton': Race and the Musical Biopic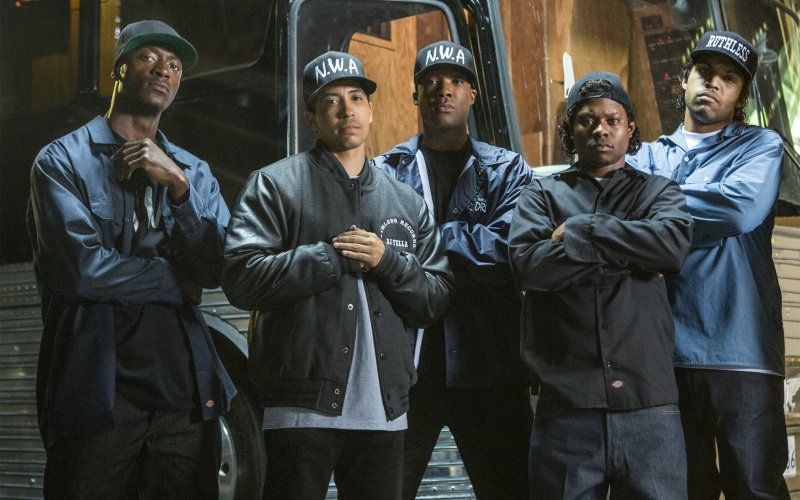 In the beginning, music biopics were almost exclusively white. From the first big-screen adaptation of a musician's life, Night and Day (1946), Hollywood displayed a tendency to spotlight the stories of white entertainers: a Jewish performer known for blackface in The Jolson Story (1946), a famed big-band leader in The Glenn Miller Story (1954), a legendary clarinetist in The Benny Goodman Story (1956).
The release this Friday of Straight Outta Compton—which chronicles the rise and fall of gangsta rap pioneers NWA—sends a defiant signal that the biopic has become more multiracial over the past seven decades. With the recent protests and arrests in Ferguson, NWA's message of anger and frustration against racism and police brutality feels as relevant now as it did in the 1980s.
Straight Outta Compton is poised to have the largest opening weekend for a hip-hop-themed film since 8 Mile. At least one reason for the excitement: the level of engagement by NWA's two most famous living members, Dr. Dre and Ice Cube. Both were actively involved in the film's production. Cube's production company, Cube Vision, produced the film, and his son stars in it. Meanwhile, Dre's contributions have made major headlines. In addition to producing the film, he dropped Compton: A Soundtrack, his first album in 16 years, earlier this month. The praise has been near-unanimous, and the album possesses a savvy for cross-promotion.
Of course, before Straight Outta Compton, there were several biopics that focused on black entertainers, but none approach Compton's level of cooperation and access from its subjects. In fact, compared with Dre and Cube, no public figure has been more immersed in his or her own onscreen bio since Jackie Robinson and Muhammad Ali played themselves in their respective movies. Newsweek looked at a few previous biopics to see how they compare.
St. Louis Blues (1958)
Premise: An outlier at a time when biopics largely starred white actors such as Kirk Douglas and Paul Newman, St. Louis Blues was the first biography on a black artist: the "father of the blues," W.C. Handy. St. Louis Blues excels because of its remarkable, pre-Blues Brothers assemblage of prominent musical talent. Nat King Cole portrays Handy as an adult, with Billy Preston—the "fifth Beatle"—playing him as a child. The all-black supporting cast includes a who's who of stars: Ella Fitzgerald, Eartha Kitt, Cab Calloway, Ruby Dee. It's basically the Ocean's Eleven of black musical biopics.
Artist contributions: None, although it was reported in Handy's New York Times obituary on March 29, 1958, that he had planned to fly to St. Louis the following week for the opening of the Paramount film, described as a "a fictionalized biography of the composer."
Lady Sings the Blues (1972)
Premise: Billie Holiday is widely recognized as one of the greatest jazz singers of all time. Her story was a prized get for Motown founder Berry Gordy, who spent years trying to enter the film industry. As a result, many Motown acts appear in the movie, from Scatman Crothers to Yvonne Fair, and the script was rewritten by Motown executive Suzanne de Passe and Gordy's girlfriend, Chris Clark. The film stars Diana Ross, despite the singer's nonexistent resemblance to Holiday. And while the movie is often noted for its high-powered, tumultuous production, it was the first black-themed biopic to be nominated for an Oscar.
Artist contributions: Holiday died in 1959, but her ghostwritten autobiography served as the basis for the film. Because of Gordy's influence, however, the story still experienced several overhauls, including the insertion of a fictional character (played by Richard Pryor) and the part of Holiday's husband, Louis McKay (Billy Dee Williams), became an amalgamation of several of the singer's romances.
Bird (1988)
Premise: The story of tragic jazz saxophonist Charlie Parker, Bird represented a high-water mark for jazz-enthusiast Clint Eastwood before Unforgiven and Million Dollar Baby made his films fodder for the Academy. Despite glowing reviews, Bird and its actor, Forest Whitaker, were shut out at the Oscars.
Artist contributions: Parker died young at the age of 34, so he had no influence over the film. The project was initially spearheaded by Parker's friend, the acclaimed tenor saxophonist Teddy Edwards, who worked with screenwriter Joel Oliansky before Eastwood got involved. Eastwood also enlisted Parker's wife, Chan, to include critical, digitally enhanced recordings of Parker performing, so Bird heavily relies on its score—and the legendary musician's posthumous contributions—to tell his story.
What's Love Got to Do With It (1993)
Premise: Taking its name from the 1984 hit song, What's Love Got to Do With It depicts the harrowing, abusive relationship between Tina and Ike Turner. As Roger Ebert described it, the film "is not the typical showbiz musical…. It's a story of pain and courage, uncommonly honest and unflinching."Angela Bassett, who plays Tina, received multiple accolades for her performance, including a Golden Globe, an Academy Award nomination for best actress and kudos from the MTV Movie Awards. Laurence Fishburne also scored an Oscar nomination for his portrayal of Ike.
Artist contributions: Plenty. Tina was still a pop culture staple when the movie came out. It had been only a few years since her mid-'80s renaissance, and her role in the third Mad Max. The screenplay was adapted from Tina's memoir, I, Tina, co-written by longtime MTV fixture Kurt Loder. Both Ike and Tina signed over the rights for their lives to be depicted in the film (though, in his book, Ike disputes the film's scenes of him beating Tina). Still in her early 50s when the movie came out, Tina released a popular soundtrack to accompany the film. Also entitled What's Love Got to Do With It, it featured updated re-recordings of many Ike and Tina hits, while the new song "I Don't Wanna Fight" went to No. 1 in seven countries. Bassett lip-synced songs by Tina, who also appears performing onstage near the end of the film.
Ray (2004)
Premise: A widely popular biography of American R&B icon Ray Charles, Ray was nominated for six Academy Awards and won two, one for best actor (Jamie Foxx) and another for sound mixing. Ray, along with Walk the Line, also inspired the memorable spoof, Walk Hard: The Dewey Cox Story (2006).
Artist contributions: Charles reviewed a braille version of the screenplay and worked with director Taylor Hackford for over a decade to secure financing. Before shooting began, he also met with Foxx to review his skills on the piano, before giving his approval to the casting. He died in June 2004, several months before the movie's release. The majority of the singing shown in the film consists of archival recordings of Charles with Foxx lip-syncing over it.
Notorious (2009)
Premise: Notorious is the first hip-hop biography to get the Hollywood treatment. The film tells the story of Christopher Wallace, aka the Notorious B.I.G., and serves as a progenitor for Straight Outta Compton, providing a sanitized recap of recent pop events.
Artist contributions: While Biggie was shot and killed in 1997, both his mother, Voletta, and friend Sean "Diddy" Combs were heavily involved in the project's creation. Serving as producers, their input mirrors Cube and Dre's participation in Straight Outta Compton, which is appropriate, given the characters in Notorious are well-aware of the events occurring in Dre and Cube's film. As Puffy tells Big in the movie, commenting on the post-NWA rap scene in California: "They got Snoop, they got Dre, they got Cube, they killin' it. The East Coast is just looking for someone to fill that void." And now, on the silver screen, it's the West Coast following the East.