Straight Pride Group 'Super Happy Fun America' Members Arrested Over U.S. Capitol Riot
Mark Sahady, the 46-year-old vice president of Super Happy Fun America (SHFA), a right-wing group that threw a "Straight Pride" event, has been arrested along with 59-year-old Suzanne Lanni, for participating in the violent January 6 insurrection at the Capitol. The insurrection, which sought to overturn the results of the 2020 presidential election, left five individuals dead and dozens of police officers injured.
Sahady and Ianni have been charged with knowingly entering and remaining in a restricted building without lawful authority and disorderly conduct on Capitol grounds for their role in the January 6 insurrection.
A January 5 post from Super Happy Fun America's Twitter showed seven unmasked individuals crowded smiling on a bus, with Sahady and Ianni among them. The accompanying text read, "Bus 1 of 11 coming to Washington DC. See you there!"
Sahady's group describes itself on Twitter as "a right of center civil rights organization focusing on defending the American Constitution, opposing gender madness and defeating cultural Marxism."
"Gender madness" refers to transgender identity and "cultural Marxism," according to the Southern Poverty Law Center (SPLC), is a right-wing term with anti-Semitic roots that generally refers to identity politics, including antagonism against such groups as "feminists, LGBTQ people, secular humanists, multiculturalists, sex educators, environmentalists, immigrants, black nationalists, the ACLU," the SPLC writes.
SHFA's President John Hugo told Newsweek, "Mark was not charged with any violent activity. He is fiercely patriotic and we stand by him."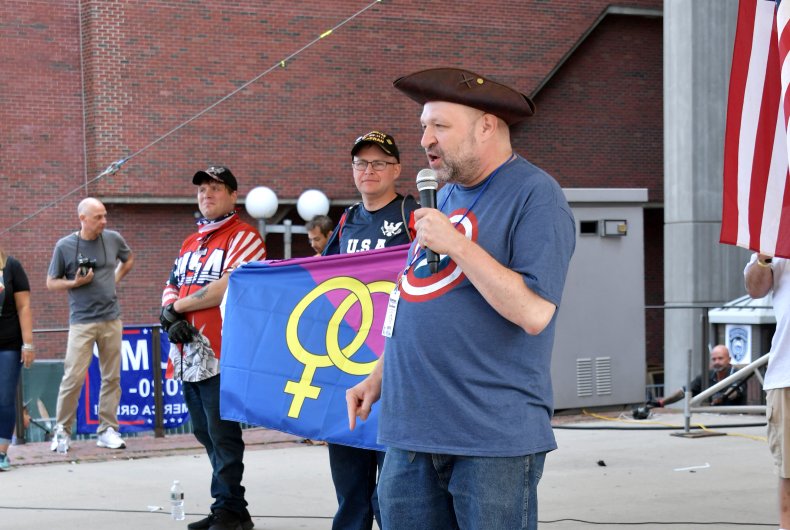 On Saturday, August 31, 2019, SHFA threw a "Straight Pride" parade in Boston, Massachusetts, ostensibly to celebrate "the diverse history, culture, and contributions of the straight community."
The event attracted somewhere between 100 and 200 people, though journalist Zack Ford attended and said that twice as many counter-protesters and police were also in attendance. SHFA's parade featured a giant float with the words "2020 Trump" and "Build the Wall," and also elevated openly gay conservative personality Milo Yiannopoulos as its marshal.
Yiannopoulos is infamously known for his comments that surfaced in February 2017 in which he said that it isn't pedophilia when older adult men have sex with a "sexually mature" 13-year-old. In the same comments, Yiannopoulos expressed gratitude for a priest sexually molesting him when he was at that age.
Boston activists called the SHFA's Straight Pride parade a "trolling event" and pointed out that Sahady once ran the Boston chapter of a small far-right group called Resist Marxism. Resist Marxism's members have ties and ideologies of anti-Semitic and white supremacist movements, according to the Center for American Progress (CAP).
Hugo also told Newsweek that his group is neither anti-Semitic nor white supremacist and called any reports stating otherwise "garbage journalism."
Before its Straight Pride event occurred, SHFA's website falsely claimed that it had corporate sponsorships from Netflix and TripAdvisor. Both companies threatened legal action against SHFA for the false claims. Netflix wrote SHFA, "Our legal department is here, it's queer, and it's telling you to steer clear," and TripAdvisors' cease-and-desist letter made numerous references to gay anthems.
Newsweek contacted SHFA for comment.
Correction (1/20/2021, 4:30 p.m.): The photo caption originally identified John Hugo as Mark Sahady. Newsweek regrets the error.