'Straight Pride' Rally in California Draws 20 Attendees, 200 Counter-prostestors
A "Straight Pride" rally Saturday in Modesto, California, attracted ten times as many counter-demonstrators as attendees, according to witnesses.
Don Grundmann, director of the National Straight Pride Coalition, had originally asked to hold the event in the Mancini Bowl in Graceada Park. On its website, the coalition states that its mission is to prevent civilization "from being destroyed by the inherent malevolence of the Homosexual Movement."
Grundmann's request was ultimately rejected by the council, despite council member Mylinda Mason being a co-organizer for the rally. (Mason's son, Matthew, who is openly gay, spoke against the rally at a meeting earlier this month.) The council cited "security concerns" and insufficient insurance for the event as its reason for denying the permit.
Early Saturday morning, a call went out notifying attendees the rally had been moved to Durrer Barn, a private venue. The Bee estimates a few dozen people came to the barn, with more than 200 counter-protesters gathering nearby at Enslen Park.
Insisting they were not notified the event was promoting straight pride, the Durrer family promptly shut it down, according to the Los Angeles Blade. Grundmann, however, claimed it was broken up by the Stanislaus County Sheriff's Department "for fear of protests and violence."
Shortly after 12:30pm, he relocated the event again—this time to the parking lot outside Planned Parenthood offices on McHenry Avenue, which were closed at the time.
"Masculinity, femininity, the natural family of man, woman children, babies, born and unborn western civilization, Caucasians and all people—all of those are basic foundations that are under attack," Grundmann told told Fox40 at the gathering.
Grundmann had predicted some 500 attendees, but reports put the number closer to 20. Counter-protesters arrived several minutes later, chanting "No Hate, No Fear, Straight Pride is not welcome here!"
Max Reed of the Modesto Non-Violent Collective said the protest proved the community "is standing together to reject this group and what they represent."
"For every step someone takes to come and divide our community, spread hatred, spread bigotry, this many people are standing on guard to make sure it doesn't happen with thousands more," Modesto Councilman Mani Grewal told counter-demonstrators.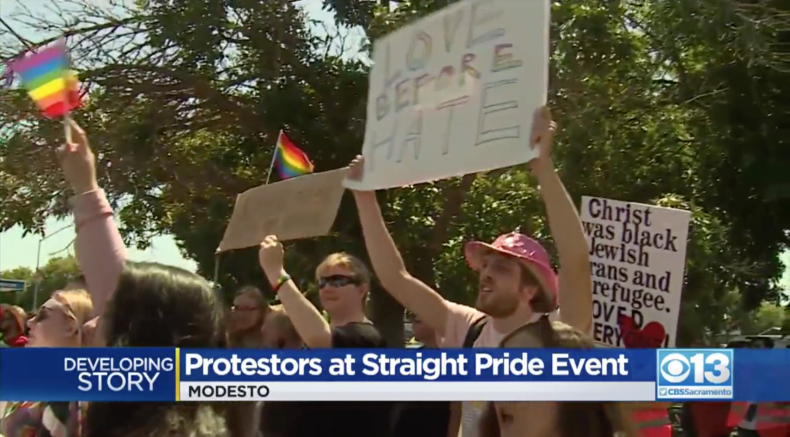 Both groups dispersed by 3pm, with Modesto Police thanking all involved "for remaining peaceful, expressing themselves in a respectful manner while embracing our community's diversity."
A similar straight pride parade is set to take place in Boston on August 31.