Stranded Asylum Seekers Facing Rio Grande Flooding Plead With U.S—Stop Ignoring Us
Asylum seekers forced to "Remain in Mexico" under the Trump administration's Migrant Protection Protocols have become desperate for help, with rising waters from the Rio Grande beginning to flood their campsite on Friday in the wake of Hurricane Hanna.
In images shared with Newsweek by asylum seekers, water can be seen flooding onto parts of the campsite, damaging tents and some of the few possessions the asylum seekers own.
One photo shows a cooking area, which had been set up by asylum seekers and volunteers, flooded with water.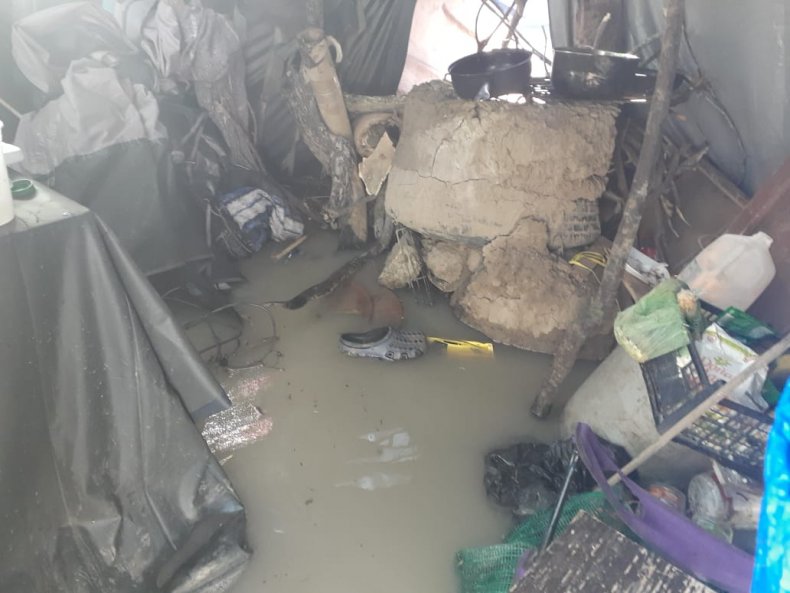 Volunteer groups assisting asylum seekers in Matamoros anticipated the possibility of flooding and have an evacuation plan prepared should it be deemed necessary for asylum seekers to leave the site.
Asylum seekers, however, have said they do not want to have to leave the location. After months of waiting there to be granted asylum in the U.S., they do not want to have to pick up and move again. Instead, they are imploring the U.S. to let them onto American soil.
Speaking with Newsweek, one asylum seeker, whose name has been withheld for fear of retribution, said that asylum seekers at the camp have already been struggling after waiting for months being further impacted by the coronavirus pandemic, which has made it more difficult for volunteer groups to deliver support to those in Matamoros.
"Most of the people trapped in this place have been here for at least 8 months and onwards," the asylum seeker said."It has been a hard wait where many difficulties have been endured."
The encampment, they said, "is not a suitable place to live. It's a very difficult place to be with our families," they said, in an interview translated from Spanish.
"We ask the U.S. government to help us," they said, imploring the government for assistance having their cases processed in the U.S. so they can leave the camp.
It is under the Trump administration's Migrant Protection Protocols (MPP), however, that asylum seekers have been forced to wait in Mexico while their cases are processed in the U.S.
Meanwhile, the coronavirus pandemic has seen the asylum process largely put on hold.
The asylum seeker asserted that those waiting at the camp have waited there to comply with U.S. immigration laws.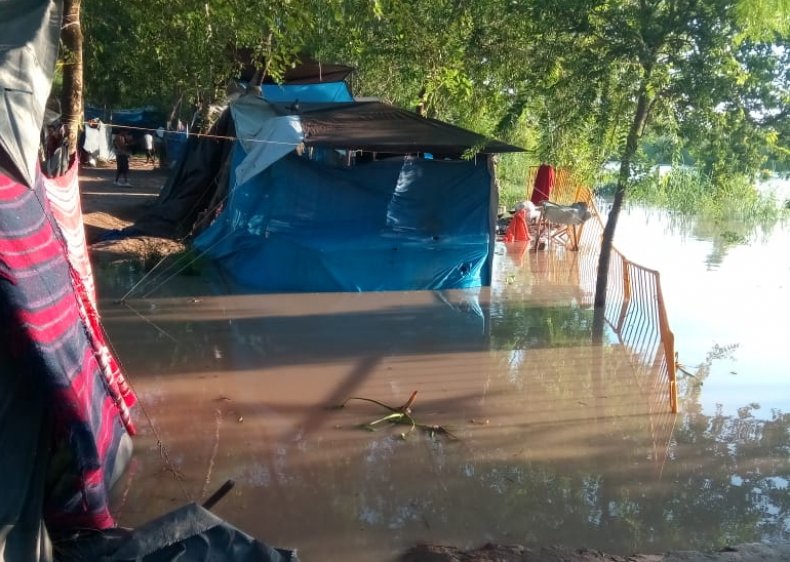 "We have waited because we need the help of this great nation," they said, adding that their children also wanted the opportunity to achieve their dreams in the U.S.
Another asylum seeker who has been living at the camp with his pregnant wife and daughter in a small tent also implored the government for assistance.
"We are very hardworking people," they said, asserting that they wanted to be part of helping the U.S. economy thrive, and "not a burden" to the U.S.
While being forced to live at the Matamoros camp, the man said, his daughter has become despondent and has started to refuse to eat due to her family's situation.
Meanwhile, he said, asylum seekers continue to face danger from criminal groups operating in the area, as well as from snakes that have been seen at the campsite.
Speaking with Newsweek earlier in the week on Tuesday, Andrea Leiner, the strategic operations director of Global Response Management (GRM), an organization supporting asylum seekers on the ground in Matamoros, said asylum seekers were becoming desperate after seeing their court dates pushed back again and again, particularly in the wake of the coronavirus outbreak, and now with the additional threat of flooding brought on by Hurricane Hanna.
"I think it is fair to say that people are feeling a bit desperate," she said.
So far, asylum seekers' calls for assistance from the U.S. government have fallen on deaf ears.
Newsweek has contacted the White House for comment.