Stranded Dolphin Dies After People Harassed and Rode Her at Beach
Distressing images shared by a marine mammal rescue organization on Tuesday showed a stranded dolphin being harassed by people at a Texas beach, where she died before help could arrive.
Alongside the photos, the Texas Marine Mammal Stranding Network said in a Facebook post that the dolphin was stranded alive on Quintana Beach Sunday evening, but beachgoers pushed the animal back to sea, where they attempted to ride and swim with her. After she was stranded again, a crowd of people continued to harass her on the beach.
Although one beachgoer reported the stranded dolphin, she died before rescuers could arrive.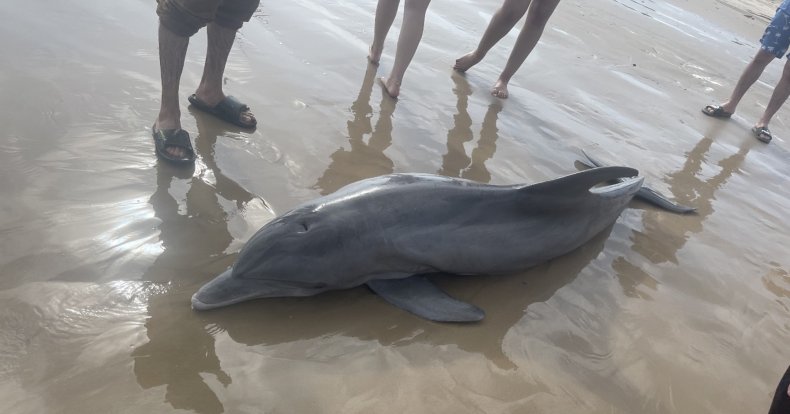 "There is no excuse for the behavior of the beachgoers, attempting to ride, pet, and take photos with the dolphin," Heidi Whitehead of the Texas Marine Mammal Stranding Network told Newsweek.
Whitehead said these actions are considered harassment, which is prohibited under the Marine Mammal Protection Act (MMPA). Harassment can include any pursuit or torment that could injure marine mammals, as well as acts that could disturb the animals by disrupting their normal patterns of migration, breathing, feeding, nursing and sheltering.
People who harass wild dolphins can face civil penalties up to $11,000 and up to a year in prison. In 2014, a marine biologist in California was fined $12,500 and handed three years of probation after pleading guilty to feeding killer whales in the Monterey Bay National Marine Sanctuary.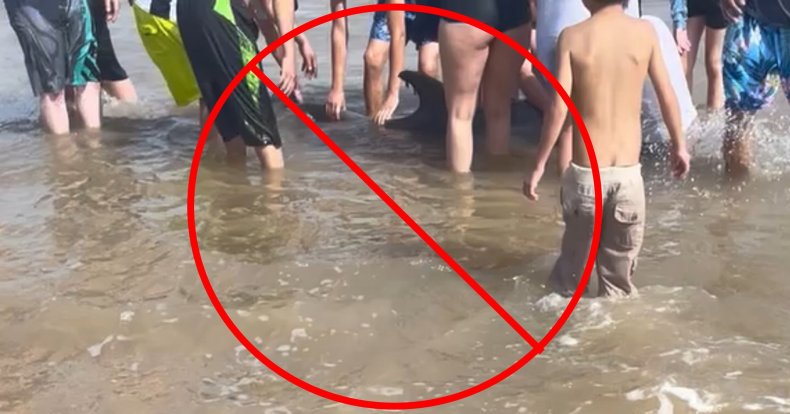 Feeding marine mammals is illegal under the MMPA because it alters their natural behaviors. When the animals associate people with food, they can lose their natural wariness of humans and boats, putting them at risk of injury. They may rely on handouts and lose their ability to find food on their own. Contaminated or inappropriate food could also jeopardize their health. Finally, marine mammals expecting to receive food may become aggressive with humans.
The National Oceanic and Atmospheric Administration (NOAA) recommends maintaining a distance of at least 150 feet from marine mammals in the wild.
Whitehead acknowledged that some "well-meaning individuals" may believe it is appropriate to push a stranded dolphin back into the water, but said that is not the right course of action. "Dolphins strand because they are sick or injured and will most likely drown if returned to sea or re-strand in worse condition," she said.
The best way to help a stranded marine mammal is to immediately call 1-800-9MAMMAL (1-800-962-6625) for guidance on supporting the animal until a rescue response arrives, according to instructions on the Texas Marine Mammal Stranding Network website.
Whitehead said the organization has forwarded information on the Quintana Beach dolphin to the NOAA, which works with law enforcement to investigate marine mammal harassment.
Last month, a headless, decaying dolphin was found on a beach near Brighton, on the U.K.'s south coast, just weeks after a great white shark was spotted in the waters nearby.
And at the end of last year, NYPD Harbor personnel shared a rare sighting of a dolphin pod in New York waters.