Stranger Gives Up Her Pillow for Service Dog to Sleep on Flight: 'Angel'
It isn't just hardworking humans who need to rest after a long day, but service dogs too. A video of a stranger giving her pillow to one on a plane has gone viral on TikTok.
The video of Munchie, shared by @munchiethelizardking, has received more than 2 million likes, and over 12,800 TikTokers have commented.
The original poster has referred to the stranger as an "angel," and you can watch the footage here.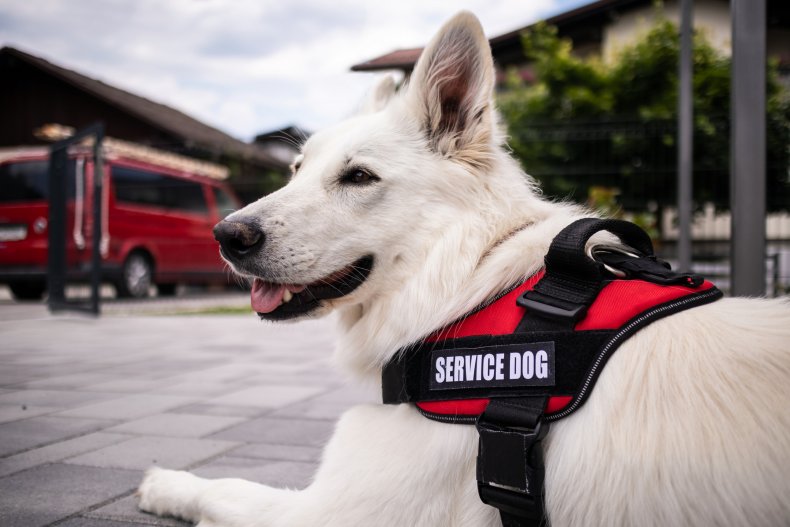 Dogs are the perfect companions for people with physical disabilities and those with mental-health conditions such as post-traumatic stress disorder (PTSD) anxiety and depression.
In the U.S., service dogs weren't legally recognized until the Americans with Disabilities Act (ADA) was passed in 1990. This initially defined a service dog as any guide dog, signal dog, or another animal individually trained to provide assistance to a person with a disability.
Before the ADA, the only service dogs with specific legal protections were seeing-eye or guide dogs for people with visual disabilities, with these animals first appearing in the U.S. in the 1920s. As of 2019, 500,000 Americans are helped by service dogs.
Danny Anderson, fundraising manager at Support Dogs UK, told Newsweek: "Service dogs not only provide incredible physical support, but they also have a massively positive impact on mental health.
"Service dogs also act as a conduit for greater family harmony – providing a focal point for family activities, they also help you feel more part of your community.
"Disability, both physical and mental, can be isolating," said Anderson. "A service dog breaks down barriers and encourages people to talk to you and get to know you."
TikTokers couldn't get enough of the stranger's generosity to Munchie in the video and the bond formed between them, with the woman seen putting her arm around the dog.
The top comment, with more than 110,000 likes, read: "SHE MADE MY HEART SMILE.....WHAT A BEAUTIFUL HUMAN BEING!"
A TikToker wrote: "She was like: it's our dog while he is here," while another commented, "He probably helped her too. A dog snuggle is always soothing."
Newsweek reached out to @munchiethelizardking for comment. The story has not been verified.
Newsweek is passionate about giving service animals the recognition they deserve; Diesel the service dog helped his trainer with her battle with depression, and Yorkshire terrier Cooper has been awarded pet of the week.