Stranger Steals E-Scooter From Child on New York Street After Asking Where His Mom is
New York police are asking for the public's help to find a stranger who was caught stealing an electric scooter from a 6-year-old boy outside the child's home in the Brooklyn borough.
Newly released surveillance footage published Thursday shows the child riding his scooter in Borough Park along 12th Ave. near 36th St. around 7:10 pm. on July 7 when the unidentified man approaches.
The suspect is seen stopping the boy with his hand and pulling him off the $500 scooter before riding off with it in the other direction. According to police, the man asked the boy, "Where's your mommy?" when he grabbed the e-scooter from the child.
The child was not physically harmed during the incident.
About a week after the incident, officers from the 66th Precinct and NYPD Community Affairs joined community leaders and a local business to help gift the boy a new ride and helmet for his seventh birthday.
"In collaboration with community leader Yanky Meyer and Yonasan Schwartz, the owner of Toys 2 Discover, we were able to provide the young victim a brand new scooter and helmet for him to enjoy!" Capt. Jason Hagestad, the commanding officer of the 66th Precinct, tweeted on Tuesday.
Police described the suspect as a Hispanic man in his 60s who is about 5-foot-8 inches and 140 pounds, with salt and pepper hair. He was seen wearing a grey T-shirt and white cargo shorts at the time of the robbery.
Authorities are asking anyone with information regarding the suspect or his whereabouts to call NYPD Crime Stoppers at (800) 577-TIPS.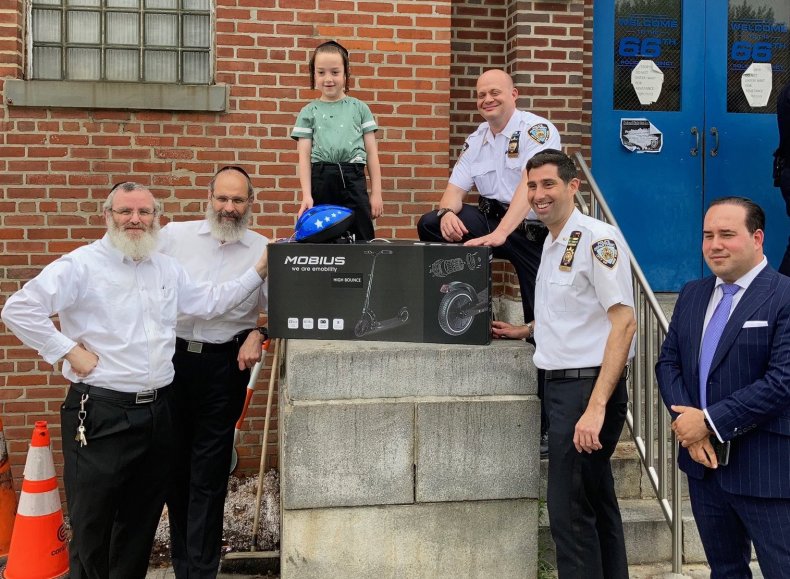 The boy's father told the New York Post that the e-scooter belonged to the child's special-needs brother. He added that the boy was so shaken, he hadn't been back to school since and was afraid of riding a scooter again.
"At the police station, he was a little afraid," the father said of his son. "We got him to say a few words."
"We are working on it," he added. "We are going to have therapy for him, for sure. We are not going to let him fall behind."
The incident comes just weeks after another robber stole a gold chain from the neck of a 4-year-old boy in Washington Heights.
Police say a thief snatched a $900 Cuban gold chain with a "G" pendant from the boy in the lobby of an apartment building on West 182nd St. and Audubon Ave. The child suffered a small cut to his neck, police said.