'Sesame Street' Spoofs 'Stranger Things 2,' Turning Show Into a Demogorgon Sharing Lesson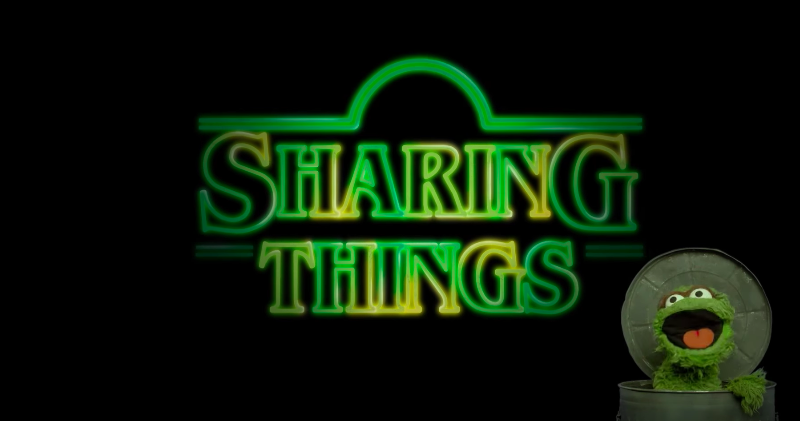 Just when you thought Bob was the cutest part of Stranger Things 2, here come the Muppets. It was probably only a matter of time, but Sesame Street has spoofed the Netflix thriller series. And it's adorably clever.
In the Sesame Street version, Cookie Monster plays the Cookiegorgon, a creature living in the Snackside Down who hears trick or treaters and wants to get in on that candy action. Cookiegorgon fools Jo (played by Winona Ryder in the Netflix series) and takes all of the candy before the Muppet kids dressed as Ghostbusters can have any.
But instead of running away or hitting Cookiegorgon with a baseball bat, the kids teach him a lesson about sharing. When the kids start screaming about Cookiegorgon being unfair, "Eleven" (the actual numeral 11) shows up and explains why friends always share.
Sesame Street packs lots of winking references to the adult series in its sharing lesson, which makes it a fun watch for people of any age. Chief Hopper is, what else, a rabbit in a police uniform. There's a mocking callback to Episode 7 of Stranger Things, a polarizing bottle episode that introduces Eleven's "sister" from Hawkins Lab, a girl who goes by Kali but has the number 8 tattooed on her arm. And there's the obligatory poking fun at Barb: in the final moments, Cookiegorgon returns to the Snackside Down to present Barb with her waffle, but not her freedom.
"Stranger Sesame Street Things" isn't the first time Stranger Things has come in for parody. In August 2016, The Tonight Show with Jimmy Fallon lampooned the show in a short sketch featuring the original kid actors. Saturday Night Live parodied Stranger Things, too, in October 2016. That one had a bit more bite, though. The writers focused on the fact that Lucas, the only black character in the cast, was the only kid whose parents hadn't appeared.
This year, timed to the release of Stranger Things 2, Jimmy Kimmel Live premiered a bizarre mash-up of the Duffer Brothers' series with Perfect Strangers, a 1986 sitcom starring Bronson Pinchot and Mark Linn-Baker.
Sesame Street's Stranger Things parody isn't the first time the Muppets have taken on pop culture. Other notable, G-rated Sesame Street parodies of "mature" shows and movies include "Sons of Poetry" (Sons of Anarchy), "When Cookie Met Sally", "True Mud" (a True Blood parody), "The Walking Gingerbread", "Star S'Mores", "Game of Chairs", and "Orange is the New Snack".
The Duffers and executive producer Shawn Levy plan to release five seasons of Stranger Things, according to Entertainment Weekly, and they add that anything beyond season 5 is "very unlikely." If that holds true, there are a bunch of Muppets who might be willing to step up and keep the story going.