'Stranger Things' Costume Idea Guide for Halloween 2017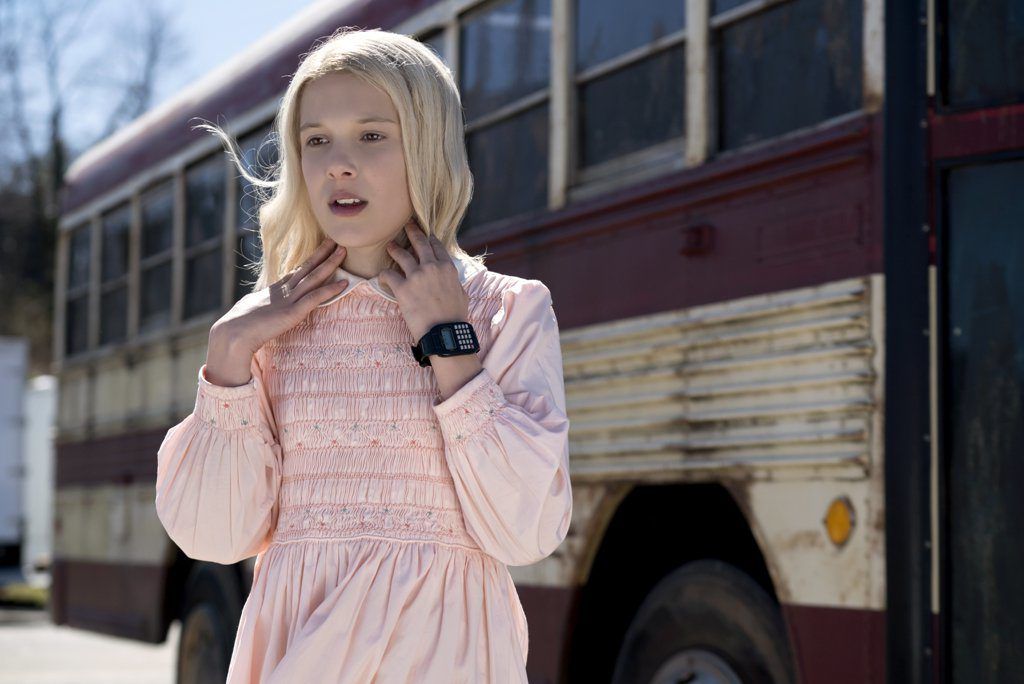 It's basically Halloween already. Suddenly, there's only a few weeks left to put together a costume that's topical, funny and doesn't make you look completely un-dateable all at the same time. That's where these Stranger Things costume ideas come in.
The second season of Netflix's popular sci-fi horror series (finally) premieres on October 27, making it the perfect pop culture reference for Halloween weekend. Seriously, if you don a Stranger Things costume, you will be all the rage among the nerds at Halloween parties this year. You'll remind them of how they'd rather be binge-watching the new season instead of socializing.
Here's a few options you could try out for yourself.
Eleven
There's a reason Eleven's the most popular pick for Stranger Things costumes: She has the most distinct look by far. It's also not that hard to throw together a DIY version of the costume. The No. 1 thing you need is, of course, a blonde wig. Pick up something like this wig at your local Party City, and then rough it up a bit to get that signature Eleven look.
Then you need a long-sleeved light pink dress with a collar. There are several exact replicas available for purchase online (even one from Hot Topic). They're a bit pricey, so I'd also suggest checking out your local thrift shops for an alternative. As long as you have the wig, and maybe put a few smudges of dirt on the dress, you'll pull it off.
Top the whole look off with some knee-high white socks and a box of Eggos. I have a feeling you can find those on your own.
Eleven Version 2.0
New photos from Stranger Things 2 were released to Entertainment Weekly, so if you want to be really current with your costume, go with the updated Eleven look. Get a curly brunette wig instead of blonde, denim overalls, a grey pea coat, and a messenger bag.
Barb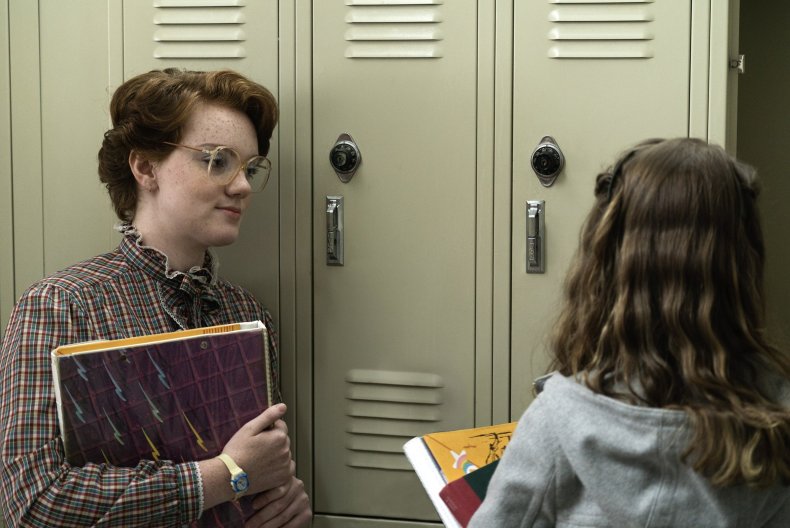 If you don't want be Eleven (she is a little over done), then maybe try embodying the character with the next best costume in the series: Barb. Glasses are the major key here. There's a replica available for cheap online, but if you're in a time crunch, you could also ask your older relatives if they have a pair lying around. Very few of the vision impaired escaped the '80s without those glasses.
You'll probably also need a curly red-haired wig—or at least temporary red hair dye spray—and a ruffled plaid shirt. And you must get the high-waisted mom jeans. You must. Carry around some notebooks to complete the look.
(Un)dead Barb
Since it doesn't seem like Season 2 is going to bring #JusticeForBarb in the form of zombies, take matters into your own hands by turning that Barb costume into an undead Barb costume. Buy a zombie makeup kit and go to town. Perhaps make a #JusticeForBarb sign to pin on yourself for an added flourish?
Dustin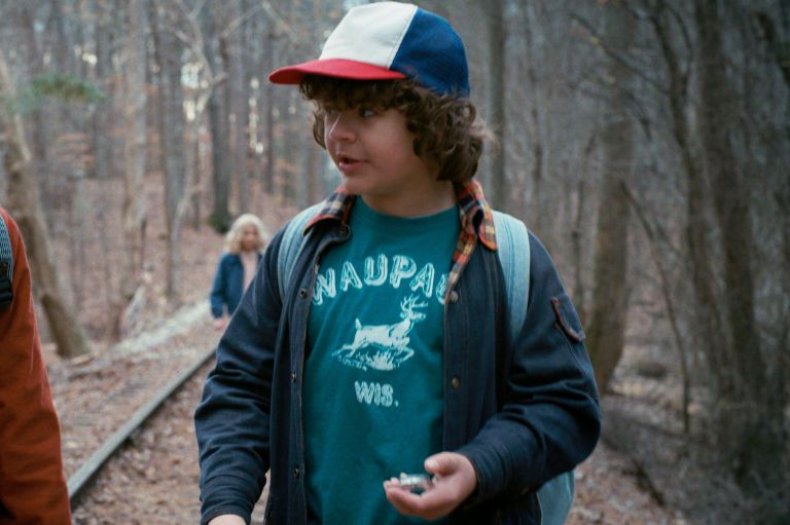 The other three kids don't have a distinct enough look for a costume, but you could probably pull off Dustin. You'd need his red and blue trucker hat and a curly hair wig. Then just throw on any old t-shirt, jacket and backpack and you've nailed it.
Jim Hopper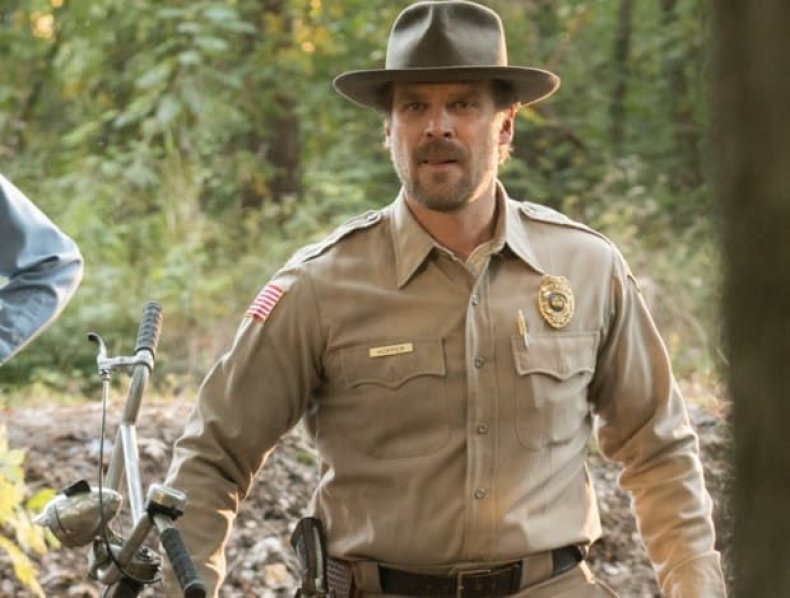 Hopper is a great (or terrible) option for a Stranger Things costume, because you can pretty much just buy a regular sheriff costume and then make yourself a little Hopper nametag. (Party City actually has its own knock-off Hopper costume for purchase.) You might not be immediately recognized, but at least it was easy. Or you could just gather all the beige clothes you own and add a belt and a fake gun. Try to walk around with a tortured look in your eye. Done and done.
The letters on the wall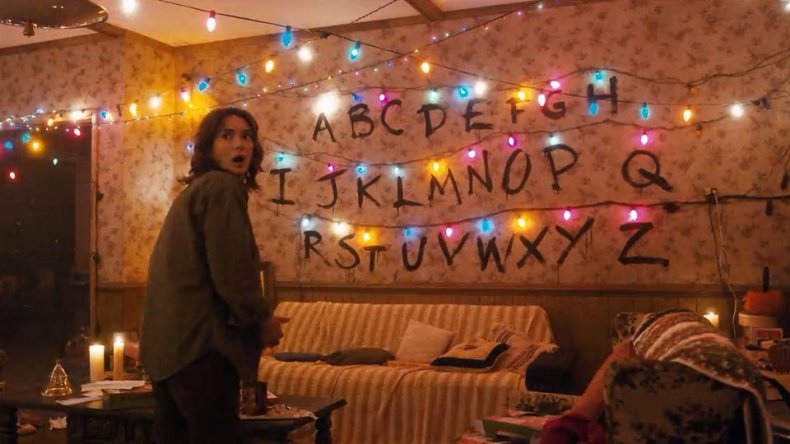 I witnessed this costume at a Halloween party last year and can confirm that it was a big hit. It's also not that hard: All you need is a white T-shirt, a permanent marker and a string of Christmas lights. (If you want the lights to actually work then it gets a little more complicated, but you can purchase fairly inexpensive battery-operated lights.) Make this one a couple's costume and put half of the alphabet on your boo's shirt. Or get five of your friends in on it. The possibilities are endless.
The Demogorgon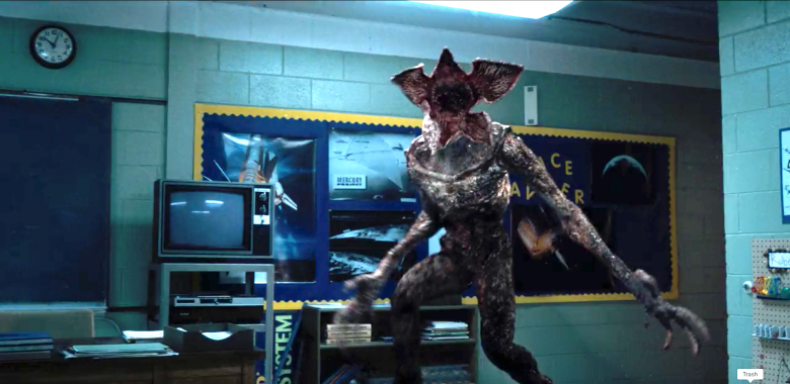 This one may sound hard, but it doesn't have to be as eloborate as this functioning Demogorgon costume. You could probably just attach some triangular pieces of cardboard to a headband and stretch it around your face. Probably.
Now go forth and be strange and topical this Halloween.