Stranger Things' David Harbour followed through with a promise he made in January to officiate a fan's wedding Saturday.
"Hey internet. I know it's been a while. I retreated. Needed some space. You probably get it," the actor wrote on Twitter. "But I've been thinking about ya in the interim. And all your retweets. And, so, me and some fun folks in Springfield, Illinois, made good on our promise we made all those months ago."
He attached a photo to the post showing he dressed as his character from Stranger Things, Chief of Police Jim Hopper, for the ceremony.
"@DavidKHarbour was so awesome yesterday," the fan wrote Sunday. "We had such a great time!!! Thank you so, so much!!"
The fan asked what it would take for him to officiate her September wedding on Twitter in January. Harbour quote-tweeted the request and listed his terms the following day. "125k retweets. Provided date works with s3 shooting schedule, I will get ordained and perform ceremony," he wrote.
"I get to read an esteemed love letter of my choosing and after the cake is officially cut, I get the very first piece," he continued, adding the hashtag, "all the cakes."
Though someone pointed out the first piece should go to the bride and groom, Harbour remained steadfast. "I will allow the smearing of it on each other's faces, licking the icing off fingers and all other bride and groom cake shenanigans, but the actual first whole piece is mine, dammit," he wrote.
It didn't even take 24 hours for the fan to get 125,000 retweets. "You're kidding me," the actor wrote the day after proposing the challenge and told the fan to send him a direct message. "I'm making it seriously hard next time, internet," he said. "This is not over between us…"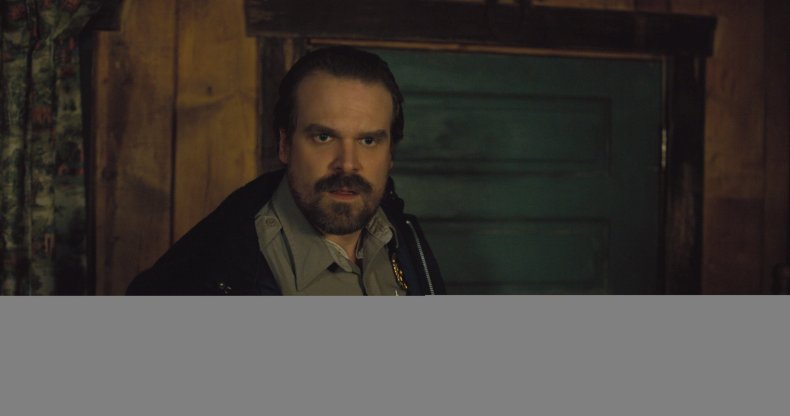 Harbour officiated the wedding ahead of Monday's Emmy Awards. He's nominated for outstanding supporting actor in a drama series for his Stranger Things role. The other nominees in his category are Nikolaj Coster-Waldau (Game of Thrones), Peter Dinklage (Game of Thrones), Mandy Patinkin (Homeland), Matt Smith (The Crown) and Joseph Fiennes (The Handmaid's Tale).
"Thank you @TheEmmys for the nomination," Harbour tweeted in July. "My performance is dependent on the subtle and profound talents of my co-stars and crew. the heart and soul of @Stranger_Things ; so, if i take home gold i will shred it into little pieces and pass them out on set. provide a blowtorch, pls."
Stranger Things Season 3 will be released on Netflix in the summer of 2019.