'Stranger Things' Dad David Harbour Won the Super Bowl With Those Tide Ads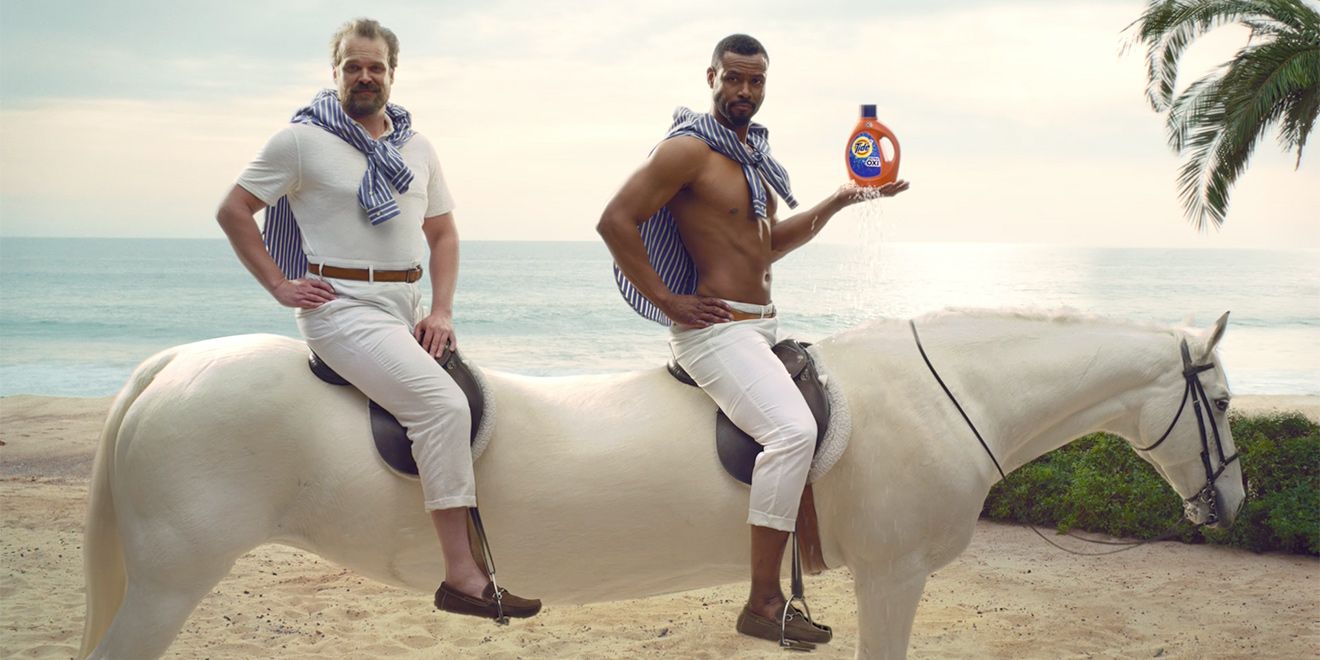 After the "Tide Pod challenge," the company behind the laundry detergent desperately needed a way to appeal to a younger crowd—a way that didn't involve eating soap. Tide's first (through fifth) stab at that starred David Harbour, who plays Chief Hopper on Stranger Things: The actor appeared in five of their commercials during Super Bowl LII on Sunday.
As the town of Hawkins's police chief, Harbour has won over fans of Stranger Things with his goofy/sexy dad persona, which the 42-year-old actor has savvily exploited on social media.
It makes Harbour the perfect choice for a tongue-and-cheek series of self-aware ads. Each one starts as a parody of a famous commercial trope, before Harbour pops in and informs viewers that, in fact, it's an ad for detergent. "Just your typical car ad," Harbour says, driving a car into a sunset á la Matthew McConaughey in a Lincoln. "Right?" Wrong. It's a Tide ad, because, according to Harbour, everyone has clean clothes on.
In one of the funnier spots, Isaiah Amir Mustafa, of Old Spice fame, makes an appearance. "I'm in a Tide ad," Mustafa says as the camera pans back to reveal Harbour sitting behind him on the white horse.
See a super-cut off all five ads below.
You might think an actor from a series with a passionate, nerdy fanbase like Stranger Things would face "selling out" accusations for commercial appearances. But Harbour and Tide played the tone just right. (The provocative dancing as Mr. Clean in that last ad was particularly on-brand.) Fans absolutely loved it. In fact, many declared the ads the highlight of the evening.
Tide was the clear winner of the Super Bowl, after the Eagles, of course. Hopefully, kids will now look at Tide as something other than a snack.
As for Harbour, he will also star in the upcoming Hellboy reboot, slated for a January 2019 release. Publicly adored and a superhero. Meanwhile, Stranger Things is expected to begin filming Season 3 this spring. Creators Matt and Ross Duffer might want to think about giving Harbour a raise.