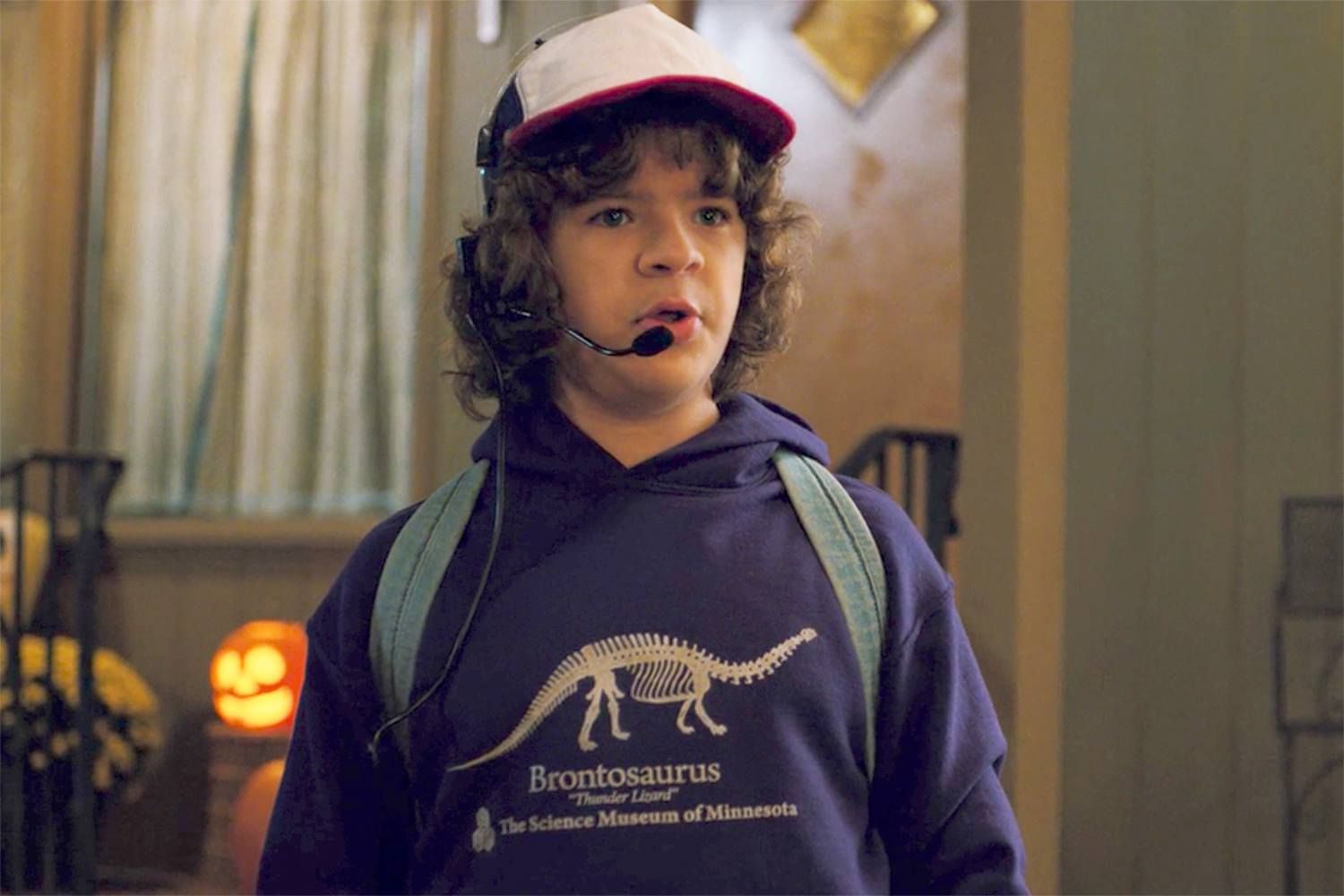 Stranger Things fans are passionately devoted to the show. All the proof you need: a science museum's website crashed Tuesday as thousands trying to buy a hoodie featured in Season 2.
In the first episode of the current season, streaming on Netflix, Dustin (Gaten Matarazzo) shows up to school wearing a purple hoodie with a Brontosaurus, nicknamed "Thunder Lizard," from the Science Museum of Minnesota. The St. Paul-based museum noticed the costume choice right away, caqlling attention to the sweatshirt on its Facebook page: "Stranger Things fans: Check out what Dustin is wearing in Season 2, episode 1! Yes, we want one too. Working on it!"
Costume Designer Kim Wilcox told Newsweek she found the '80s vintage purple sweatshirt online while hunting for period inspiration. "I really loved the Brontosaurus for Dustin, so we bought the original. Then we made our own purple hoodie with this great dinosaur art in Gaten's size." She was delighted that the science museum had not only noticed the hoodie but decided to bring back the retired design for a special Stranger Things-inspired re-release.
The hoodie finally went on sale Tuesday morning on the museum's website. But museum staffers underestimated demand: It wasn't long before the influx of web traffic crashed the website, leaving disappointed fans shut out.
But the site's back up and more than 80,000 purple hoodies have already been sold, at $36.95 a pop. "It's an exciting day at the museum," spokesperson Kim Ramsden told the Star Tribune. Several local fans headed to the physical location in St. Paul, Minnesota, but the museum warned that supplies at its on-site "Explore Store" are limited.
If you're a fan of Stranger Things but not hoodies, the museum has you covered. It also sells Thunder Lizard t-shirts ($19.95) and crewneck sweatshirts ($29.95)
The purple Brontosaurus hoodie isn't the only Stranger Things look fans can land: You can purchase fashion plate Dustin's signature red, white and blue trucker hat at Target.
Now, of only we could get Farah Fawcett's family to re-release her hair care line so we can mimick Steve's bitchin' hair.