'Stranger Things': Netflix Vows To Cut Back 'Harmful' Smoking Depictions in TV Shows
Netflix has vowed to quit its smoking habit, promising to cut back on depictions of "harmful" cigarette use in its TV shows such as Stranger Things, Orange is the New Black and Unbreakable Kimmy Schmidt.
The streaming titan was responding to a study by the Truth Initiative that found, for the past two years, Stranger Things was the worst offender when it came to depicting tobacco consumption on screen.
The anti-smoking national nonprofit pointed out that there was a 44 percent increase in characters' smoking in the show's second season, with 182 examples in season one and 262 in season two. In the 1980s set sci-fi horror series, prominent heroic characters such as Joyce Byers (Winona Ryder) and Jim Hopper (David Harbour) are frequently shown smoking cigarettes. The third season of Stranger Things was released by Netflix on Thursday.
In response, Netflix said that going forward that all original new shows it commissions with ratings of TV-14 or below (PG-13 or below for films) will exclude both smoking and e-cigarette use "except for reasons of historical or factual accuracy."
"Netflix strongly supports artistic expression," said the company in a statement to Variety. "We also recognize that smoking is harmful and when portrayed positively on screen can adversely influence young people," they added.
The streaming service also added that smoking information will all be included as part of its age-appropriate ratings "so our members can make informed choices about what they watch." The information will be rolled out later this year.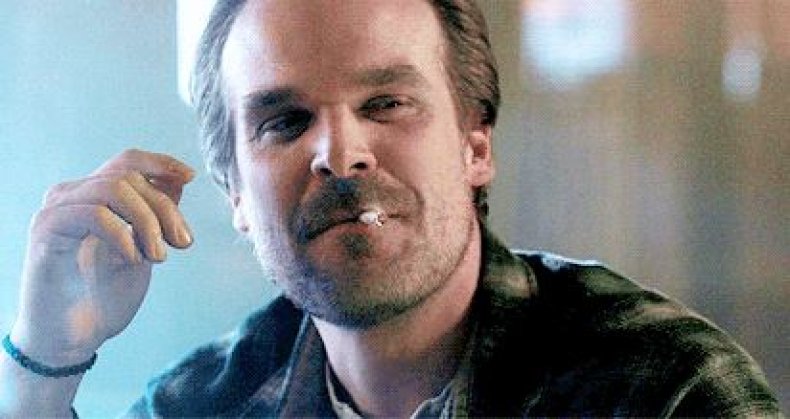 Stranger Things wasn't the only Netflix show to be criticized in the report. The Truth Initiative also found 292 depictions of smoking in Unbreakable Kimmy Schmidt, 233 in Orange is the New Black and 54 in House of Cards. The study also found prominent cigarette use in other youth-oriented TV shows such as Once Upon a Time and Modern Family on ABC, The Marvelous Mrs. Maisel on Amazon and American Horror Story on FX.
According to Truth Initiative, peer-reviewed studies estimate that 37 percent of new youth smoking initiation in the U.S. can be attributed to watching smoking in movies.
"Content has become the new tobacco commercial," said Robin Koval, CEO and president of Truth Initiative in a statement.
"We're seeing a pervasive re-emergence of smoking imagery across screens that is glamorizing and renormalizing a deadly addiction and putting young people squarely in the crosshairs of the tobacco industry. Streaming, broadcast and cable companies are giving the tobacco industry free advertising and young people are paying the price. This report is a call to action to creators, producers, policymakers and the public to change the channel and take smoking out of the picture."
Nearly 16 million Americans are living with a disease caused by smoking, with around 1,300 people dying each day from tobacco-related diseases, according to the Centers for Disease Control and Prevention.