'Stranger Things' Season 3: Dates, Plot, Cast and Everything We Know So Far
It's been five long months since the Stranger Things Season 2 premiere, and fans are desperate for an update on life in the Upside Down. Luckily, the cast and crew of the hit Netflix series provided that fix at the 2018 PaleyFest on Sunday night.
Executive producer Shawn Levy and stars Winona Ryder, Sean Astin, Paul Reiser, David Harbour, Millie Bobby Brown, Caleb McLaughlin, Sadie Sink, Natalia Dyer and Charlie Heaton all sat down for a panel moderated by Wil Wheaton in Los Angeles's Dolby Theater. While big spoilers were kept under wraps, Levy did tease several details from the upcoming season, the most important being an increased role for Joe Keery's fan-favorite character, Steve Harrington.
"We'll definitely get to see some more of Steve Harrington in Season 3," Levy said, according to The Hollywood Reporter. "We won't be abandoning the Dad Steve magic. I don't want to say much more, but I literally feel that we were walking along and we stumbled onto a gold mine with Dad Steve."
Steve's paternal tendencies are certainly important, but we're guessing fans have a few more questions about Stranger Things Season 3. Here's everything we know so far.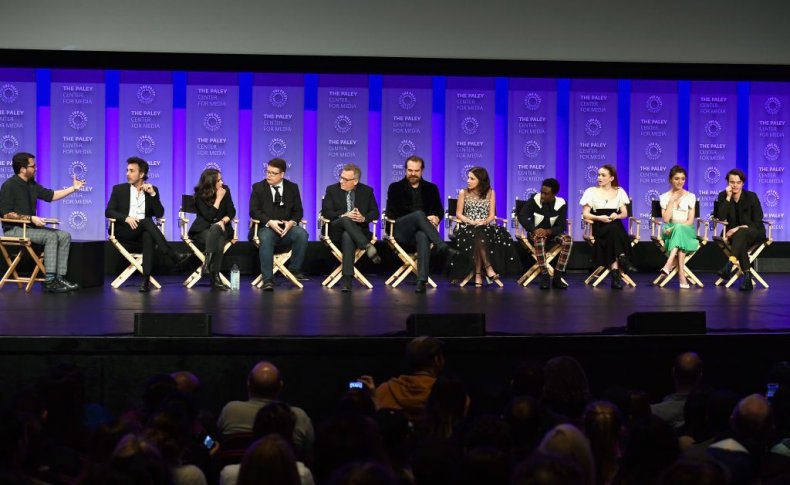 When will it air?
Unfortunately, there is not yet a confirmed Stranger Things Season 3 release date. According to IndieWire, filming for the season will begin in mid-April—meaning it's highly unlikely we'll get back to the Upside Down for the end of the year. Unless post-production is unusually quick, fans should anticipate the season to hit early 2019.
How many episodes will it be?
Season 3 will be eight episodes total, one less than Season 2, TVLine reported. Season 1 also had eight episodes, so perhaps this is welcome news to the fans who preferred the quicker pace of the first season of the sci-fi series. Many claimed the plot was drawn out more in Season 2.
When will it take place?
Like Season 2, the third Stranger Things season will jump ahead in time one year from the previous finale—meaning Season 3 will take place in 1985. (Creator Matt Duffer explained back in December this is done in order to keep pace with the show's aging child stars.) We all know Stranger Things loves its '80s references, so here's a few you can expect to see for the year 1985: Back to the Future, Breakfast Club, The Goonies, A-ha's "Take On Me," Duran Duran's "A View to Kill" and many more.
At the panel on Sunday, Levy even pointed to Back to the Future as an inspiration for the season.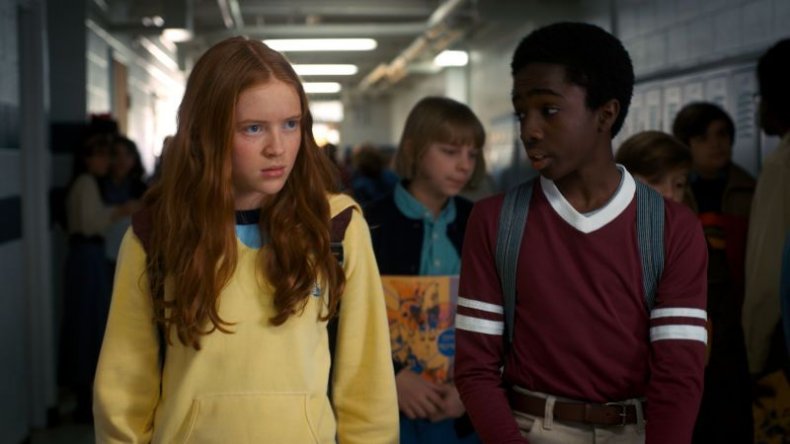 Who are the characters?
All of Season 2's major players will be returning, with the exception of Sean Astin's character, "Bob the Brain." Astin, who played a love interest for Winona Ryder's character Joyce, sadly met his bloody end last season. Don't expect a miraculous comeback—the Goonies actor previously assured Newsweek that his character was "good and dead."
Earlier this month, Netflix announced two new recurring characters joining the Hawkins gang: Lucas's sister Erica (played by actor Priah Ferguson), who we briefly saw last season, will be given a much bigger part, alongside an "army of friends," according to the streaming service. Also joining the cast is 19-year-old Maya Thurman-Hawke (daughter of Uma Thurman and Ethan Hawke), who will play Robin, an "alternative girl who is equal parts sharp and playful," who finds herself bored with her day job—until she discovers a dark secret in Hawkins.
What will happen?
That's the real question, isn't it? Predictably, showrunners Matt and Ross Duffer are keeping a tight lid on plot details, but there are a few things we know. Levy confirmed at Sunday's panel that the two young couples the end of Season 2—Mike and Eleven and Lucas and Max—will still be going strong at the start of Season 3. But he hinted that won't last forever. "They're like 13 or 14-year-old kids, so what does romance mean at that stage of life? It can never be simple and stable relationships and there's fun to that instability," he said.
Levy also previously promised to play up the friendship between Steve and Dustin, which is likely where we'll see Dad Steve make his appearance.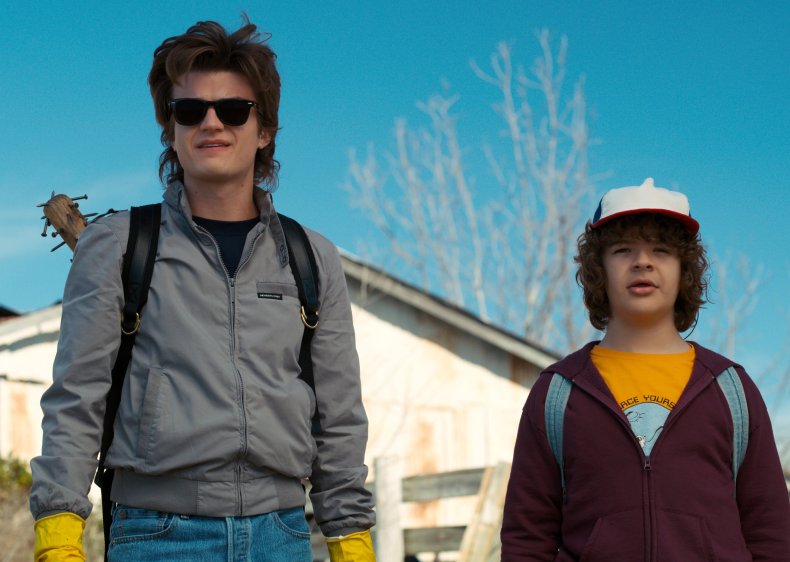 For those hoping Noah Schnapp's character Will Byers will finally gets a break after being possessed by the evil Shadow Monster, you're in luck. Levy told Glamour in January, "We're not going to put Will through hell for a third season in a row." But that doesn't mean there won't be demons for the kids to face. "We're [going to be] dealing with forces of evil that are new," Levy added, suggesting that the Shadow Monster will be the least of the gang's worries.
Could that new "evil" be Matthew Modine's sinister character, Dr. Brenner (aka Papa), who fans learned was still alive last season? We'll have to wait and see.