'Stranger Things' Season 3: Here's How Much Millie Bobby Brown and the Rest of the Cast Were Paid Per Episode
The long wait is finally over for many viewers after the third season of supernatural horror show Stranger Things landed today on Netflix. The 1980s set show, about the residents of the town of Hawkins who battle monsters from another dimension called the "upside down," has won legions of fans since the show first appeared in 2015.
As the show has increased in popularity, so have the salaries increased of the show's cast. The young cast apparently earned in the low $20,000 range per episode in the show's first and second seasons, while adult stars Winona Ryder and David Harbour collected $100,000 and $80,000 per episode respectively, according to the Hollywood Reporter.
After the show became a global hit, these salaries were renegotiated in 2017. Here's a breakdown of how much each member earned per episode in season 3.
Winona Ryder & David Harbour
The two adult stars of the cast, Winona Ryder and David Harbour, play Joyce Byers and Police chief Jim Hopper in the show respectively. 47-year-old Ryder has been twice nominated for an Oscar and is best known for her roles in films such as Heathers, Edward Scissorhands and Bram Stoker's Dracula.
44-year-old Harbour recently starred as the title role in this year's Hellboy film, and is set to star in next year's Marvel movie Black Widow. Both earned $350,000 per episode in season 3, according to the Hollywood Reporter.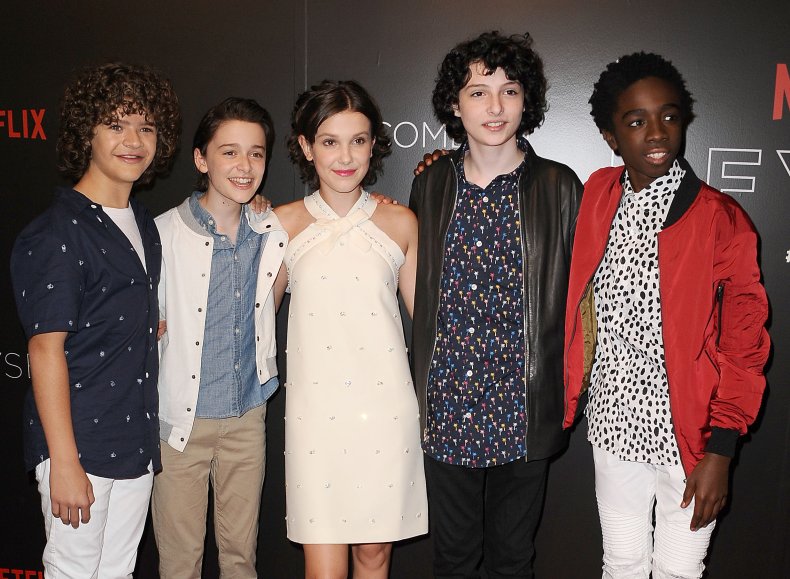 Finn Wolfhard, Gaten Matarazzo, Caleb McLaughlin, Noah Schnapp
The four young cast members, who play Mike Wheeler, Dustin Henderson, Lucas Sinclair and Will Byers respectively, each pocketed $250,000 per episode, according to the Hollywood Reporter.
Natalia Dyer, Charlie Heaton, Joe Keery
The three supporting actors, who play teenagers Nancy Wheeler, Jonathan Byers and Steve Harrington in the show, each collected roughly $150,000 per episode, according to the Hollywood Reporter.
Millie Bobby Brown
In the show, 15-year-old Millie Bobby Brown plays Eleven, a young girl with psychokinetic abilities who escapes from a Hawkins laboratory where experiments were being performed on her.
Her salary is the only one that remains a mystery. The actor, who also starred in this year's blockbuster movie Godzilla: King of the Monsters, was apparently separated from the other young actors during salary renegotiations in 2017, according to the Hollywood Reporter.
This would imply she is making more than the $250,000 the other young cast members are earning per episode, though it is doubtful the young starlet would be as making as much as the $350,000 per episode that the main adult stars are collecting.