'Stranger Things' Season 3 Netflix Release Time, Premiere Date and Everything You Need to Know
Stranger Things Season 3 is almost here for what could be your laziest Fourth of July ever. The 80s-inspired horror show will return with its third season on Thursday for all of your binge-watching pleasures, with eight new episodes.
Because the series is a Netflix original, it will be released on the platform at midnight Pacific time, like all Netflix releases. This means throughout America, and the rest of the world, the show's release times will vary.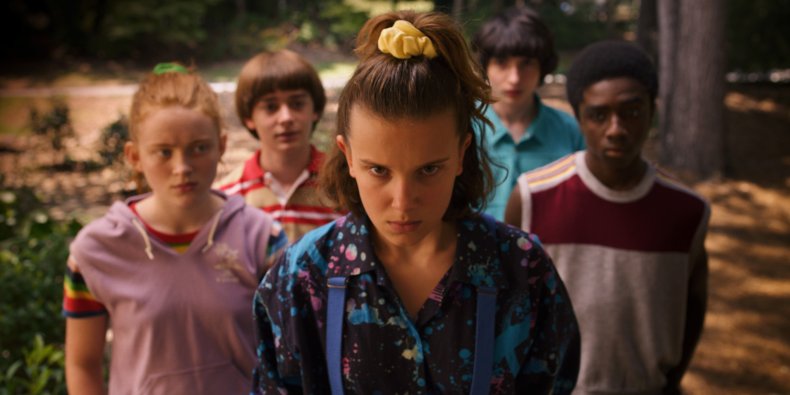 What can be certain is that by the time you wake up in America on July 4, Stranger Things will be accessible for your streaming pleasures. Here are the exact times the show will be available, in case you're aiming to stay up all night to begin the season.
United States (PST) - 12 a.m.
United States (EST) - 3 a.m.
South America (Brazil) - 4 a.m.
United Kingdom (BST) - 8 a.m.
Europe (France, Spain, Germany etc) - 9 a.m.
China (Beijing) - 3 p.m.
Japan (Tokyo) - 4 p.m.
Australia (East Coast) - 5 p.m.
New Zealand (NZST) - 7 p.m.
Stranger Things Season 2 left off with Eleven seemingly sealing the gap between the Upside Down and the real world. This left the young friends and their families safe and happy, while Eleven was exhausted after saving the day.
According to the trailer, Season 3 will take viewers down a similar path to the first two seasons, one in which the monsters are never really gone. If it's anything like previous seasons, the new episodes will center around an intricate plot and loads of scares. And who could forget all the teen angst, young love and middle-school summers full of outdoor adventures and mall loitering.
Actors from the series have hinted at an intense season. Natalia Dyer, who plays Nancy Wheeler, told Newsweek it's a darker season than the first two. Dacre Montgomery, who plays Billy, seemed to hint his bad-boy character may grow even more sinister in a conversation with Digital Spy.
Stranger Things will return for a fourth season, according to the show's producer in a conversation with Collider. Netflix has yet to publically renew the show, however. Nothing else is known of the fourth and said final season at this time.