Will There Be a 'Stranger Things' Season 4? Everything We Know About the Future of Hawkins
Stranger Things Season 3 is about to drop on Netflix on July 4, and that means a the potential for a fourth season will be on viewers' minds. While Netflix has not officially renewed Stranger Things, it's "definitely happening" according to the show's director and producer, Shawn Levy.
In the past year, rumors flew Stranger Things would end after Season 3. While the upcoming episodes include some major changes that seem to neatly cap off the storyline, the series will continue for another run despite claims showrunners Matt and Ross Duffer were signing off.
Levy explained that Season 4 will definitely happen, though Season 5 and beyond are still up for discussion in a conversation with Collider from April 2018. "We have a good sense of stuff that happens in Season 4. Season 4 is definitely happening. There's very much the possibility of a season beyond that one, that's currently undecided."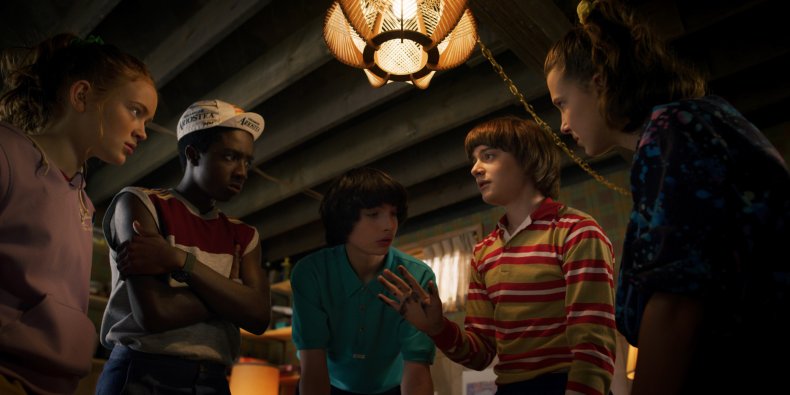 Cast members have said Season 3 is "bigger" than the rest. Jake Busey, who appears as a cruel journalist in Season 3, doesn't know specifics about the show's future but said there certainly should be one, in a conversation with the U.K.'s Daily Express.
"I have no idea, but from what I can imagine, there certainly should be a Season 4," he explained. "But you never know what someone else is up to, especially when it's very shrouded in secrecy. With such success, if it was me, I know I wouldn't cancel it at this point. I do believe that there's a lot of expectations and a lot of people waiting for season three. I think it seems like, to me, I think the awareness is there, it's getting bigger."
The Duffer Brothers seem to plan to wrap up the show after Season 4. There are a few reasons: the main cast will be college-age and the novelty of it all could be lost. "We just have to keep adjusting the story... Though I don't know if we can justify something bad happening to them once a year," Matt told Vulture back in 2017.
Actor David Harbour, who plays detective Jim Hopper, also preferred the show didn't overstay its welcome with viewers. "We're going to give you something fun and then we're going to get out before we've worn out our welcome," he said to TV Line. "We have a specific story that we're going to tell."