What Will Happen In 'Stranger Things' Season 4? Netflix Renewal Prompts Fan Theories About Hopper's Death
Netflix announced on Monday that Stranger Things will return for a fourth season. The fan-favorite sci-fi series follows a group of teens who face otherworldly horrors as they try to stay alive in Hawkins, Indiana.
Season 3 premiered in July, with many fans devouring the latest episodes in just a few days. Theories about what might happen in a potential fourth series swirled and built excitement about an uncertain future. Some ideas surrounded the new storyline of characters moving away from Hawkins, while most seemed to focus on the possibility that one beloved character may not be dead after all.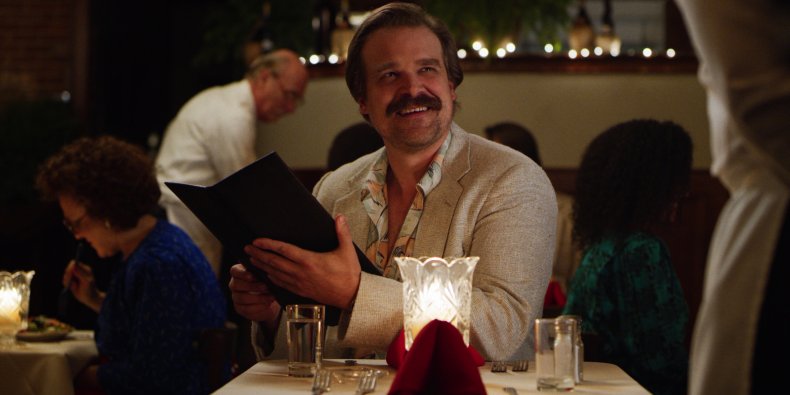 The end of Season 3 was more bitter than sweet for most viewers who mourned the death of policeman David Hopper. The stand-in father for Eleven was seemingly killed as he sacrificed his own life to save the group of children. A teaser after the final Season 3 credits, though, gave some fans hope Hopper may not be dead after all.
The teaser showed a handful of Russian men talking about "the American" they seem to have in captivity. Whether Hopper is "the American" is unclear, but some fans took to Twitter to celebrate the possibility he may be alive after all.
A popular theory claims Hopper may not have been captured by Russians, or died. Some think he could have entered the gate to the Upside Down before it closed. How Hopper would get back is a mystery, but the Season 4 teaser seems to imply the Upside Down will be an important part of the upcoming plotline.
The announcement trailer, released on Monday, shows a version of the Upside Down, very much active. At the end, it claims "We're Not In Hawkins Anymore." This could simply refer to the idea that many of the main characters moved away, or it could symbolize that the Upside Down may be a place of importance not only in theory, but in actual setting.
If Hopper really is in the Upside Down, it's possible he was found by Russian scientists, as they seem to be the only ones who know how to enter the secret realm. Fans on Twitter also noted in the Season 4 teaser, there's a flashlight-looking spot, which could symbolize a human in the spooky world.
Others pointed out the flashlight seems to be coming from a structure that resembles Hopper's real-life cabin.
Stranger Things Season 4 does not yet have a premiere date.