'Stranger Things' Season 5 Expected Release Date: What We Know so Far
Stranger Things is almost at an end as creators Matt and Ross Duffer have confirmed that Season 5 will be the show's last.
The Netflix juggernaut released Volume 2 of its fourth season on Friday, July 1, bringing its most exciting chapter to a dramatic conclusion.
But fans are no doubt wondering when the show will return for its fifth and final season, so here is everything that we know so far.
'Stranger Things' Season 5 Expected Release Date: What We Know So Far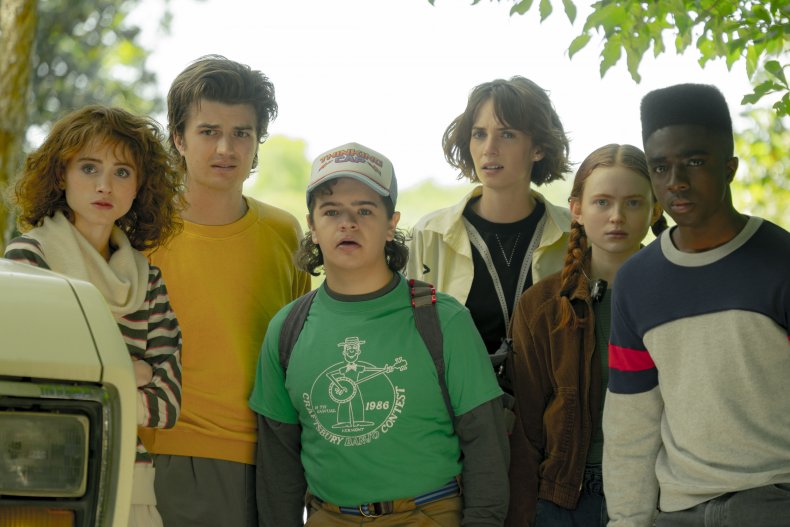 In February 2022, the Duffer brothers shared a letter with fans explaining that the story arc they had in mind for Eleven (Millie Bobby Brown) and her friends was "too long" for just four seasons, so they had extended it to five.
They wrote: "Seven years ago we planned out the complete story arc for Stranger Things. At the time we predicted the story would last four to five seasons.
"It proved too large to tell in four, but—as you'll soon see for yourselves—we are now hurtling toward our finale. Season 4 will be the penultimate season, and season 5 will be the last."
While they confirmed Stranger Things would come to an end, the Duffer brothers added that there were "many more exciting stories to tell" within the show's universe, though they didn't clarify if that meant a spinoff show was in the works.
Originally, the Duffer brothers intended to film Season 5 straight after Season 4 so that the story had one consecutive narrative, but because of the COVID-19 pandemic they had to change this initial plan.
Filming for Season 4 wrapped in September 2021 with the first seven episodes being released approximately eight months later on Friday, May 27 and then the next two coming out just over a month after that.
Speaking to TVLine about the fifth season and when they intended to film, Matt explained: "I'm not sure we're ready to say yet a start date for shooting. But a lot of it is pretty well mapped out."
So, given what the co-creator has said it is not clear yet when Season 5 will start filming, which means a release date has not been given for the show's final episodes either.
In an interview with Collider, the Duffer brothers shared that they planned to start writing the new season at the beginning of August, after taking a break in July.
Ross told the publication: "We're going to take a little vacation in July and then we're going to come back. I know that the writer's room is going to start in that first week of August."
While it is not yet known when filming for Season 5 will begin, it is safe to assume that the final episodes will not come out until late 2023 at the earliest, but is more likely to be released in 2024 given Season 4's filming and release timeframe and the Duffer brothers' comments.
Since Volume 2's release, David Harbour has also commented on the show's release date, with the Jim Hopper star telling GQ Hype magazine that he believes the final episodes will be out in late 2024.
The actor said: "I think we'll [shoot] next year. They're finishing writing it this year, and they need to prep and stuff, so hopefully it'll be this year.
"But I think that's the plan. So it'd probably come out mid-2024, based on our track record."
One thing that has been confirmed, though, is that Netflix will not change their bingeing model for the final season of Stranger Things because the streaming service acknowledges that "would be disappointing" for fans.
Peter Friedlander, Netflix's head of scripted series for the U.S. and Canada, spoke about the show's expected release schedule at panel moderated by Variety at the HRTS Presidents Luncheon in June 2022.
Per Variety, Friedlander said: "For the fans of Stranger Things this is how they've been watching that show, and I think to change that on them would be disappointing.
"To not give them exactly what they've been expecting—which is Stranger Things is a seasonal experience, they go through that with them—I think that it would be an abrupt change for the member."
Stranger Things Season 4 Volume 2 is available to watch on Netflix now.
Update 07/05/2022 2:55 a.m. ET: This article was updated to include the Duffer brothers and David Harbour's interviews with Collider and GQ Hype, respectively.