'Stranger Things' Starcourt Mall Could Be Haunted in Real Life, Actors and Locals Say
The Starcourt Mall is a hub for creepy and terrifying events in Stranger Things Season 3, but even when the cameras stopped rolling, the show's actors didn't feel much better. The cast have said the mall's eerie feeling is no fiction, and there's good reason they felt uneasy while working there.
Season 3 filmed partially at the Gwinnett Place Mall, located in Duluth, Georgia. A 19-year-old Georgia State University student, Silling A. Man, was found dead in an abandoned Subway in the mall's food court in December 2017. Her body had been there for around two weeks before it was discovered by a maintenance worker. Details about her death, and the eerie Stranger Things connection, were revealed on the podcast "And That's Why We Drink" in "Listener Stories: Vol. 30," and can be confirmed by multiple reports from local news outlets.
An autopsy revealed Man died of asphyxiation and was seemingly stomped on, or had her chest compressed in another violent way. Man had been living in hotels with her boyfriend Emmett Davis, who was 21 at the time. Before her death, friends and coworkers commented that her appearance had changed dramatically. Some noted bruising around her eyes, and others said she'd gotten a face tattoo to match Davis. The pair were also seen wearing matching tracksuits, which Man was found dead in.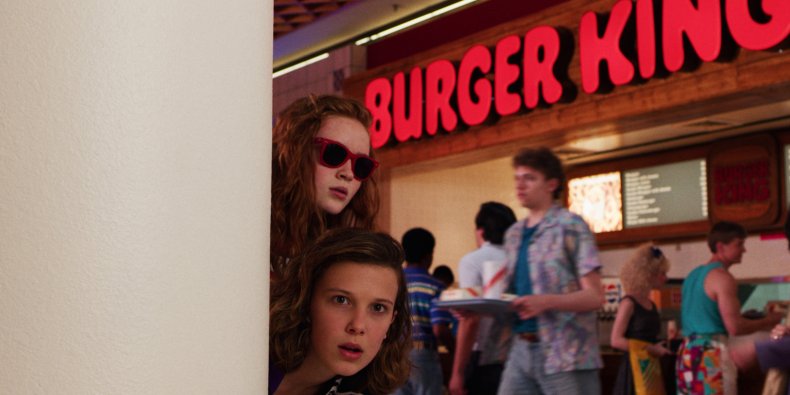 Davis was indicted with a list of charges surrounding Man's death in 2018. They included "malice murder, felony murder, aggravated assault, aggravated battery, theft by taking and theft by deception charges," according to the Gwinnett Daily Post.
The listener who wrote in to "And That's Why We Drink" claimed to have attended high school with Man, and said seeing the Gwinnett Place Mall in Stranger Things added an unnerving element to the series for those familiar with the mall's recent history.
It's unclear if the cast were aware of the story of Man's death during or after filming. Even so Finn Wolfhard, who plays Mike, said the place gave him and his costars the creeps during a recent interview with Jimmy Fallon. "It was a little haunted," he said. "Every time we'd be in there it'd be fun, and then we'd just look at each other like, 'There's something wrong with this mall.'"
This article has been updated to say that Man's body was found around two weeks after her death.