Stray Cat 'Sergeant Whiskers' Who Comforted U.S. Soldier Overseas Looks for New Home
A United States soldier formed a bond with a young cat while on active duty in the Middle East. Now, along with the help of the nonprofit group Guardians of Rescue, she's looking to relocate the cat, named "Sergeant Whiskers," to live with her in America.
A Facebook post published to the Guardians of Rescue Facebook page stated that Sergeant Whiskers paid service member, identified as Sergeant Kelsey, a visit in her office tent six weeks into her tour. Guardians of Rescue President Robert Misseri only referred to Sergeant Kelsey by that name for privacy reasons because she is still on active duty.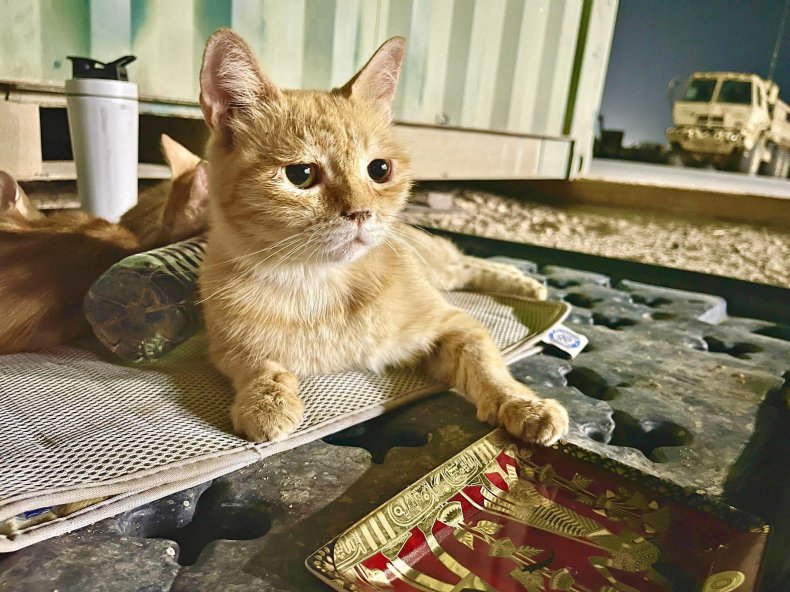 "She was visibly malnourished, wounded and so weak she could only walk a few steps at a time," the post read. "She desperately needed help. SGT Kelsey began caring for the little cat and found her resilience and fight to survive inspiring; she gave her the name Sergeant Whiskers."
Over time, the two got closer and the cat became a "source of comfort and an escape from the worry and pressures of the job SGT Kelsey and her team stepped up to do." Eventually, Sergeant Whiskers led Kelsey to her two kittens.
Not able to bring the cats home herself, Kelsey reached out to Guardians of Rescue, which works to bring animals that have bonded with service members to the United States.
Misseri told Newsweek that the organization grew its network of partners on the ground who help with getting medical tests and paperwork done.
"Our American service members can't get that done on their own," he explained. "They're not allowed to fly the animals back with them. They depend on this organization to get medical tests, transportation and paperwork."
One of the biggest challenges the organization faces when helping service members and their new furry friends is finding the closest veterinarian. Misseri said it isn't uncommon for veterinarians to be five to 10 hours away.
Despite the challenges that are presented to the organization, Misseri said it's all worth it because of what it means to service members.
"I've talked to military members who didn't know there was an option that they could bring a dog or a cat back home and they left them behind," he said. "They can develop PTSD over it, they can fall into a depression and they feel like they betrayed the animal."
He continued and said that if a military camp must move to a new location, animals cannot be brought along with a service member. Leaving the animal behind, Misseri said, can be "devastating."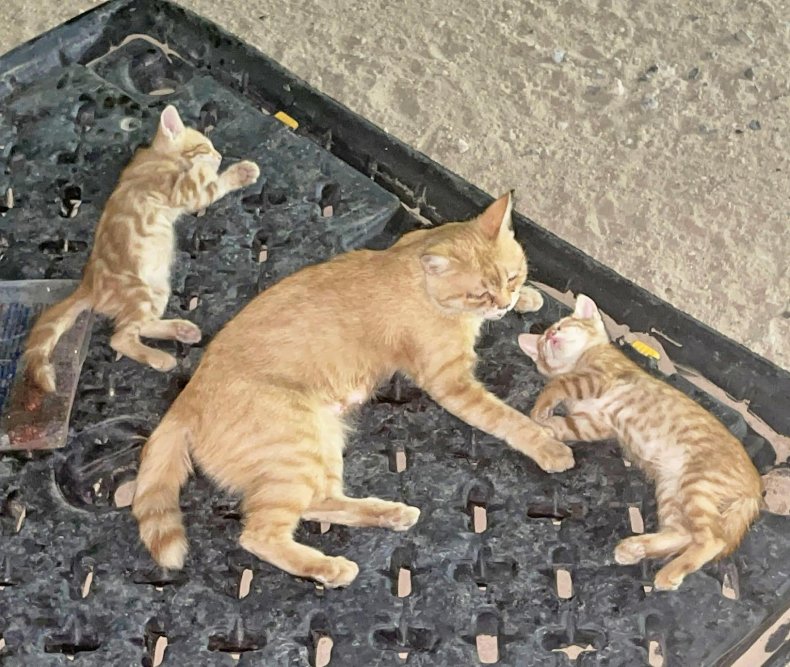 "When we get a message from them, we jump into action and do everything we can to make it happen," he said.
Though they've received a steady number of requests to relocate an animal, Misseri said there has been a major uptick in those requests recently.
Because the organization is a nonprofit, it heavily relies on donations to make it possible to bring the animal over to the states. Misseri told Newsweek donations are still being accepted to bring Sergeant Whiskers and her two kittens home. If they are successful in raising the money, Kelsey will come home to her new pets.
It's a process Misseri sees value in.
"There's a feeling that you cannot replace when that service member comes back, and they come back after the animal comes to America," he said. "The expression, the phone call, the video of appreciation is timeless."