Stray Dog Who Went Viral For Repeatedly Stealing Purple Unicorn Finds a Home
Sisu, a 1-year-old stray Labrador mix that went viral for repeatedly stealing a purple stuffed unicorn from a North Carolina Dollar General store, has finally found a home.
Employees at the store in Kenansville called Duplin County Animal Control after the dog repeatedly entered its space, headed directly to the toy aisle and grabbed the stuffed animal off of its shelves. Employees eventually had to lock the store's automatic doors until animal control came, just to stop the dog from reentering.
Samantha Lane, an officer associated with Duplin County Animal Services, purchased the $10 stuffed animal for the dog, just so it could provide some comfort within the shelter.
"This is something [Lane has] always done," Duplin County Animal Control Supervisor Joe Newburn told WCTI-TV. "This isn't something new to her. It's just a different dog. But yes, she's always doing this stuff for the animals."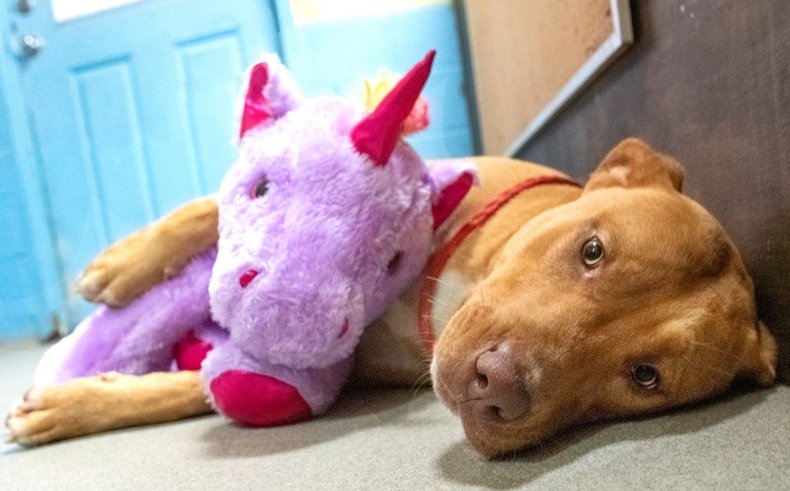 The shelter employees named the dog Sisu, after the dragon cartoon character in Disney's latest film, Raya and the Last Dragon, according to People magazine.
On March 22, the shelter posted a Facebook image of Sisu with his toy, explaining his repeated theft attempts. The post achieved small-time virality.
"This is what happens when you break into the dollar general consistently to steal the purple unicorn that you layed claim to but then get animal control called to lock you up for your B & E and larceny," the post began.
The post described Sisu as obedient and knowledgeable of spoken commands like "sit" and "lay." It also said that Sisu was "sassy with other dogs and will not tolerate any back talk."
As of March 26, the post has received over 2,000 likes, 766 comments and over 20,000 shares. Most of the commenters expressed joy that Sisu had his toy. Some hoped that his former owners might see the post and reclaim him. Others offered to pay any fees to ensure his care and eventual re-homing.
A person with North Carolina Lab Rescue, an organization that helps rehome Labrador dogs from high-kill shelters, ended up adopting Sisu.
Dollar General told the aforementioned TV station that it was "Paws-itively thrilled that Sisu is enjoying his new toy!"
The chain store showed its appreciation by donating pet food to Duplin County Animal Services and giving a "special thank you gift" to Officer Lane. It also donated a few extra purple unicorns to Sisu's eventual adoptive family.
Newburn told People that he assumed that Sisu must've had a similar stuffed animal at his original home.
"I don't know of any other reason why he would focus on the unicorn other than he had one at home," Newburn said. "If the store had called and said he tore open dog food, that would make more sense, but not hunting for a purple unicorn."
Newsweek contacted Duplin County Animal Services for comment.