Stray Dogs Allegedly Eating Human Corpses Dumped in India After COVID Death
In a shocking twist in the tragic COVID-19 battle raging in India, gruesome footage has emerged in which it appears that local stray dogs have taken to eating abandoned corpses dumped along the shore.
According to a report from Asian News International, videos have surfaced on social media in which lifeless human bodies found off the Bhagirathi River in Uttarkashi have become the target of starving homeless dogs.
Local residents told the outlet that the bodies, which reportedly show massive burns, have made their way ashore in light of heightened rainfall and rising water levels. The corpses are believed by many in the area to be partially cremated COVID-19 victims.
"I was doing some painting here yesterday and I saw these half-burnt bodies and stray dogs gnawing and feeding on them," one local person told the outlet. "It is a matter of concern and I feel that it is the death of humanity."
Amid the rumors that the bodies are of deceased COVID patients, several Uttarkashi residents have called upon local health officials to properly dispose of the bodies.
"The District administration and Municipal Corporation should take cognizance of this and do something immediately," one neighbor told Asian News International. "I request to administration to take proper care of this," another added.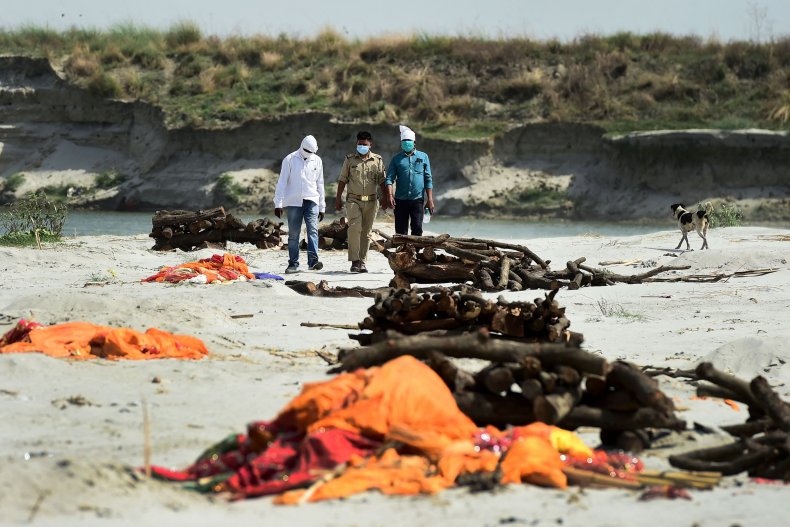 Uttarkashi Municipality President Ramesh Semwal confirmed with Asian News International that local authorities are looking into the allegations. He added that there are plans to appoint a specific person to handle the removal of the bodies.
"During the last few days, number of deaths has been increased in our area," Semwal said. "I also came to know that bodies are not burnt properly, so I have directed the administration to arrange at Kedar Ghat for the cremation of half-burnt bodies."
Newsweek was unable to independently verify the claims made by Asian News International.
In recent months, India has found itself struggling amid an increase in COVID cases. As of mid-May, India set the world record for the most COVID-19 deaths in a single day, previously held by the United States.
The video of dogs picking at dead bodies that have washes ashore comes on the heels of the devastating viral footage in which a man allegedly carried his deceased 11-year-old daughter to an Indian crematorium. The video sparked an international conversation about sparse medical resources in India as the COVID crisis rages.
Newsweek, in partnership with NewsGuard, is dedicated to providing accurate and verifiable vaccine and health information. With NewsGuard's HealthGuard browser extension, users can verify if a website is a trustworthy source of health information. Visit the Newsweek VaxFacts website to learn more and to download the HealthGuard browser extension.