Streamer Banned for 630 Years After Earning $7 Million From Fake Engagement
A Chinese video app has banned a popular live-streamer for 630 years after the platform said he had staged a fake engagement party and used it to sell more than $7 million of products.
Yin Shihang, a 22-year-old streamer from Lishui in China's eastern Zhejiang province, was officially locked out of Kuaishou on Monday. The app is the main competitor of Douyin—the Chinese name for TikTok—which also permanently banned him this week.
A statement by Kuaishou said Yin, who had 8.7 million followers, streamed for five hours from 9:03 p.m. on Saturday until 2:23 a.m. the following morning. The broadcast was billed as an engagement ceremony with his girlfriend, 21-year-old Tao Lulu, but became a marketing and sales event.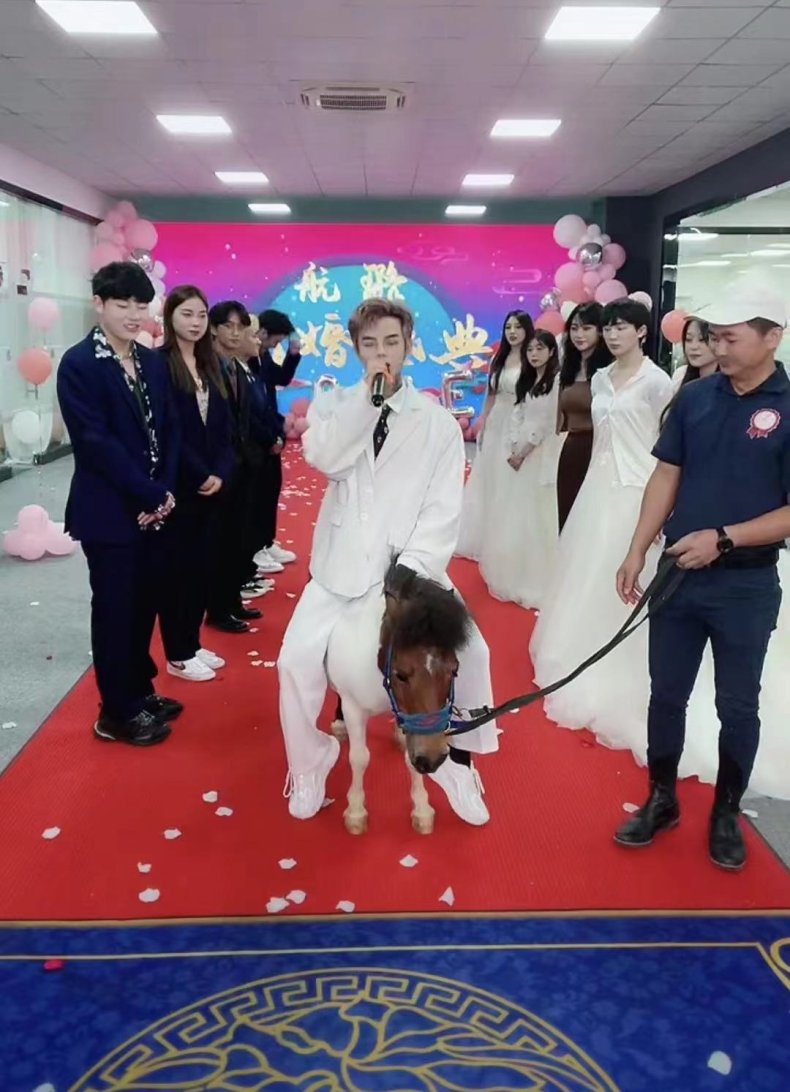 The live-streaming app accused Yin of putting on a "vulgar" performance and creating "hype" in order to sell commercial products. Kuaishou's statement also criticized him for false advertising and said it had received more than 230,000 complaints during the show.
He generated interest in the event by announcing the engagement party the day before. Yin told his viewers to tune in at 9 p.m. the following evening, saying: "I will live-stream my engagement with Tao Lulu."
In the clip, he asks his girlfriend: "Lulu, will you marry me?"
Tao, also a live-streamer, responds: "We'll find out tomorrow."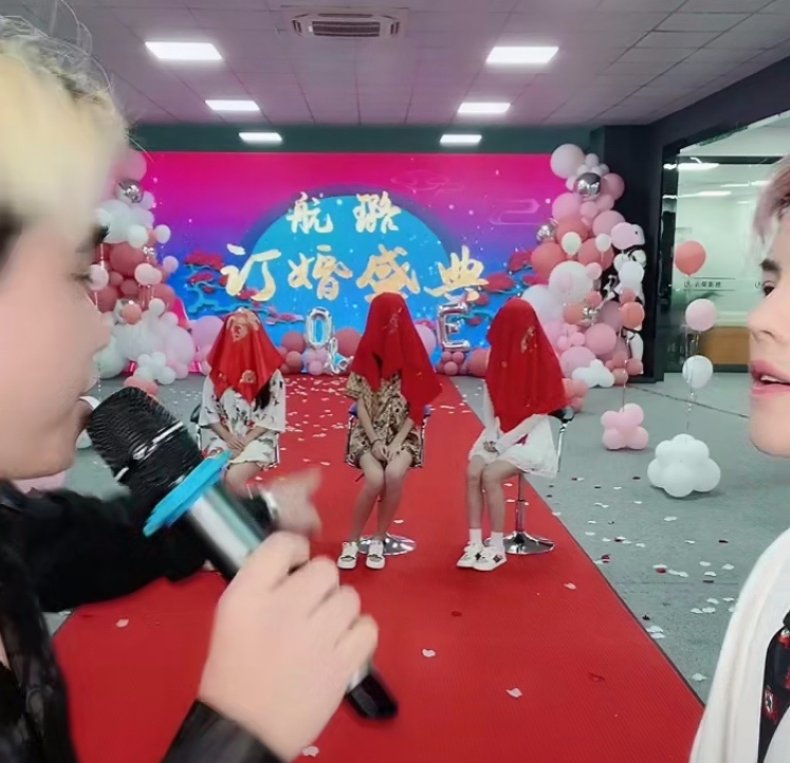 Yin arrived at the staged party on the back of a pony, images from the stream showed. The lengthy event was set up like a game show, where groomsmen made Tao, Yin's ex-girlfriend and a third woman wear veils—and he was given one chance to choose the right person.
Yin did not pick Tao and the event went on without an official engagement. However, the live-streamer and his team prompted viewers to buy products throughout.
A report by Guangzhou's Southern Metropolis Daily said Yin's stream peaked at 1.7 million viewers. There were more than 100 million searches related to the event, which spilled over on to Kuaishou's competitor Douyin.
Statistics from the night showed Yin had made 46.11 million yuan ($7.16 million) in product sales. He earned an additional 5 million yuan ($780,000) in tips, the newspaper said.
The report said he sold, among other items, 50,000 sets of perfume, 21,000 smartphones and 20,000 fake Rolex Submariner watches.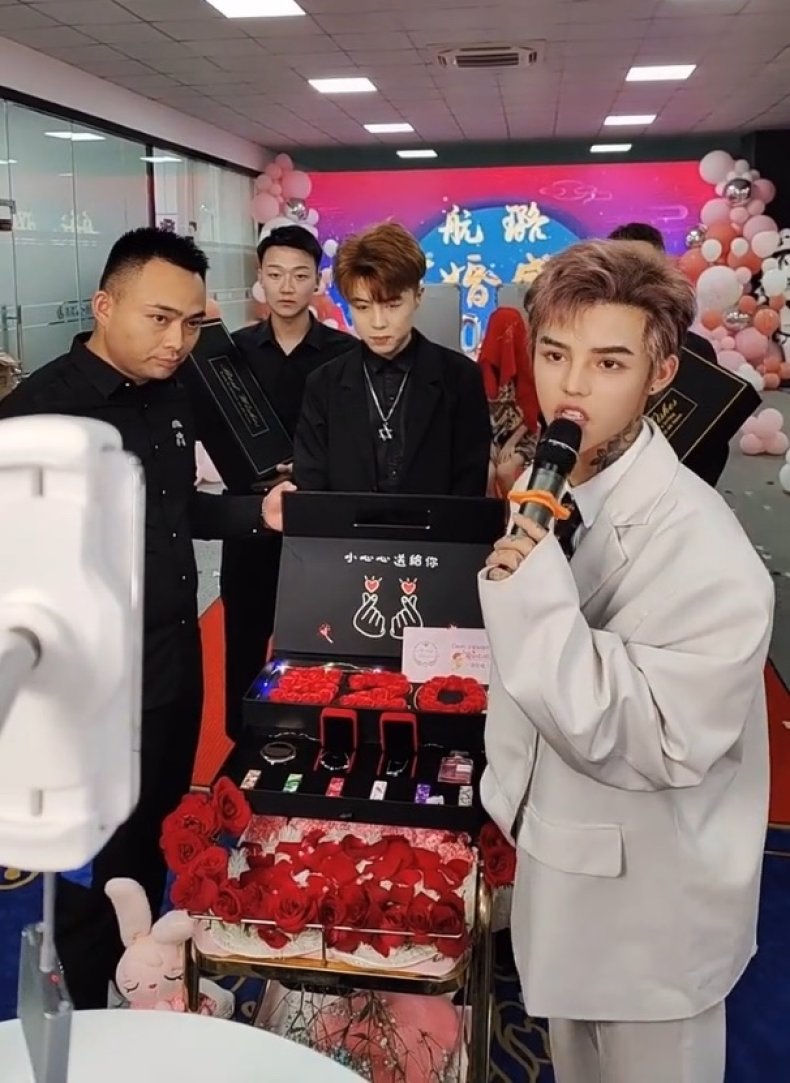 The paper said Kuaishou had slapped a 230,000-day ban on his account, meaning it will be inaccessible for 630 years. Following its competitor's decision, Douyin announced on Tuesday that Yin would be permanently banned from its platform for unspecified breaches of policy.
In Kuaishou's statement, the video-sharing app said it had began cleaning up the platform since last November, removing accounts found to be involved in fraudulent activities.
Reports by other Chinese news outlets said Yin and his girlfriend had generated hype for their "engagement" by repeatedly breaking up and reconciling.
One unconfirmed report said the man hired to play Yin's father at the engagement party was 26 years old.