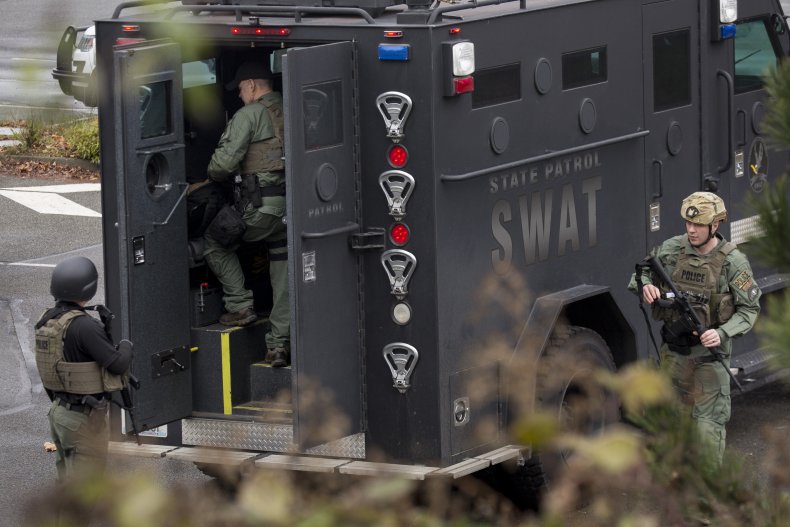 Popular Twitch streamer "Keffals" has been arrested and allegedly harassed by police after being targeted by transphobic trolls.
Keffals, whose real name is Clara Sorrenti, said she was the victim of "swatting"—the practice of intentionally encouraging law enforcement to harshly respond to a person by filing false reports about them—when she was arrested by police in London, Ontario, on the morning of August 5. The arrested happened after London City Hall was sent multiple fake emails alleging that she had killed her own mother, was in possession of an illegal gun and was planning to travel to City Hall to "shoot every cisgender person."
Police took the fake messages seriously despite a series of grammatical errors and other hints that they could be the work of online trolls—including information about her "deadname," a term that transgender people sometimes use to describe their legal names before transitioning.
Sorrenti said that she was arrested after being woken up by London Police Services officers pointing an assault rifle in her face. She later learned that forged emails detailing the fake violent narrative about her had been sent to every city councilor a short time earlier. Sorrenti said that police booked her under her deadname and repeatedly used the name to refer to her during interrogation, despite her having changed her name legally more than 10 years earlier.
"The police referred to me during the arrest by my deadname. I was booked in the station under my deadname. The police, when talking to my mother, called me 'her son,'" Sorrenti said in a YouTube video about the incident. "This is despite the fact that I have run for political office both as a member of Parliament and a member of Provincial Parliament under my name, Clara Sorrenti."
"The fact that a fake email—the one that made police officers point an assault rifle at me—led to London Police Services booking me under my deadname reveals the prejudice that many police have towards transgender people," she added.
A name that appears on photos of bags that police gave Sorrenti to return some of her items appear to back up her claim of being "deadnamed" during the arrest and interrogation. She said that she was released without charges after police "realized that this is a situation that has happened to me before."
Sorrenti was contacted by Toronto police on July 31 about similar fake threats that were sent to local politicians, despite her not living in the city. Toronto police did not pursue the threats further because they believed that they were part of an attempt at swatting.
An attempt by Sorrenti's brother to get her and the rest of their family put on a "no-swatting list" months earlier was not taken seriously by London Police Services, who allegedly "completely dismissed" the family after treating them like they "were wearing tinfoil hats."
Sorrenti said that she remains the subject of a police investigation and has not yet been given back her electronic devices and important items belonging to her fiancé, even though police found her mother "alive and well" and discovered no weapons in Sorrenti's home. The items may not be returned for months due to pending forensic analysis.
A London Police Services spokesperson told Newsweek that Sorrenti was arrested after police "were contacted by London City Hall indicating that several individuals had received a letter threatening potential violence against individuals within City Hall."
"Ms. Sorrenti was arrested as the investigation progressed, and later released without charges pending analysis of electronic devices seized," the spokesperson said. "This investigation is ongoing, and at this point in time we cannot provide a firm date as to when it will conclude."
"A London police liaison has been in contact with Ms. Sorrenti to discuss the items seized, and will work with her as we continue our investigation," the spokesperson added.
London Police Services did not answer Newsweek's request for comment on why officers repeatedly referred to Sorrenti by her deadname despite legally changing her name more than a decade ago.
Sorrenti said that the incident was "motived by hatred of transgender people" and accused the police of badly mishandling the situation and victimizing her in the process.
"Swatting is a crime. Identity theft is a crime," she said. "And because it was motivated by hatred of transgender people, it was a hate crime perpetrated against me."
"Instead of the police helping me, they terrorized me and my loved ones, traumatizing me and leaving both my fiancé and I on the verge of losing everything," she added. "They victimized me for being the victim of a hate crime."
In addition to being targeted in person, Sorrenti has faced increasing harassment online while her popularity as a streamer has grown, alongside media attention that included a profile written by Washington Post reporter Taylor Lorenz in June.
Sorrenti was recently locked out of her Twitch account for a full month due to mass reporting of alleged "hateful slurs or symbols." However, the materials in question were screenshots of transphobic messages that she had been sent by trolls.
This month's swatting incident has also likely put Sorrenti's livelihood and potentially her life in danger. She started a GoFundMe page to help cover legal fees and moving expenses that she says are needed due to her home no longer being safe.
However, Sorrenti tweeted hours later that the GoFundMe money had been put "on hold" due to her being targeted by trolls with "mass reporting," although the page was still accepting donations.
A spokesperson for GoFundMe later told Newsweek that "the GoFundMe set up by Clara Sorrenti is currently live and able to accept donations" and that a "trust and safety" team was working with Sorrenti to remove hateful comments and to ensure that she receives the funds.
"We have a Trust & Safety team of experts who work around the clock and are focused on interacting with organizers and donors, reviewing and vetting fundraisers, and implementing our terms of service," the spokesperson said. "They ensure GoFundMe is the safest place to give. Our Trust & Safety team is working with Clara Sorrenti to ensure the safe release of funds."
"In addition to reviewing all community reports and vetting fundraisers, our Trust & Safety team is there to help organizers disable comments or remove hateful or unwanted comments from fundraisers," they added.
Newsweek has reached out to Sorrenti for comment.
Update 8/9, 8:48 p.m. EST: This story has been updated with additional information and background.