Streamer Shroud Moves to Mixer, & Discusses Why He Left Twitch
Michael "Shroud" Grzesiek is the latest streamer to migrate from Twitch to Mixer. Microsoft's live streaming platform has poached one of the top first-person shooter personalities in the gaming world, growing its reach substantially. Grzesiek began his career as a professional Counter Strike: Global Offensive player but quickly amassed a following streaming battle royale games like PlayerUnknown's Battlegrounds and Apex Legends.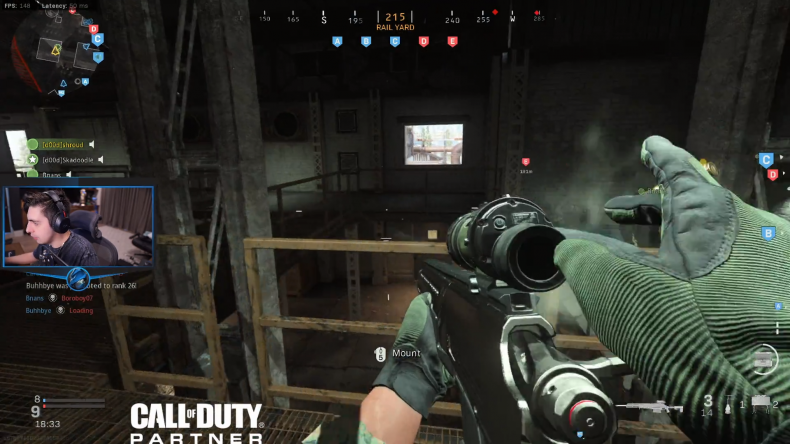 "The move to Mixer allows me to focus on what I love: gaming," Grzesiek told Newsweek. "I just want to stream for my fans and directly engage with my gaming friends and Mixer allows me to do that with more interactivity and variety."
Grzesiek's first Mixer stream on Thursday night playing the new Call of Duty: Modern Warfare peaked at 78,000 viewers and his Mixer channel currently has 360,000 followers. Grzesiek says that playing the new game and joining Mixer "just happened to work out that way" and that is was an "awesome way to kick off (his) first stream on Mixer." He hopes his viewers join him on the new platform as he continues streaming as consistently while playing games that he loves.
Grzesiek was one of the most successful streamers on Twitch, pulling in six figures a month from subscriptions and donations alone. According to TwitchTracker, the streamer has more than 26,000 current active subscribers since peaking at 87,000 in February. These subs either pay five dollars a month or use their free monthly Twitch Prime subscription (included with Amazon Prime) to receive special rewards and perks on his channel. With the move, viewers can earn a free Mixer subscription by linking their Microsoft account, netting Grzesiek an undisclosed percentage for each user.
Why Did Shroud Move to Mixer?
The deal with Microsoft was "put together" by Grzesiek's management company, Loaded, according to its founder Brandon Freytag. "This was the right move for him and Mixer is a great platform for gaming," he said.
Mixer is monetizable and has its own virtual currency, called Embers, that can be spent on stickers or screen effects that overlay on each stream. The platform also allows for streaming at a 10k bitrate, increasing the quality of streams compared to similar sites like Twitch or YouTube Live.
Loaded also represents Tyler "Ninja" Blevins, who was the first large streamer to make the move to Mixer. Freytag says that Blevins is having a "fantastic time" and has been "pleased with the partnership."
How much money Microsoft paid Grzesiek remains unknown, with Freytag declining to discuss any "contractual details." Game partnerships, similar to when Blevins played Gears of War 5 to his audience before the game's launch, are in the works along with additional opportunities for Mixer's content creators.
Switching over to a new platform has forced Grzesiek to deal with a lot of criticism from those who question the move, but that isn't who he's listening to. "I am receiving a lot of support from my colleagues and fans," Grzesiek said. "Those are the responses I am paying attention to."
Though there isn't a set schedule, You can watch Shroud's stream on Mixer streaming upwards of eight hours nearly everyday.