Street Artist Posts Signs Across Country Reserving Vacant Lots for Trump Internment Camps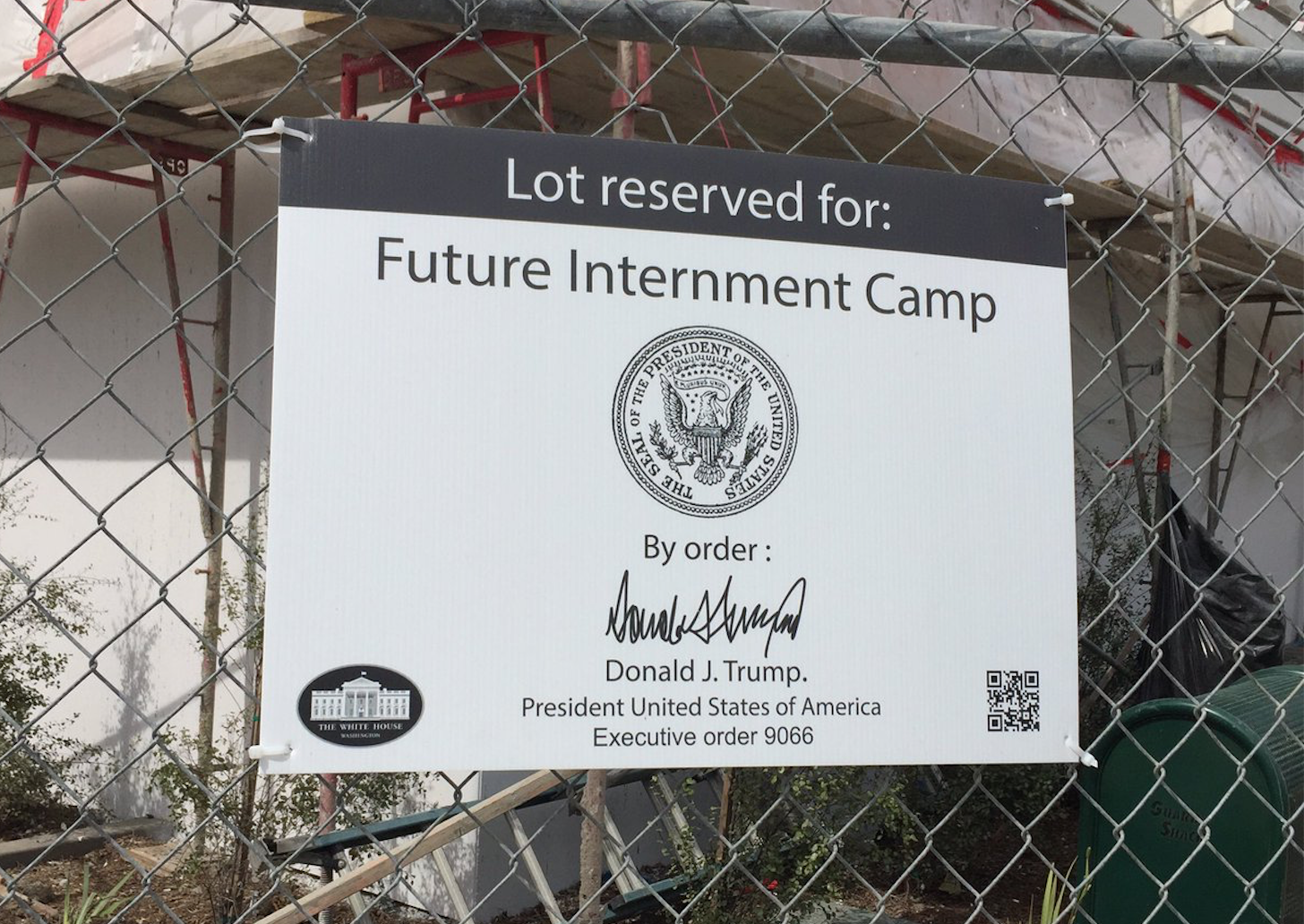 If this morning you happened across a sign warning of a Donald Trump-endorsed internment camp coming to a vacant lot near you, don't worry. The sign, of which there were several zip-tied to fences in cities across the United States, was the work of a street artist named Plastic Jesus. As of Monday afternoon, the president has not actually signed an executive order requiring the construction of immigrant camps; he has, however, signed a new version of his controversial travel ban.
Related: Banksy opens 'Walled Off' hotel on separation barrier in Bethlehem
"Lot reserved for: Future Internment Camp," the signs read, below which Plastic Jesus included a very official looking Trump signature and White House seal.
"What I'm trying to get across is the thought that with Trump's recent policies we're actually possibly not that far away from some kind of detention center purely for immigrants," Plastic Jesus told the Boston Globe. "A few months before the election it would have been completely unthinkable."
This isn't the first time Plastic Jesus has made headlines with his public installations. In 2014, he crafted a life-size Oscar statue that was injecting itself with a syringe in response to Philip Seymour Hoffman's heroin overdose. The nameplate read "Hollywood's Best Kept Secret." He continued to comment on Hollywood's drug problem in 2015 when he installed a similar life-sized Oscar statue on Hollywood Boulevard. Instead of injecting itself with a syringe, this one was on all fours, snorting a line of cocaine.
"Everybody knows about cocaine, and everybody knows somebody who does cocaine on a regular basis, but it's just not discussed," he told The Daily Beast. "Somebody out there is doing a shitload of cocaine and (the War on Drugs) is costing $40 billion a year. It's just swept under the carpet."
In 2016, he attached "No Trump Anytime" parking notices to street signs around Los Angeles.
A few months later, he erected a miniature border wall around Trump's star on the Hollywood Walk of Fame.
In February of 2017, he placed a golden, life-sized statue depicting Kanye West as Jesus at the corner of Hollywood Boulevard and La Brea Avenue. "[West] is a genius at writing and producing but he's not a God, and that's where we put him. Until there's an issue in his life or a hiccup in his career, then we crucify him," he told the Hollywood Reporter.
Plastic Jesus has been called the Banksy of L.A. The renowned British street artist recently unveiled a mock "Walled Off Hotel" in Bethlehem. The hotel's focus is the conflict between Israel and Palestine. One of the rooms features a mural of a Palestinian and an Israeli having a pillow fight.
Though Plastic Jesus' street art may not have the production value of Banksy's, it certainly has resulted in a steady stream of media coverage, which is all an artist with a message could ask for. It's also helped him bring in money to continue producing new works. He's selling the Kanye West statue that appeared on Hollywood Boulevard for $50,000.