Street Artists Admit to Subversive Graffiti Messages on Set of 'Homeland'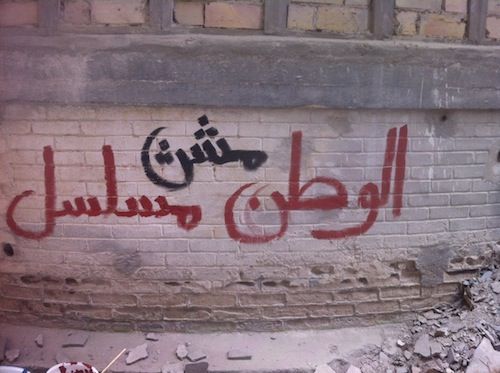 "Homeland is racist." "There is no Homeland." "Homeland is a joke, and it didn't make us laugh." These are some of the messages daubed on the set of the award-winning series Homeland by a group of street artists, The Guardian has reported.
The three-person group, who call themselves that The Arabian Street Artists, wrote in a blog that they were hired by the show's producers to "lend graffiti authenticity" to a set of a Syrian refugee camp that is meant to be located on the Lebanese-Syrian border but was actually built in Germany.
The group claimed that the show's set designers did not check the content of the graffiti. "In their eyes, Arabic script is merely a supplementary visual that completes the horror-fantasy of the Middle East," they wrote.
The "Homeland is racist" graffiti was visible in the second episode of the fifth season of Homeland, which aired earlier this week.
The Arabian Street Artists said that in their initial meeting with Homeland officials, they were shown images of graffiti favorable towards Syrian President Bashar al-Assad, but were told to make their messages apolitical. Other messages sprayed by the artists included "#blacklivesmatter" and "Homeland is watermelon," which the artists said is slang for "a sham."
Homeland has previously faced criticism over its depiction of Islamic societies. The depiction of Pakistan in the show's fourth season, where CIA agent Carrie Mathison (Claire Danes) is sent on assignment to Islamabad, prompted criticism from Nadeem Hotiana, spokesman for the Pakistan Embassy in the U.S., who told the New York Post, "Maligning a country that has been a close partner and ally of the U.S....is a disservice not only to the security interests of the U.S. but also to the people of the U.S."
Showtime has yet to comment on the graffiti.