Street Medic Had Her Arm Broken by Police Officers at Portland Protest, Lawsuit Alleges
A street medic in Portland, Oregon, is seeking $500,000 in damages from the city after alleging that she had her arm broken by police officers during a protest last summer.
Erin Wenzel, 34, said she was acting as a medical assistant during a protest on August 14 when she was struck several times by police. Wenzel said she was attacked by officers, despite wearing red cross insignia on her clothing to designate that she was medical personnel.
"It didn't seem to matter who you were or why you were down there, they were just brutalizing people left and right," Wenzel told the Portland Tribune in an interview published Wednesday. "They were acting like a street gang."
During the incident, Wenzel said she was attempting to comply with police orders when an officer struck her with a baton, causing her face to strike the pavement and injuring her leg. When Wenzel stood up and attempted to walk away, an officer pushed her into two other cops, which sent the medic flying in another direction, according to the Tribune.
Wenzel was later taken to a hospital where she was treated for a concussion and an "extremely painful" avulsion fracture that broke off part of the bone in her left arm, the Tribune reported. She continues to receive physical therapy for the arm injury.
"I've never seen violence like that toward tax-paying citizens from the people who are supposed to be protecting you," she told the news outlet.
The rally was only the second time Wenzel attended a demonstration, although the incident occurred on the city's 79th night of protests.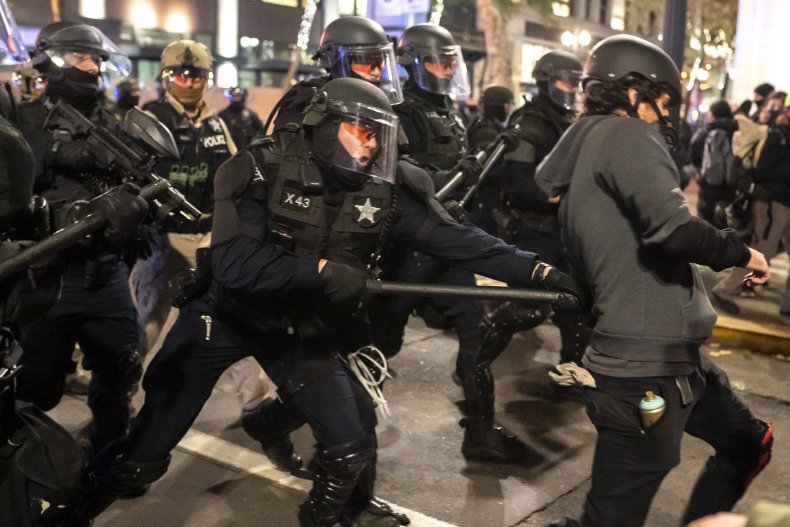 Wenzel filed a lawsuit filed in Multnomah County Circuit Court late last year and is now seeking $500,000 in damages from the city. Her attorney, John Burgess, said it was "unbelievable" that police used force against Wenzel while she was attempting to follow orders.
"When people are walking away and complying with your orders, any use of force is unbelievable," he said, according to the news outlet.
Portland received national attention last year for months of consecutive protests against police brutality and systemic racism following the murder of George Floyd.
According to The Oregonian, at least 21 protest-related lawsuits were filed against Portland police last year. Each of the lawsuits alleged excessive force by police, inhumane use of tear gas, unlawful dispersal orders, or other violations of civil rights.
Newsweek contacted the Portland City Attorney's office for a comment, but did not hear back in time for publication.