Hard to say who has more talent — the street performer or his clever dog.
Footage of a small dog collecting its owner's tips during a midday performance has charmed in-person audiences as well as viewers across TikTok and Reddit.
The short video showcasing the New Orleans duo was posted initially to TikTok by Kelly Coen Knight via the account @kellycoenknight on Tuesday. Since posting, it has been viewed 1.5 million times and liked by over 300,000 charmed viewers.
The video begins in the middle of a street performance featuring a man singing a beautiful rendition of the Beatles' "Let It Be." Seeing that his in-person audience wants to give him monetary tips, he send the dog over to collect the money.
"Go get it!" he tells the dog between lyrics.
The small pup, wearing a pink sweater to keep warm, walks away from his owner and toward the audience, scanning the crowd to see who has an offering in their hand.
The dog first approached Knight and meekly takes her dollar bill in its mouth. The pup quickly scurries to the next donor to collect another dollar.
After walking away, the dog does another once-over of the audience to make sure it is not missing anyone, and exchanges the money for a treat.
The dog once again goes into the crowd to collect tips, so dedicated to the task that the pup even walks away from a young child trying to offer a head scratch.
Knight simply captioned her post: "Street entertainment in New Orleans."
TikTok viewers were taken aback with how well the dog completes the modified "fetch" command.
"He circled around like anybody else [got] anything before I go back?" one noted. "Little girl tried to pet him. He was like not rn fam I'm on the clock," another joked.
A few also humorously pointed out differences between their pets and the dog seen in the video.
"My dog just farts and sleeps," one viewer commented. "Mine does the same, and pees in the house," another added.
The video also made its way to the r/TikTokCringe page on Reddit, with the caption, "Business partners." Viewers on that platform remarked on what a clever donation system the street performer had created.
"Such a smart way to make tips! Who doesn't want to give the goodest boi a dollar??" one commented.
Several people even joked that the dog could only take bills and not coins, a move one Redditor praised as "a truly excellent business model."
Many on both Reddit and TikTok shared their own experiences watching the man perform and his dog collect tips, but it was not immediately clear what his or his dog's names were.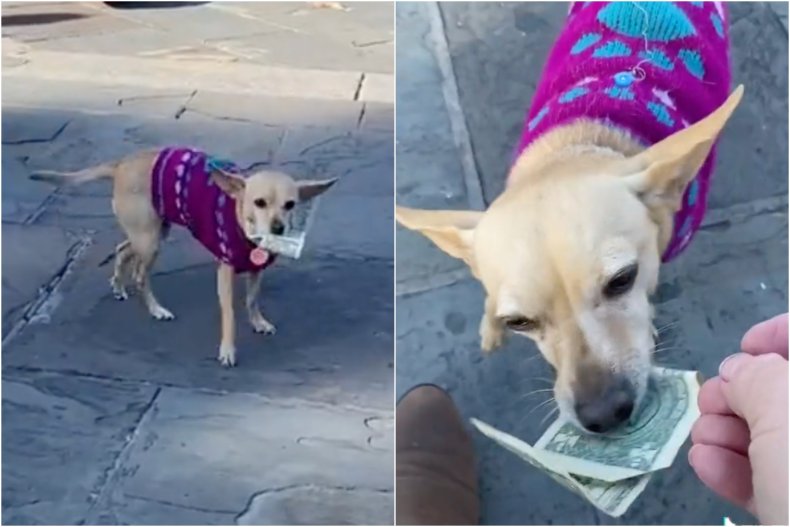 This dog isn't the only pooch grabbing people's attention on TikTok. One woman's two pups were shocked when she let them in on a well-kept secret: what her first name was.