The Streets of L.A.: On Foot in the Land of Cars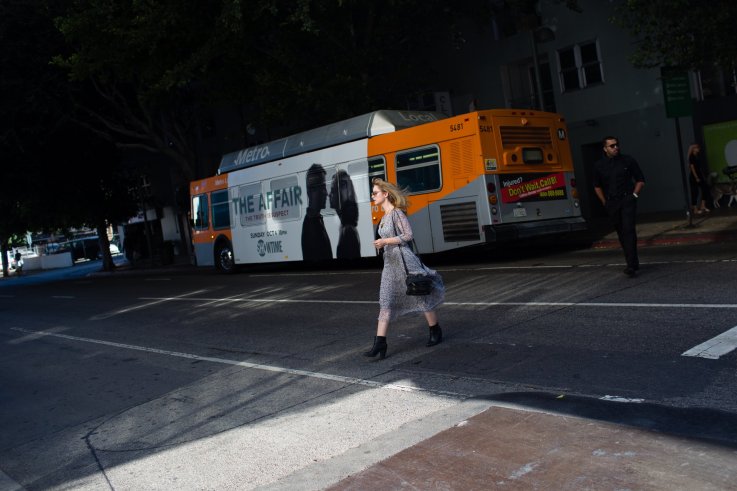 Born out of the desert, Los Angeles became a mecca for all of America's desires and indulgences: silver-screen flirtations, the sunny spray of surf, towering palms in landscapes devoid of moisture and most of all, our national obsession with four wheels on the open road.
[Related: A Young Mayor's Fight to Save Los Angeles From Its Gridlocked Self]
In America, freedom is an asphalt freeway and a full tank of gas. In Los Angeles, that freedom comes with a price. With 80 hours per year, the Los Angeles area is second-worst in the nation for traffic jams and hours spent idling while commuting. By all estimates, it is only expected to get worse, which is why cities across the U.S. are keeping an eye on Mayor Eric Garcetti and his quest to tame the four-wheeled beast through a series of measures that will get Angelenos cycling, using public transportation and walking.
Garcetti has proposals to revamp buses, break ground on pedestrian plazas, carve out bike lanes and extend the subway to the beach, all aimed at creating a more walkable Los Angeles.
Proponents of L.A. street life cite the hidden treasures of downtown and the variety of attractions that exist throughout the city, such as the L.A. River, La Brea tar pits and a multitude of architectural oddities.
Trekking the streets, it became apparent that the unknown beauty of the city cannot be experienced merely via car. You have to learn to love its streets to get beyond the glitz and the ghastly, to the heart of the city.