Stress-Eating Through Election Day: What People Online Are Consuming to Cope
People cope with stress in a variety of ways: meditating, exercising, journaling. Today, though, even the most disciplined among us are admitting to the simple comfort, or instant adrenaline rush, provided by over-eating—mostly unhealthy things.
Obviously, today's election is one like no other. Along with the showdown between President Donald Trump and former Vice President Joe Biden being perhaps the most divisive presidential race in our lifetimes, we are still in the middle of a global pandemic with no end in sight. That means during these trying times, many of us can't be around loved ones, in taverns with fellow-minded strangers, or even with our minds lost in the busy hum of an office.
The result? A lot of people are following the election closely on television or online while seeking the reliable companionship of old friends like Colonel Sanders, Chef Boyardee, Chester Cheetah, and... hopefully not until later in the day, Jim Beam.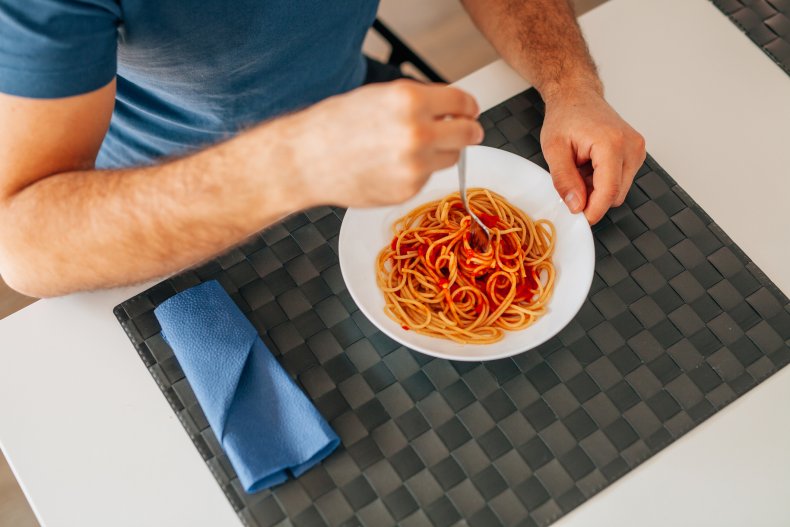 Threads on Reddit dedicated to what people are stress-eating today are being updated at light speed. One Reddit user kicked off a thread with, "I think I'm going to make a giant pan of double-marshmallow rice krispie treats then drizzle them with dulce de leche and sprinkle with kosher salt."
Some other popular responses to the Reddit question of what people are consuming today include the following:
"Smashed red grapes from Spain. A whole bottle of 'em."
"Pot brownies and rum."
"Edibles. Piece of chocolate for each stupid thing i hear. Should be the first death from cannabis within the first hour."
Dying by consumption seems to be a theme, as another commenter wrote, "I'm about to take 'death by chocolate' to its literal and logical conclusion. Witness me!"
Unusual pairings are also not so unusual in the responses: "I'm making a big chocolate cake with raspberries. I'm thinking I might also make a crockpot of chili, but the cake is the priority."
As one Reddit user pointed out, "It will likely be election week stress eating. I should have meal planned for this."
With that thought in mind, the "double-marshmallow rice krispie treats" eater later clarified: "Here is how I am contextualizing it for myself: I am not expecting it to be over tomorrow, but I am looking forward to more information about the new things for me to be incredibly stressed about."
Twitter users were also sharing info on their diets:
Some showed no shame or remorse for their intended eating endeavors for the day, such as this commenter:
Even some celebrities made mention of the trend, like Rian Johnson, the director of Knives Out and Star Wars: The Last Jedi.
Science-fiction writer Chuck Wendig is no stranger to Star Wars himself, having written the acclaimed 2015 novel Aftermath, set in the Star Wars universe. Apparently, he's also no stranger to eccentric eating habits on days such as this:
Acclaimed feminist writer and editor Kate Harding's tweet would seem much bleaker if not for the accompanying photo of an adorable dog:
Broadcast journalist for NPR and host of TED Talks Daily podcast Elise Hu offered up a handy suggestion for caloric intake for the day:
Throughout all of social media, a sense of humor was at least evident.
Here at Newsweek, the writers and editors are settled in for a long day. Since the Culture Department is working remotely, that means the siren call of snack and junk food is a constant temptation. Here's a quick look at what will be enjoyed (or at least consumed) by some of the staff:
When asked about what she'd be stress-eating today, Senior Editor Rebecca Stokes said, "My weight in Baby Ruths, white wine, and pizza." (She and others indicated any alcohol consumed would be done so responsibly once their shifts ended.)
Writers Marina Watts, Kelly Wynne, James Crowley and Janice Williams also shared their menus for the day. Watts offered, "I had pasta for breakfast. When I stress-eat, it's pasta."
Wynne said she would spend the day enjoying "a 'Reeses lovers' discounted Halloween candy mix," a sizable bag of chocolate, which she proudly noted she scored for only $7.
Crowley will stick to coffee and English muffins until the day is over, after which he will switch to a large bottle of a very strong IPA made (with input form the grindcore band Pig Destroyer) by 3 Floyds Brewing Co.
Roughly an hour into her workday shift, Williams revealed she'd already "nearly eaten an entire bag of Lays classics—family size—and a Coca-Cola." (Myself: I had to throw on a sweater due to the fact I was shivering from eating chocolate ice cream straight from the carton mixed with frozen peanut butter.)
In the end, responsibly do what you have to do to get through the day. After all, how much weight could you possibly put on in one day—or one week?