'Stressed' Teacher Praised for Not Doing School Work During Summer Break
A teacher has been praised online after they admitted they did not go to school to work during the summer break.
In a viral post that was shared on the U.K.-based discussion website Mumsnet, user Namechange7000 explained they worked as an elementary teacher in England and they were struck by the differences there from their native Australia.
The teacher said it had been suggested they go in during the break before the children return to school in order to set up their classroom as they could not afford cleaners.
But the poster said they had already booked a holiday to Australia to see family during the whole break and that tickets had already been bought by the time the email came in at the end of June.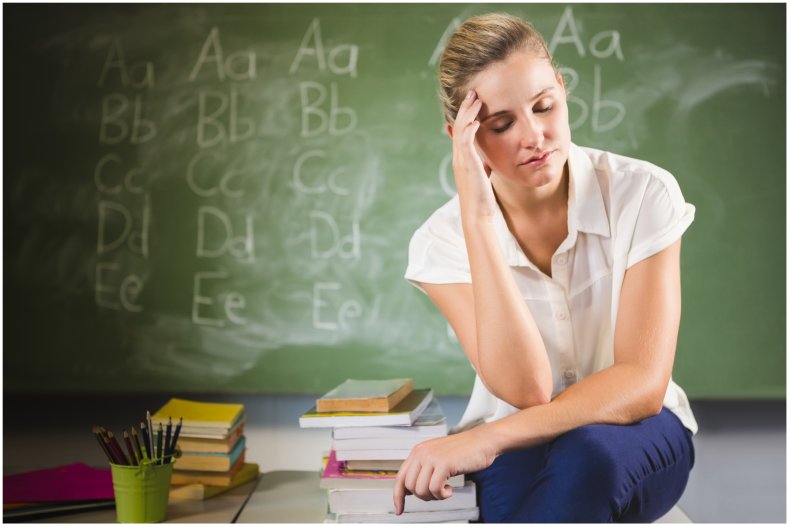 While the average summer break for schools K through 12 in the U.S. ranges from 10 to 11 weeks, in the U.K. teachers and students are only out of class for about six weeks.
After the teacher arrived home she claimed to have little time to organize her classroom for the upcoming school year.
"I am so stressed and I feel like I'm already failing my class and my own dc (dear children)," she said. "I'm already behind and overwhelmed even though it's the first day of term. I had a panic attack this evening.
"I feel like this is my fault for not knowing that I was supposed to work for a week during the holiday but no one told me until it was way too late. Is it common practice here to work during your holiday if it is a paid holiday?
"I have a salary which is paid in equal installments throughout the year so I was fully paid for August even though I didn't work a single day. We have similar arrangements in Australia, but my schools there always gave us time to do the admin and class set up before the children arrived (and didn't have such specific requirements regarding classroom setup)."
The post attracted some 229 comments since it was shared on Mumsnet on Monday, September 3.
Many of those who commented on the post were sympathetic to the teacher and offered their support.
One Mumsnet user said: "Oh no, this sounds incredibly stressful.
"It is generally accepted here in the U.K. that teachers will work a handful of days throughout the summer holidays to get classrooms ready. It's a shame that wasn't mentioned to you before.
"I would think the best thing to do [is] some groveling (it sounds like you already have explained), but tell your head that you just genuinely didn't realize this was expected. Had you known, you would have had everything sorted."
Another added: "I'm a teacher. I didn't do any work over the holiday. Inset today, kids in tomorrow.
"My planning is done and I'll be teaching good quality, fun, relevant and appropriate lessons tomorrow because that is my priority.
"There's not a single display up as I'll be creating them with my class. Two will be done by the end of the week, the others as [the] term goes on. Your class will be fine. But you might want to look for a better school."
A third posted: "Oh I feel your pain. Ex-teacher here. Leave and become a tutor. The teaching profession is beyond a joke…overworked and underpaid.
"Obviously you'll get loads of people on here saying how [useless] you have been but they obviously haven't ever taught a day in their life.
"Don't stress it OP (original poster) and remember with teaching skills you have so much to offer in other roles."
Newsweek was not able to independently verify the details of the case.